Asus ROG Ally is the most powerful handheld gaming PC ever — this new AMD chip is to blame
A Ryzen tide lifts all boats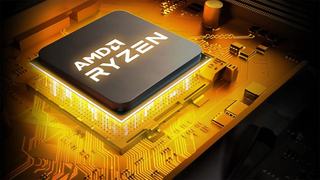 (Image credit: N/A)
Inside every Steam Deck beats a little AMD heart, pumping out Zen 2 performance and RDNA 2 graphics. It's a proprietary APU made exclusively for Valve's handheld that you won't find in any other device. It's the secret blend of herbs and spices that has kept the Steam Deck at the forefront of the conversation about handheld PC gaming for the last few years.

Not every competitor can splash the cash on exclusive APUs, and Valve's deep pockets have been able to keep the Steam Deck relatively safe (thanks to an impressively accessible price tag). However, all that will change on the day AMD reveals faster, more powerful chips readily accessible to every handheld device that vies for the Steam Deck's crown.

That day is today, and those chips are the AMD Ryzen Z1 and the AMD Ryzen Z1 Extreme.
AMD Ryzen Z1-series
It feels like only yesterday that I was reporting on the leaked specs and outlines of the AMD Ryzen 8000-series — probably because it was. But now we're faced with an entirely new set of APUs designed specifically with the handheld market in mind.

The Z1-series of APUs are projected to offer seven times the graphical performance of a Nintendo Switch and run ~55% faster than Valve's Steam Deck. The chips have a lot in common with AMD's Ryzen 7000 processors as found in smaller laptops and notebooks. Namely their impressive performance and energy efficiency — both ideal qualities for a handheld device.

The AMD Ryzen Z1 and Z1 extreme APUs will have 6-8 processing cores, up to 12 RDNA 3 graphics cores, and 16GB of LPDDR5 of dual-channel RAM. The combination of which (in unison with up to 24MB of unified L3 cache) points to an over 50% increase in graphical prowess over the Steam Deck's RDNA 2 architecture — at least on paper.
However, because paper is boring — AMD has been good enough to benchmark its newest APUs on an advanced engineering sample of the Asus ROG Ally. The results of which are genuinely impressive — for a handheld PC console.

The AMD Ryzen Z1 chip was able to output over 60 frames per second (fps) in titles such as Shadow of the Tomb Raider, FarCry 6, Grand Theft Auto V, and Borderlands 3. However, this was with the games set to 'low' at 720p resolution (upscaled to 1080p with Radeon Super-Resolution.) While it wasn't able to churn out as smooth a frame rate for games like Red Dead Redemption 2 or Company of Heroes 3, it still managed to run both games well above 30fps.
The AMD Ryzen Z1 Extreme chip pushes things even further, thanks to a higher number of graphics cores and its 8.6 TFLOPS of graphical performance. During these benchmark tests, under the same 'low' graphics settings at 720p (upscaled to 1080p), the Z1 Extreme managed to push titles like Red Dead Redemption past the 60fps threshold, with titles like CS:GO, GTA V, and Forza Horizon 4 all clearing 100fps.
Outlook
The numbers don't lie on this one, but they may mislead. The benchmark tests took place on a non-standard ROG Ally while it was in "Turbo mode," allowing a higher power draw of up to 30 watts — twice that of the Steam Deck. As with anything labeled "Turbo," you can expect increased performance, but it's never guaranteed for how long before you're rapidly depleting your battery or causing enough heat build-up to see that performance begin to be throttled.

Actual real-world results from the ROG Ally are yet to be seen. But with a launch date set for May 11, we won't have to wait long to find out. AMD's Ryzen Z1 series chip is exclusive to Asus' handheld device for the time being, though once they become available to manufacturers at large, we'll no doubt see an explosion of Deck wannabes outfitted with these (and future) powerful APUs.
Category
Back to Gaming Laptops
Brand
Processor
RAM
Storage Size
Screen Size
Colour
Condition
Price
Stay in the know with Laptop Mag
Get our in-depth reviews, helpful tips, great deals, and the biggest news stories delivered to your inbox.
Rael Hornby, potentially influenced by far too many LucasArts titles at an early age, once thought he'd grow up to be a mighty pirate. However, after several interventions with close friends and family members, you're now much more likely to see his name attached to the bylines of tech articles. While not maintaining a double life as an aspiring writer by day and indie game dev by night, you'll find him sat in a corner somewhere muttering to himself about microtransactions or hunting down promising indie games on Twitter.