I spent weeks with this $600 e-ink Android tablet — why it's better than your Kindle
The Onyx Boox Tab Ultra C is an E-Ink Android tablet. Should you pick it over the Kindle?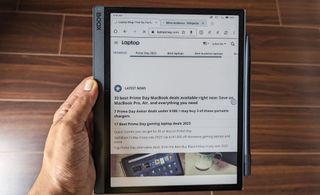 (Image credit: Amazon)
The Onyx Boox Tab Ultra C tablet is reminiscent of the Kindle, which I've owned for more than five years, but the Amazon tablet has always felt limited to me. Leaving notes is cumbersome, its software is exclusively designed for Amazon customers, and reading visuals (e.g., maps and comics) isn't as thrilling as it's on paper. At the same time, I crave its calming, strain-free, e-ink display after hours of looking at screens every day. I often wished I could use it to browse the web or sift through Twitter. A new e-reader tablet from China-based Onyx ticks all those boxes and might just be what I've been looking for.
Onyx's latest Boox Ultra Tab C is equipped with a 10.3-inch, e-Ink screen — just like a Kindle. There are two key differences, though: its E-Ink panel supports color, so that it's not restricted to mostly text. Plus, it runs Android, which lets you use it as any traditional tablet, giving you access to all your apps, including Google Docs, Instagram, and Twitter (or Meta's new Threads) — all on a paper-like screen. It even has a 16-megapixel camera on the back to take selfies or scan documents; it's got a pair of speakers as well as mics for calls, too.
Calling the Boox Ultra Tab C an e-reader would be an understatement. The bundled stylus replicates the pen-and-paper experience and lets you scribble on it. And if you're not especially keen on writing longhand, you can snap an optional keyboard case to the pogo pins on the tablet's bottom. These perks come at a price, though. At $600, the Boox Ultra Tab C costs more than double Amazon's nicest Kindle options. I've spent weeks with it — is it worth it?
---
Where to buy? You can get the BOOX Tab Ultra C ePaper Tablet @ Amazon for $599
---
The Onyx Boox Tab Ultra C tablet design and build
Boox Ultra Tab C isn't built like an e-reader. Its slate design is encased in a cold metallic frame with flat, chamfered edges. Though the stealthy look doesn't stand out, it's luxurious to hold and offers the understated elegance you'd expect from a premium tablet. It's also sturdy and feels like it won't come apart if you accidentally drop it, which I did a couple of times. That's not always an upside, however.
The Tab C weighs 1.05 pounds — more than the 11-inch iPad Pro — and holding it with one hand to read for prolonged periods isn't the most comfortable. It can start to feel like an arm workout after half an hour or so, and I often end up just gripping with both hands. Unlike say, the Kindle Oasis, it's not thicker on one end to ensure the center of gravity rests in whatever hand you're holding it with, and therefore, it feels, unfortunately, less like a magazine or book folded back, and more like a screen. The large 10.3-inch screen and sharp corners don't help its case here.
That's likely because the Tab C is meant for more, and an uneven back doesn't fare well when you're scribbling on it. Although I got used to it over time, I'd still prefer my plastic 7-inch Kindle to read. So if you plan to mostly consume text, you may want to consider Onyx's smaller, 7-inch alternative.
The Tab C does borrow one, handy design trait from the Kindle for better ergonomics. Its screen is off-centered and has an extended bezel on the left side that you can clutch without worrying about inadvertently flipping the book you're reading.
There are a couple of more nice touches. The power button at the top houses a fingerprint sensor that's quick and easy to set up. The speakers, though they won't replace your headphones, are plenty loud and clear for calls and music.
The Onyx Boox Tab Ultra C tablet display
The Boox Ultra Tab C's 10.3-inch panel is made up of two screens to accomplish a color e-Ink experience. One is a high-res (2480 x 1860) monochrome screen, and on top of it lies a typical LCD module (1240 x 930) that springs into action to render color and motion pictures like when you want to stream videos or play a games.
The result is a smooth and versatile E-Ink tablet. Text appears razor sharp, thanks to the 300-ppi-capable monochrome screen, and the LCD panel produces subtle and pastel-esque colors, which while not as vibrant as an iPad, feel right at home alongside the rest of the black-and-white E-Ink experience.
Like any E-Ink tech, you'll notice a ghosting effect on the Ultra Tab C when you turn pages and navigate between various Android apps, but the tablet wipes out the shadows fairly quickly, and I was hardly bothered by it. The transitions, similarly, will look a bit glitchy as if the device's flicking its light switches, but these are normal on such screens, and they won't thwart your experience.
What's impressive about the Ultra Tab C is that you can customize its screen's refresh rate, and how often it wipes off the ghosting crumbs. The "Fast" mode, for instance, eliminates interaction delays at the cost of poorer text quality and is ideal for standard tablet activities like scrolling social media. When I'm about to dive into a book before bed, I switch back to the "HD" mode that offers the crispest screen quality and minimizes ghosting effects — albeit with more lag between my touches and its responses. In the "Ultrafast" setting, you can even get by watching videos with passable details, though it won't be nearly as smooth as you're used to.
Because the Ultra Tab C's monochrome screen is laminated with an LCD one, its brightness level does take a hit compared to a Kindle. That still doesn't mean the Ultra Tab C is difficult to view outdoors, however. Even under direct sunlight, the included backlight does a decent job to keep its content readable. My only pet peeve with it is the omission of an auto-brightness sensor.
The bottom line is the Boox Ultra Tab C's screen is a joy to use. Over the last few weeks, I've consumed books, comics, lengthy Twitter threads, and more, and I have practically no complaints. Despite the LCD panel, shifting more of my online activities to an E-Ink screen has done wonders for my eye strain, and feels far less draining than a traditional tablet or a smartphone.
The Onyx Boox Tab Ultra C tablet accessories
One of the highlights of the Boox Ultra Tab C, for me, has been the bundled stylus pen. I've never found writing on a screen natural and have stuck to typing, but the Ultra Tab C was a different story. Jotting down notes on its distraction-free E-Ink display feels much closer to the pen-and-paper experience. The stylus' matte surface is pleasant to hold, and whether I'm doodling over a document or sketching, its tip is precise enough to let me comfortably reproduce my handwriting. There's little delay in the tablet's response too, and the pen can magnetically latch onto one of its sides.
There is room for improvement, though. The stylus works best on Onyx's built-in note-taking and markup apps. Fire it up on Evernote and Google Notes, and you'll face more input lags. I also wish there was a faster way to launch a new note, perhaps from the always-on lockscreen itself.
The optional $110 keyboard folio case is another worthy companion for the Ultra Tab C and allows you to unlock new gear. The Tab C's minor input lag adds up on the virtual keyboard, so if you plan to do any typing on it, the keyboard accessory is a must-have. Not only does its faux leather cover's magnets protect both the tablet and the pen (especially when they're in a backpack), Onyx's keyboard shortcuts also let me navigate the software much faster. The 64 keys themselves are surprisingly tactile and spaced out, and I could reach my usual typing pace in no time. Part of me wishes it also had a trackpad.
The Onyx Boox Tab Ultra C tablet software
The Onyx Ultra Tab C runs on an Android 11-based custom software and comes preloaded with the Google Play Store, unlike its predecessors. Like a typical Android tablet, you can install any app like Amazon Kindle, multitask between them in a split-screen view, and add widgets to the homescreen. You don't have to, though: Onyx won't ask you to log into your Google account when you set it up.
Plus, Onyx preloads a bunch of handy apps for writing and reading. An app called "BooxDrop" was my favorite. It lets you send a link or a document from any computer or phone via a simple online link. The "Notes" app works well, too. There's a variety of templates you can choose from, including spreadsheets, and staves for musical notes. The document scanner, on the other hand, is hit-or-miss. While it's fine for capturing documents and annotating them, its OCR function was rarely accurate.
Another highlight of the Ultra Tab C's software was the pair of edge gestures. You can swipe up or down on the left and right edges to instantly tweak options like the brightness and screen color temperature. For example, it's convenient when you are reading a book, and want a brighter screen as opposed to fiddling with the quick toggles you would on a Kindle.
The Onyx Boox Tab Ultra C tablet battery life and performance
The Onyx Boox Ultra Tab C is powered by a mid-range Qualcomm Snapdragon 662 octa-core chip, which has proven more than capable of handling the tasks it's expected to handle. Even when I multitask between numerous apps like Microsoft Office and Google Chrome (as I would on an iPad), the Ultra Tab C hardly skipped a beat. It can run entry-level games, but struggles to smoothly render resource-intensive titles like Asphalt 8. But I doubt anyone would game on this device.
Apart from that, there's 4GB of RAM and 128GB onboard storage with microSD card support. Its 6,300 mAh battery, though, can't go toe-to-toe with the Kindle's month-long endurance. On a single charge, it lasts at least two weeks if I keep the brightness to the minimum, and use it for about two hours daily. It's not compatible with fast charging and takes nearly three hours to go from zero to 100.
Bottom line
The Onyx Boox Ultra Tab C delivers on its promises. Its color E-Ink screen is a game-changer for the e-reading experience, and the stylus turns into a dependable digital notebook. But at $600 ($666 for the keyboard bundle), it's not affordable, and certainly can't replace a traditional tablet as you would still need that for watching movies or playing games. So you need to have a clear idea of what you're buying it for and for people who are just looking for a versatile reading companion and have no use for the keyboard, the $450 Boox Tab Mini C is a better deal.
Stay in the know with Laptop Mag
Get our in-depth reviews, helpful tips, great deals, and the biggest news stories delivered to your inbox.
Shubham Agarwal is a freelance technology journalist from Ahmedabad, India. His work has previously appeared in Business Insider, Fast Company, HuffPost, and more. You can reach out to him on Twitter.