iPad Mini 7 release date has insiders and analysts butting heads — who's right?
More flip-flop than a beachside resort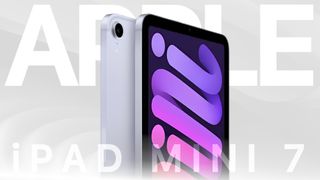 (Image credit: Apple / Laptop Mag / Rael Hornby)
The iPad Mini 7 is expected to be the next of Apple's slates for release, but everyone from Apple analysts to industry insiders can't stop butting heads on just when we can expect this travel-friendly tablet to make its appearance.
The great iPad mini 7 release day debate
Word of the iPad mini 7's impending arrival came early in the year as Apple analyst Ming-Chi Kuo reported toward the end of January that "There may be no new iPad releases in the next 9-12 months," further stating in a tweet that "the iPad mini refresh is more likely to begin mass production in 1Q24."
A quiet year for the iPad was seemingly confirmed fairly early on, and we all went about our business as usual. Until Apple leaker and adorably named ShrimpApplePro unleashed a series of Apple Watch leaks with further word about the iPad Mini 7 tagged on at the end, that is.
I'm seeing at least one new iPad coming. Probably mini 7. Will reserved that for the next post.August 1, 2023
According to ShrimpApplePro, 2023 will indeed feature an iPad release – "Probably the iPad mini 7." Since then, the iPad mini 7 has been on everyone's radar as a possible surprise release from Apple before the year draws to a close – even Bloomberg's Apple auteur Mark Gurman didn't rule out the possibility.
However, Apple's Wonderlust event came and went without a peep from the Cupertino crew about its small-scale slate, and many lost hope. Including Mark Gurman who seemed to move on entirely, as he predicted that an iPad Air 6 could actually be in the works for a "soonish" release instead.
However, this didn't last long as Ming-Chi Kuo would once again emerge from the shadows to tell us all in a post on X (neé Twitter) that "New iPad models are unlikely before the year's end." Party pooper.
A last minute twist?
However, while that should have been the end of it, a new report by DigiTimes Asia seems to have reinvigorated rumors of an iPad mini 7 release in 2023.
The article, obtaining its information from suppliers and manufacturers of other Apple products, highlights a stagnation in tablet demand during the first half of 2023, but goes on to predict a rebound of sorts in the remaining quarters by saying:
"However, the share will gradually pick up during the second half because of Apple's inventory replenishment needs in the third quarter and orders for a new small-size iPad in the fourth quarter…"
This puts production much earlier than Kuo's early 2024 suggestion, and could, once again, put the iPad mini 7 back on track for a late 2023 release. If that's the case, we should still only expect a minor refresh when it comes to specifications – most likely an upgrade to an A16 Bionic, with an outside chance of an A17 Bionic processor.
However, most people will be keeping their fingers crossed for a display upgrade above all else, hoping to see the iPad mini 7 cured of its predecessor's jelly scroll issues.
Outlook
The rigmarole surrounding the release of the iPad mini 7 continues, and it'll no doubt be a matter of days or even hours before an opposing expert weighs in the dispute the likelihood of a release this year.
However, while insider information could point to an earlier date, there's no guarantee that Apple isn't simply building up stock to avoid any potential shortages on release.
Though, for now we'll have to wait and see what Apple have in store during October and if they've anything left to reveal for the rest of the year when it comes to the iPad.
Stay in the know with Laptop Mag
Get our in-depth reviews, helpful tips, great deals, and the biggest news stories delivered to your inbox.
Rael Hornby, potentially influenced by far too many LucasArts titles at an early age, once thought he'd grow up to be a mighty pirate. However, after several interventions with close friends and family members, you're now much more likely to see his name attached to the bylines of tech articles. While not maintaining a double life as an aspiring writer by day and indie game dev by night, you'll find him sat in a corner somewhere muttering to himself about microtransactions or hunting down promising indie games on Twitter.