Early Verdict
A larger Flex Window, a gapless hinge design and a powerful new processor ensures the Samsung Galaxy Z Flip 5's place in the upper echelon of foldables, but it doesn't do enough to move the needle for the line.
Pros
+

Bigger Flex Window

+

Powerful Snapdragon processor

+

Flex Hinge reduces crease, allows for gapless close

+

Onboard storage has been increased
Cons
-

Design remains largely unchanged

-

Not a lot of app support for the Flex Window
Why you can trust Laptop Mag Our expert reviewers spend hours testing and comparing products and services so you can choose the best for you. Find out more about how we test.
As the battle of the foldables continues to heat up, Samsung is poised to maintain its grip on the crown with its latest entries to the market, the Galaxy Z Flip 5 and the Galaxy Z Fold 5. Of the two new smartphones, the Flip 5 continues to act as the fun, sporty model while the Fold 5 is tailored to power users and professionals. The Z Flip 5 comes to market sporting some notable improvements, including a larger 3.4-inch cover screen and a powerful Qualcomm Snapdragon 8 Gen 2 processor in a slightly slimmer chassis.
I had the opportunity to go hands on with the Galaxy Z Flip 5 and while it's not my phone of choice when it comes to foldables (that'd be the Galaxy Z Fold 5), I can't deny the allure of its incredible pocketability and versatility. But I wish Samsung would have added some more bells and whistles. Read on to see what I mean.
Swipe to scroll horizontally
Samsung Galaxy Z Flip 5 specs

| | |
| --- | --- |
| Row 0 - Cell 0 | Galaxy Z Flip 5 |
| Starting price | $999 / £1,049 |
| Inner Display | 6.7-inch FHD+ Dynamic AMOLED 2X (2640 x 1080), 22:9 aspect ratio |
| Outer Display | 3.4-inch Super AMOLED (720 x 748) |
| Refresh rate | Up to 120Hz (Inner), 60Hz (Outer) |
| Chipset | Snapdragon 8 Gen 2 |
| RAM | 8GB |
| Storage | 256GB/512GB |
| Rear cameras | 12MP f/1.8 main (83 ̊ FOV) + 12MP f/2.2 ultra-wide (123 ̊ FOV) |
| Selfie camera | 10MP F2.2, 85 ̊ FOV |
| Battery | 3,700 mAh |
| Size | 3.35 x 2.83 x 0.59-inches (folded), 6.5 x 2.83 x 0.27-inches (unfolded) |
| Weight | 6.6oz (187 grams) |
| Colors | Mint, Graphite, Cream, Lavender, Gray, Blue, Green, Yellow |
Samsung Galaxy Z Flip 5 video hands-on
Samsung Galaxy Z Flip 5 pricing and availability
When it launches in August, the base model of the Flip will cost $999/£1,049 and feature 8GB of RAM with 256GB of onboard storage. The top-tier model also has 8GB of RAM but bumps the storage to 512GB. Unfortunately, those hoping to score some savings with the 128GB iteration are out of luck, as that configuration of the foldable has been eliminated from the line up. And those looking for a 1TB iteration will have to set their sights on the Galaxy Z Fold 5.
If you're ready to make the leap, the Z Flip 5 is available for pre-order at Samsung.com as well as various carrier sites.
Samsung Galaxy Z Flip 5 design
There's not much difference between the Z Flip 4 and the Flip 5. You've still got that flipability that our editor, Kimberly Gedeon, loved as it gave that old-school feeling of hanging up on someone in a huff. The two-toned color scheme on the top rear panel with a black housing for the pair of cameras also makes a return which is something she didn't like nearly as much. But now, instead of only a portion of the top panel cover being coated in a shiny inky black material, the entire thing is blacked out with the rest of the panel taking on the main color in a matte finish. The good news is that most of this is a display.
When it launches, the Z Flip 5 will be available in Lavender, Mint, Graphite and Cream. If you're looking for something less pastel, Samsung will offer the foldable in colors exclusive to Samsung.com, including Gray, Blue, Green and Yellow.
The frame of the phone and the sides are made from Armor Aluminum, with the volume rocker and power button/fingerprint reader placed on the right, and the USB-C charging port sitting along the bottom. Flipping the phone open reveals a glossy display with deep, striking color. Something new to note is the Flex hinge –– a dual rail mechanism that is more deeply integrated into the phone itself, rather than sticking out like a sore thumb. The new hinge decreases the prominence of the display crease while allowing the device to close without a gap.
When folded, the 6.6-ounce Galaxy Z Flip measures 3.4 x 2.8 x 0.59 inches compared to 6.5 x 2.8 x 0.27 inches unfurled. That's not too far off from its predecessor (3.3 x 2.8 x 0.67 inches, folded / 6.5 x 2.8 x 0.27 inches, unfolded), which also weighs 6.6 ounces. The predecessor is a hair smaller. The Google Pixel Fold is thinner (5.5 x 3.1 x 0.5 inches, folded / 5.5 x 6.2 x 0.2 inches, unfolded) albeit heavier at 10 ounces. Plus, the Pixel Fold is plagued by hardware issues with reports of broken displays à la the original Galaxy Fold.
However, with this being Samsung's fifth trip to the foldable rodeo, I doubt we'll see any issues with either the Z Flip 5 or Fold 5 (fingers crossed).
Samsung Galaxy Z Flip 5 durability
A foldable is inherently more delicate than your regular slab of smartphone. Samsung is alleviating some of the worry by reinforcing the Flip 5 with Armor Aluminum and making the rear panel and screen out Corning Gorilla Glass Victus. The phone is also IPX8 rated, meaning it can be submerged in 1.5 meters of fresh water for a limited time. In other words, freshwater lakes and toilets are fine, the beach is not, especially since the phone is not dust resistant.
Samsung Galaxy Z Flip 5 display
Like its predecessor, the Z Flip 5 has a 6.7-inch, Dynamic AMOLED 2x display. The Infinity Flex panel has a resolution of 2640 x 1080 with 22:9 aspect ratio. It's a pretty good indicator that one of our more nitpicky complaints will make an appearance here with wider letterboxing appearing when watching video.
As far as color, I'm rooting for Samsung on this, as during my rather brief hands-on the colors were pleasing to my eye. And I definitely liked how smooth scrolling through home pages and apps looked. The Z Flip 4 put up impressive numbers on both our brightness (772 nits) and DCI-P3 (132.2%) tests , being bested only by the Z Fold 4 (902 nits / 158.7%) during its review. The Pixel Fold delivered an impressive brightness of 1,173 nits with a rather lackluster 88.4% on the DCI-P3 scale.
I'm really eager to see how the Flip 5's main display holds up under benchmarking and everyday use. Speaking of use cases, the Z Flip 5 has an adaptive refresh rate that automatically adjusts the refresh rate between 1Hz and 120Hz depending on the activity. So if you're gaming or watching a video, you can expect a higher frame rate while perusing a spreadsheet versus watching a film that usually needs only 24Hz.
Samsung Galaxy Z Flip 5 Flex Window
New phone, bigger display. Yes, that teeny tiny cover display from last year's model has grown into a 3.4-inch, Super AMOLED 60Hz Flex display that's great for screening notifications. The 720 x 748-pixel screen is a bold answer to our complaint that the previous model's screen was too small to act as a selfie viewfinder or much else. I didn't experience any problems reading notifications or setting up a good shot on the camera.
Similar to its main display, the Z Flip 5 definitely passed the eye test with clean, distinct text and colorful hues. But the Flex display is more than a medium for errant notifications, you have widgets where you can control your music, check the weather and other useful functionality. If you need to view multiple widgets, a quick pinch will activate Multi Widget View. Somebody sends you a text message? Answer it via Quick Reply.
And of course, that larger Flex Window is perfect for making sure you're selfie ready (more on that later).
Samsung Galaxy Z Flip 5 performance
With a 4-nanometer Qualcomm Snapdragon 8 Gen 2 processor, the Z Flip 5 is packing. It's on a par with the likes of the OnePlus 11 and Samsung Galaxy 23 Ultra. It's a shame, but it can't be helped since Qualcomm's new chipset won't be released until later this year. Don't get me wrong, this processor is definitely an ass kicker, as it delivered 5,081 on Geekbench 5.4 in the Galaxy S23 Ultra while the OnePlus 11 hit 4,962.
Is either enough to topple the likes of the iPhone Pro 14 (5,469) or iPhone Pro Max 14 (5,333) with their A16 Bionic chips? No, but it's more than enough to spank the Pixel Fold's (Tensor G2 CPU) abysmal 1,909. The S23 Ultra's result also surpasses the Z Flip 4 and its Snapdragon 8+ Gen 1 processor, which produced only 4,015, proving this is a definite step up in power.
When we ran the Adobe Premiere Rush video transcoding benchmark, the S23 Ultra finished in 39 seconds, soundly beating the Pixel's Fold and OnePlus 11's times of 1:01 and 1:11, respectively while the Z Flip 4 posted a time of 0:44. It couldn't dispatch either the iPhone 14 Pro or Pro Max, which had blistering times of 0:26 and 0:30, respectively.
On the Jetstream web browser test, the S23 Ultra scored 179.3. That was more than enough to stave off the Z Flip 4 (134.3), Pixel Fold (118.3), and OnePlus 11 (112.8). But once again, the iPhones laid waste to their Android counterparts with the iPhone 14 Pro reaching 285.9 and the Pro Max hitting 273.7.
Samsung Galaxy Z Flip 5 battery life
The Galaxy Z Flip 5 has a 3,700mAh battery, just like the Z Flip 4. This, barring any power efficiency tricks that Samsung and Qualcomm might pull out their hats, puts the Z Flip 5 within a stone's throw of the 9 hour mark, as its ancestor lasted 8 hours and 57 minutes on the Laptop Mag Battery Test (continuous web surfing at 150 nits over network).
The competition all have larger batteries, such as the Pixel Fold (4,821mAh), which scores its first potential win over the Z Flip 5 with a time of 10:21. The OnePlus 11 and Galaxy S23 clocked in with 12:48 and 13:09, respectively, with their 5,000mAh batteries. And by some feat of Apple Magic, both the iPhone 14 Pro (3,200mAh) and Pro Max (4,323mAh) managed to beat the Z Flip 4 by lasting 10:27 and 13:07, respectively.
Samsung Galaxy Z Flip 5 camera
When you look at the megapixels on the Z Flip 5, they're singing the same old song with a pair of 12MP cameras on the rear and a 10MP front shooter. The wide (12MP, f/1.8, 1.8μm, 83-degree field of view) is virtually identical to last gen's as is the ultra-wide shooter (12MP, f/2.2, 1.12μm, 123-degree FOV) It's disappointing that Samsung couldn't find a way to up the ante, but that doesn't mean that the company hasn't made any changes whatsoever.
In this case, we have to look to the front camera (10MP, f/2.2, 1.22μm, 85-degree FOV) which has a slightly smaller aperture compared to last gen's (10MP, f/2.4,1.22μm, 80-degree FOV), but it's negligible at best. The real change comes from the AI-powered software that brings improved Nightography mode, which means better shots in low-light environments. Using an AI-powered image signal processing (ISP) algorithm, the Z Flip 5's cameras will automatically correct any visual noise that you'd usually find when snapping low-light images. The feature will also enhance details and color tone. Plus, you get clearer photos by way of the digital 10X zoom.Samsung Galaxy Z Flip 5 software
But the Flip's main claim to fame is the Flex Window, which allows the more creative among us to take interesting photos with the unique angles that the phone can take advantage of. Speaking of unique angles, there's Flex Camera for those look-ma-no-hands photos. With the expanded size of the Flex Window, you can get a better look at your selfie preview. If you want to take a few candids with friends, there's Dual Preview so everyone can make sure they're striking the appropriate pose. And you also have Flex Mode that lets you see and edit your shots into masterpieces.
Samsung Galaxy Z Flip 5 software
The Z Flip 5 comes with Android 13 skinned with Samsung's One UI 5.1.1, which blends the company's proprietary widgets and features into Android for a seamless experience. And since the Z Flip 5 carries a lot of the same features as its predecessor, it's a safe bet to guess that Samsung will provide four years of major software updates along with five years of security updates.
Bottom line
While I am a proponent of the "if it ain't broke, don't fix it" mantra, Samsung will have to figure out how to make the next Z Flip into something truly special because the Z Flip 5 ain't it. That's not to say it's not a good phone –– without any benchmarking to back it up right now –– it is. It's still super pocketable and versatile. You can do a hell of a lot more with the larger Flex Window and the new Flex hinge is less intrusive on the overall design. And I'm never going to say no to a more powerful processor (even if it is on the more power-hungry side), but as it stands, the Galaxy Z Flip 5 is nothing more than an incremental step, just like the Z Flip 4 was. Now to where exactly Samsung is stepping to, I'm unsure, but I can say it's getting there awfully slow.
However, if you're thinking of making the leap into the foldable space and don't want to spend over $1,000 for the experience, the Samsung Galaxy Z Flip 5 is the way to go. But don't take this as my final judgment, as there's still plenty of benchmarking to do in this case and the numbers will be the final tale of the tape.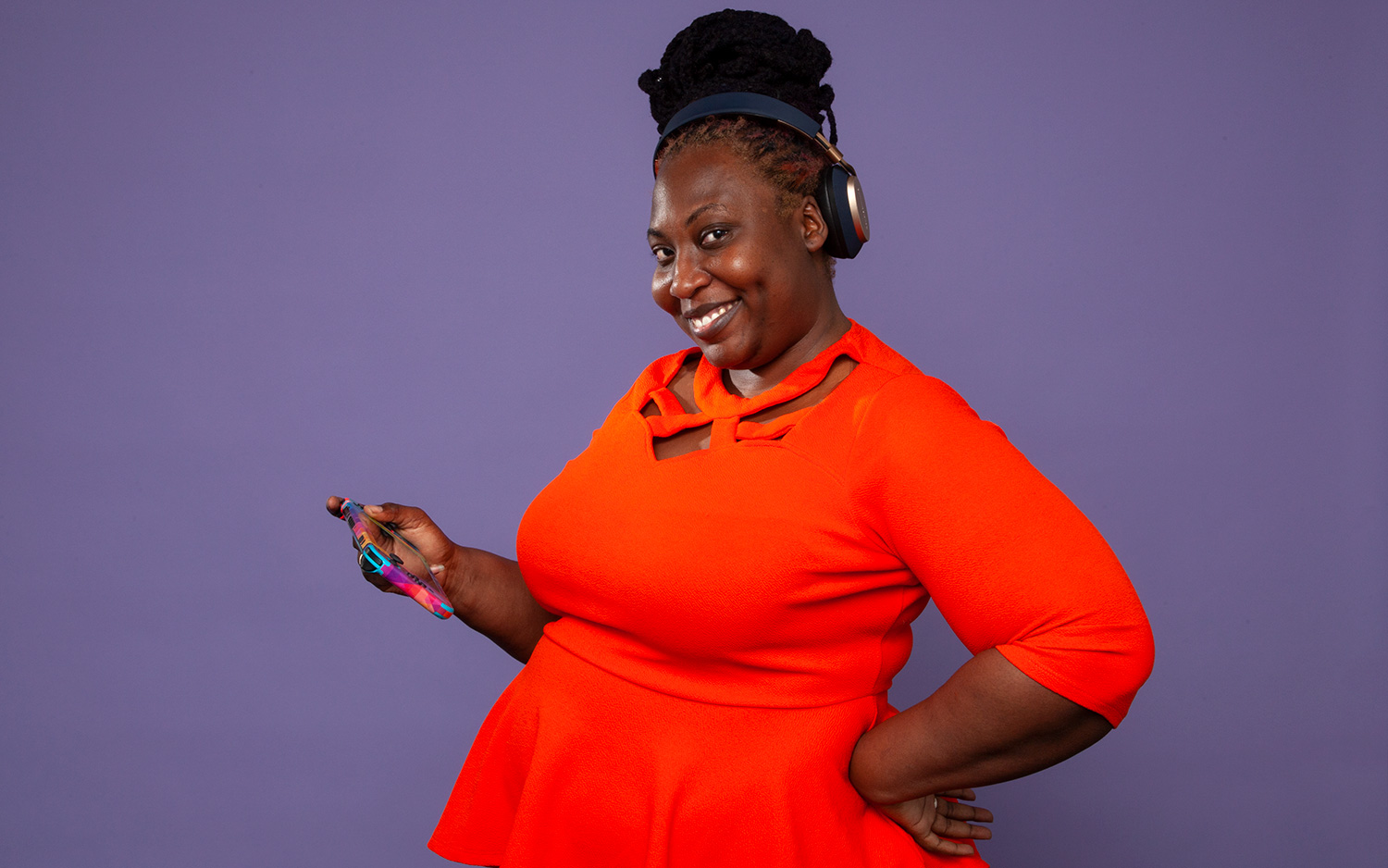 Sherri L. Smith has been cranking out product reviews for Laptopmag.com since 2011. In that time, she's reviewed more than her share of laptops, tablets, smartphones and everything in between. The resident gamer and audio junkie, Sherri was previously a managing editor for Black Web 2.0 and contributed to BET.Com and Popgadget.