Early Verdict
The Ray-Ban Meta smart glasses bring high-res content capture, A.I. integration and a host of cool features in a stylish package for a relatively low price point.
Pros
+

Stylish design with a lot of variety

+

Can take high-res photos and videos

+

Powerful audio

+

Livestreams to Facebook and Instagram
Cons
-

LED capture light might not be enough to warn people when recording
Why you can trust Laptop Mag Our expert reviewers spend hours testing and comparing products and services so you can choose the best for you. Find out more about how we test.
I'm not going to lie. Ever since the disastrous launch of Google Glass, I've been kind of down on smart glasses. Can you blame me? Google Glass screamed "take my lunch money and give me a wedgie!" And when I wasn't looking at the wearer contemplating letting your inner 1980's bully out, I was kind of creeped out, because you could never tell when one of those obnoxious glassholes was filming you. It was a no for me dawg.
Fast forward to a decade later and Meta has me wanting a pair of smart glasses. The company went back to the lab with popular sunglasses brand Ray-Ban and announced its second-generation Ray-Ban Meta smart glasses. Tapping into Ray-Ban's expertise, the glasses are super stylish. The integrated audio is powerful, but doesn't disturb your neighbor. It captures high-res video and images and when it does, a bright LED light lets bystanders know when someone is recording, eliminating that skeeve factor.
But my favorite thing by far is content capture. You can livestream to Facebook and Instagram with a tap of a button. You can also send your images and video to a friend in your preferred social media outlet with a little help from A.I.
I had a chance to go hands-on with the Ray-Ban Meta smart glasses and here are my first impressions.
Ray-Ban Meta smart glasses pricing and availability
The Ray-Ban Meta smart glasses start at $299 for the standard lenses and $329 for polarized lenses. If you're a fan of Transition lenses like me, it'll cost $379. Prescription lenses are also available, but prices will definitely vary. The smart glasses are available for preorder now at Meta.com, Ray-Ban.com, BestBuy, and Amazon with a ship date of October 17. After which, the glasses will be available at Meta.com, Ray-Ban stores, LensCrafters, Amazon, Best Buy and more.
Ray-Ban Meta smart glasses design
These are far from the bully-magnet Google Glass. The Ray-Bay Meta smart glasses are super stylish. There are two styles of frames to choose from. There's Ray-Ban's classic Wayfarer frames which has a squared shape and the new Headliners which has a more rounded cat-eye look. The Wayfarer are available in small and large sizes to accommodate heads large and small.
Both frames are available in 21 different variations and with the different lens options, there are over 150 smart glasses available, letting you get a really custom look. I for one, will be going for some purple Headliners with some prescription Transition lenses.
In terms of weight, the larger Wayfarer frames tip the scales at 1.79 ounces, while the smaller version weighs 1.71 ounces. The Headliners are 1.73 ounces. I had an opportunity to try on all three versions of the glasses and none of them felt any heavier than my regular/schmegular Prada frames. While I'm not one to wear my glasses in public, I'd definitely rock these.
The smart glasses are IPX4 rated for water resistance so they can hold up against a little sweat or a rain shower. Just don't submerge them in water.
Ray-Ban Meta smart glasses audio
Outfitted with a custom five-mic array and two open-ear speakers. The Ray-Ban Meta smart glasses sound surprisingly good. I listened to Kendrick Lamar's "King Kunta" and was impressed by the deep bass, crisp percussion and clear highs and mids. But what was even more impressive is the face that even though I had the glasses at a fairly high volume, my colleague could barely hear anything even though he was standing fairly close to me. He described the sound as a "distant buzzing".
According to Meta, the open ear speakers are 50% louder than the previous Ray-Ban Stories smart glasses. Another Meta claim says the five-mic array will give a top-notch, hands-free call experience as well as allow you to communicate with the integrated A.I.
Unfortunately, I didn't get to demo either of these features. I'll have to wait until our review unit arrives.
Ray-Ban Meta smart glasses specs
Despite their relatively small footprint, the Ray-Ban Meta smart glasses are hiding some serious tech including a Qualcomm Snapdragon AR1 Gen 1 Platform with 32GB of storage. That onboard storage gives the smart glasses to hold up to 500 photos, and 100 30-second videos. Not too shabby for a pair of glasses.
Ray-Ban Meta smart glasses cameras
The Ray-Ban Meta smart glasses can capture some seriously high-res photos at 3024 x 4032-pixels. For video, you can expect 1080p at 30 frames per second video thanks to its 12 megapixel ultra wide angle camera. Whether you're capturing photos or video, the 2mm Capture LED will turn on, giving any camera-shy bystanders a heads up that you're shooting so they can move out of frame. The light is rather small and I worry it's not big or bright enough to signal people.
Conclusion
So you just took some incredible video with the Ray-Ban Meta smart glasses. What now? It's time to share it to the 'gram or post it on Facebook. Unlike the Stories smart glasses, the new glasses can live stream directly to Facebook and Instagram, giving your audience a truly unique view.
If you just want to share with a smaller audience, a voice command will shoot the content over to your person of choice via the social media platform you typically use to communicate with them.
But before you do that, you might want to hop into the free Meta View companion app where you can edit or slap on a filter. Took a funny video but stumped about the caption? Time to consult the integrated A.I. for a little bit of inspiration.
Ray-Ban Meta smart glasses battery life
Tiny frames, longer battery life. Meta estimates the Ray-Ban Meta smart will last four hours on a charge with mixed usage. And while it will take 75 minutes to achieve a full charge in the charging case, you can expect a 50% in only 22 minutes. TUp to 32 hours of additional battery life per fully charged case.
Speaking of the charging case, it's an absolute beauty. The brown leather cases follows that classic Ray-Ban case. However it's 32% lighter so you can easily fit it into your bag, purse or pocket if it's deep enough. The case gives the smart glasses an additional 32 hours of battery life.
Conclusion
I might be a smart glasses convert. At least, I'm supremely intrigued by what Meta's offering in the Ray-Ban Meta smart glasses. Starting at $299, the smart glasses are a lightweight, unassuming piece of tech capable of capturing high-res photos and 1080p photos. Not only that, they have the ability to livestream to both Instagram and Facebook or send content to friends with a voice command. The audio is impressive, yet unobtrusive and they're stylish to boot.
My only concern is the LED capture light may not be enough to lessen the creep factor. No one wants to be filmed or photographed without consent, even if they are in a public space. But I'm eager to take the Ray-Ban Meta smart glasses for a spin sooner than later.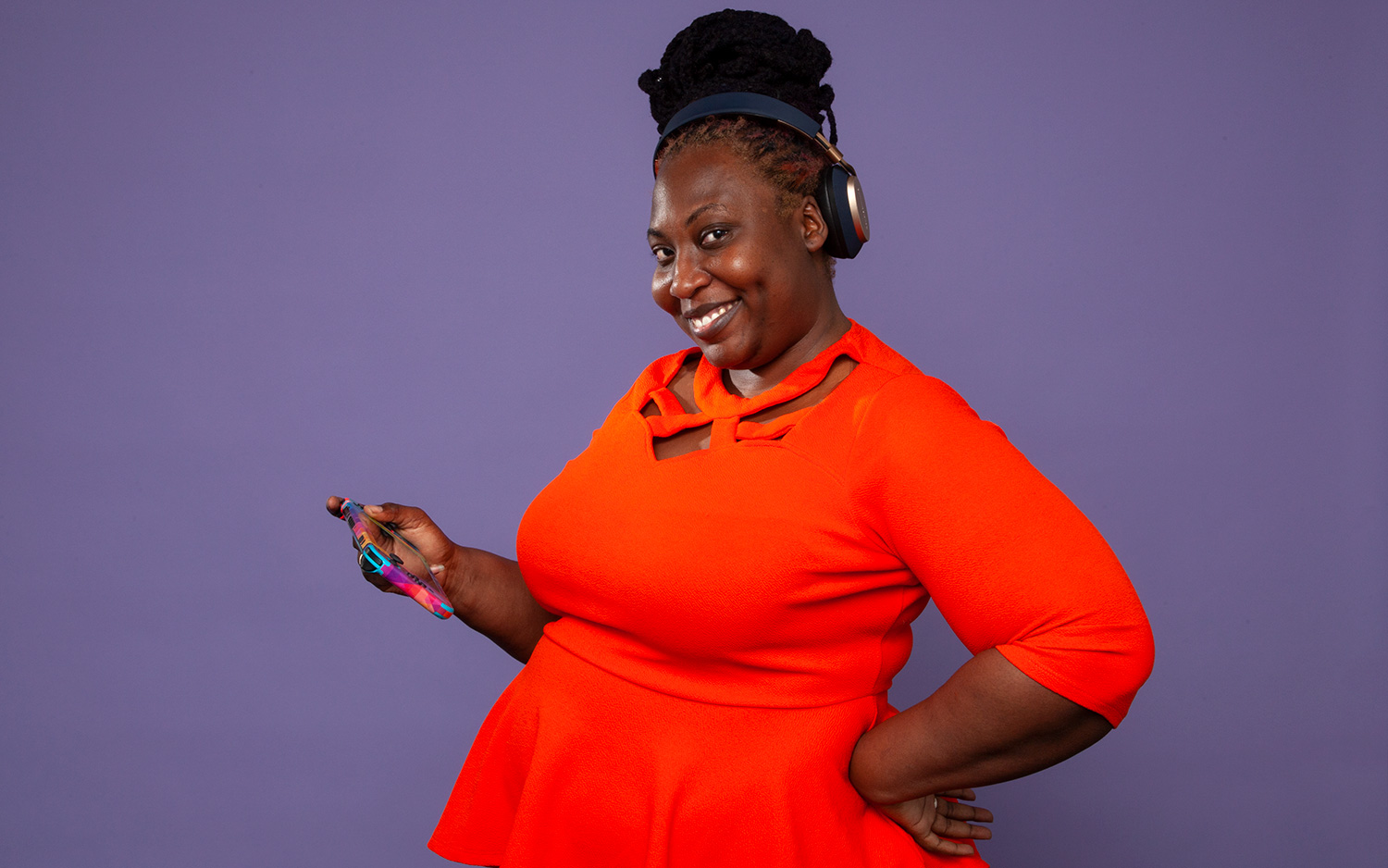 Sherri L. Smith has been cranking out product reviews for Laptopmag.com since 2011. In that time, she's reviewed more than her share of laptops, tablets, smartphones and everything in between. The resident gamer and audio junkie, Sherri was previously a managing editor for Black Web 2.0 and contributed to BET.Com and Popgadget.