This MacBook is unlike every other — and you can't have it (yet)
MacBooks' greatest flaw may be resolved with this cool new technology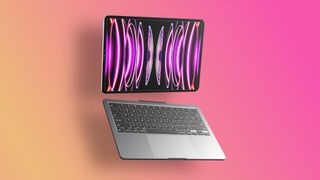 (Image credit: Laptop Mag / Rael Hornby)
The MacBook has been a constant source of innovation for Apple and a recently uncovered patent by the invention investigators at Patently Apple might've discovered the Cupertino company's MacBook end-game: a universal, hot-swappable, low-waste, and upgradeable modular MacBook Pro.
The patent, published earlier this week, showcases a number of use cases for an all-new modular computing system that allows individual components (screen, keyboard, etc.) to be slotted together in order to form a complete system.
Is this a direction Apple is likely to head in, or is it just another form of Apple patent trolling? Well, only Apple can say for sure. However, it would align with a number of the company's interests, and the hardest part of getting this patent spun into a fully-fledged product has already been done. Let's take a deeper look at the patent to learn more.
Build-a-Book: Plans to revolutionize the MacBook Pro
Universally beloved tech is hard to come by. No matter how excellent your product may be, there'll always be a critique from someone who would've preferred things just a little differently. Shipping a product that appeals to the widest possible audience is a constant balancing act between satisfying the needs of everyday users and that of the more professional or creative class of users.
So why not simply give users the ability to customize the device to perfectly suit their needs? According to USPTO patent number 11709527, That's exactly what Apple has been exploring the possibilities of over the last two years.
The patent describes a "base" equipped with a hinge that acts as the foundation of any particular configuration. Users would then be able to connect (wirelessly or directly) additional modules such as screens, keyboards, touch panels, and more onto the base with each component linking together to complete the device.
Users aren't limited to simple screen and keyboard configurations, either. The patent showcases a number of examples that include double and triple-screen configurations that rely on touch inputs or a wireless connection to a keyboard, the extension of a laptop deck with a sizable graphics tablet, and even shows a concept of the base working with a turntable record player for DJ'ing or music production purposes.
Even without just a screen attached, the base is able to detect touch, and near-touch inputs in order to act as a buttonless input device of sorts that allows for a very basic configuration that is wafer-like in thickness.
MacBook Pro All-in-One: The hard work is already done
One of the more compelling reasons that Apple could be interested in doing more with this patent than letting it gather dust on a shelf somewhere comes down to a product they already have great success with — the iPad Pro.
Having been able to cram the incredible performance of the M2 Apple Silicon chipset into the iPad Pro in recent years, the device is now cable of a phenomenal amount of performance and a wide range of uses. However, to the majority of users, it's still just a tablet.
You can expand on the iPad's potential by adopting the Magic Keyboard or making use of the Apple Pencil, and further still with a docking station like the Plugable UDS-7IN1, however, you're still simply emulating a MacBook experience.
This modular MacBook approach could feature the iPad front and center as the mastermind of a fully configurable experience designed to be as portable or stationary as required for each individual.
Modular MacBook Pro: A solid Framework for the future
Apple's patent may seem a little out there in terms of plausibility, but the idea of a fully upgradeable and customizable laptop isn't a new one. In fact, such a laptop already exists. We're not talking about a one-off concept that turns heads at a few expos before never seeing the light of day again, either.
The Framework Laptop 13 is a fully upgradeable, customizable, and repairable device that is overhauling the electronics industry's e-waste by delivering longer-lasting, modular machines capable of keeping pace with the latest and greatest by introducing the concept of incrementally upgrading your laptop like that of a desktop machine.
Framework's laptop is an e-waste annihilator that could greatly expand the lifespan of laptops, and the follow-up to its 13-inch debutant is looking even more incredible — in fact, the Framework Laptop 16 could be the last laptop you ever buy.
Outlook
We already know that under Tim Cook's leadership, Apple has a primary focus on health and environmental impact. The brand is already powered by 100% renewable energy, and it's currently aiming to become completely carbon-neutral by 2030.
Tackling the issue of e-waste when it comes to the production of its devices is no doubt something Apple has looked into for some time, and this patent showcases a way for the company to do exactly that.
As with every other patent of Apple's we've seen to date, we can't say for sure whether it will result in anything final. We can however compliment its ingenuity — though it might be time to start bringing these patents to life, as Apple is starting to look a little basic compared to the competition.
For news, rumors, and updates on all things Apple and tech, follow Laptop Mag on Twitter, Facebook, and Flipboard for the latest word as it arrives.
Stay in the know with Laptop Mag
Get our in-depth reviews, helpful tips, great deals, and the biggest news stories delivered to your inbox.
Rael Hornby, potentially influenced by far too many LucasArts titles at an early age, once thought he'd grow up to be a mighty pirate. However, after several interventions with close friends and family members, you're now much more likely to see his name attached to the bylines of tech articles. While not maintaining a double life as an aspiring writer by day and indie game dev by night, you'll find him sat in a corner somewhere muttering to himself about microtransactions or hunting down promising indie games on Twitter.