Right now, you can get $100 off the RTX 4070-armed MSI Pulse 15 — one of the best value powerhouses just got even cheaper.
To those who have been waiting for the first crop of RTX 40 series laptop deals, that day has come and this one is pretty special. With zero compromise of specs across the board and a sneaky Newegg discount code, this is the best gaming laptop saving you can snag right now.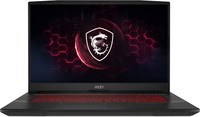 MSI Pulse 15 (RTX 4070): $1,899 $1,799 with code ZIPFEST12
As you'd expect from any laptop packing a 4070, the MSI Pulse 15 matches this graphical power with impressive specs across the board — a QHD panel with 165Hz refresh rate, Intel Core i9-13900H CPU, 32GB DDR5 RAM and a 1TB NVMe SSD.
I know what you're thinking. We've seen several cheaper RTX 40 series laptop deals with prices that sound great. But once you scratch beneath the surface and look at the specs, you realize every other component is compromised in some way — be it an older CPU, limited SSD storage or previous generation RAM.
This MSI Pulse 15 laughs at your assumption by packing a 13th Gen Intel Core i9 CPU, alongside a beasty 32GB of DDR5 memory and a 1TB SSD, which is all packed into an impressively sleek chassis.
And the good news continues into the display, with a 15.6-inch 2560 x 1440-pixel IPS panel that runs at a silky smooth 165Hz, and boasts a 100% DCI-P3 color gamut for those who want to use their portable powerhouse for creative work, as well as gameplay.
Combine this with all the I/O you could possibly want (including HDMI 2.1 to really make the most of those extra frames DLSS 3.0 gives you), and you have a monstrous system for a seriously affordable price. Make no mistake about it, this is one of the best deals available today.