New patent transforms your iPhone into a mixed reality headset — is this the Apple Vision SE? (report)
The Apple Vision Pro that won't cost a kidney?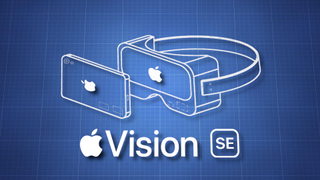 (Image credit: Laptop Mag / Rael Hornby)
Apple's Vision Pro headset is a remarkable bit of tech, one that's rightfully causing a stir and breathing a second wind of energy and excitement into the AR/VR headset market. Sadly, the Vision Pro's alienating $3,500 price tag is an incredibly lofty investment that most users simply won't be able to afford.
However, a recently granted patent has seen Apple quite possibly reveal its plans for a more affordable headset model designed to work with iPhones and/or iPads – a smart accessory for iPhone and/or iPad, and a potential candidate for the Vision SE.
What's in the patent?
The aforementioned patent, titled "Electronic devices and accessory devices that provide information to electronic devices", showcases a series of smart accessories and cases that link up with your iPhone or iPad to provide expanded functionality.
The patent describes the use of a detection mechanism within the accessory device (a case, folio, or HMD) to register when an electronic device (an iPhone or iPad) is in the correct position within the accessory before giving the green light for "wireless circuitry" within both the electronic device and an accessory device to link up with one another.
Once both devices are connected, the accessory device can then freely send and receive information from the electronic device, stating "Such information may include properties of the accessory device, or information stored on the accessory device that is presented on a display of the electronic device.
Essentially, once you place your iPhone or iPad into one of these "smart accessories" (be it a case, folio, or HMD), the two devices will authenticate one another before establishing a wireless link that can quickly pass information back and forth with as little interruption or delay as possible.
Is this the Vision SE?
The syncing of both devices would then allow the "electronic device" to provide a computing backbone for the additional features of an "accessory device" – say for example: your iPhone processing camera and sensor data from a Head Mounted Display (HMD), effectively turning it into an AR/VR headset.
The patent's included technical drawings support this possibility by themselves showcasing how you could effectively transform your iPhone or iPad into a functioning AR/VR headset with this new technology.
Place your phone inside the HMD peripheral and the two would authenticate and open up a wireless connection. Then, your iPhone would be free to make use of the peripheral's sensors, cameras, and more – displaying the results on screen. Is this Apple's concept for a Vision SE? A much cheaper, much more accessible version of its Vision Pro headset? Potentially.
If there is a Vision SE on its way, it likely won't look like the technical drawing presented in the patent, but it could be how it functions. Allowing the millions of iPhone users worldwide to gain easy access to a sampling of the spatial computing experiences offered by VisionOS and the Vision Pro, at a fraction of the costs.
Outlook
This isn't the first time Apple has floated the idea of using an accessory built around the iPhone to deliver AR/VR features, with Apple winning a similar patent for an iPhone augmented HMD back in 2015.
However, with the Vision Pro having been unveiled at WWDC earlier this month, and with Apple fans at an AR/VR fever pitch, now could be the perfect time for the Cupertino-brand to put these patents into production and start winning over the hearts and minds of those priced out of its first-gen Vision Pro headset.
Stay in the know with Laptop Mag
Get our in-depth reviews, helpful tips, great deals, and the biggest news stories delivered to your inbox.
Rael Hornby, potentially influenced by far too many LucasArts titles at an early age, once thought he'd grow up to be a mighty pirate. However, after several interventions with close friends and family members, you're now much more likely to see his name attached to the bylines of tech articles. While not maintaining a double life as an aspiring writer by day and indie game dev by night, you'll find him sat in a corner somewhere muttering to himself about microtransactions or hunting down promising indie games on Twitter.