New Asus Zenbook S 13 OLED is thinner than M2 MacBook Air — and has a bigger battery, too!
Bound to make your other gadgets feel body-conscious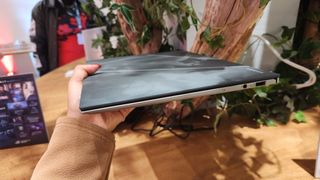 (Image credit: Future)
The Zenbook has been among the best ultrabooks on the market for a number of years now, and while it would be easy for Asus to rest on its laurels, the Taiwanese manufacturer is still pushing hard on innovation to reduce its device's size, weight, and carbon footprint. All while building upon the familiar power, performance, and staggering beauty of the Zenbook brand.

Today Asus unveil the fruits of their labor: the new Asus Zenbook S 13 OLED. A 13.3-inch OLED laptop that strikes the perfect balance between power and poise. It's an exciting announcement that will no doubt catch the attention of eyes all over the tech world. So without further ado, let's jump into what we know about Asus' new Zenbook.
Asus Zenbook S 13 OLED
I hate to put the cart before the horse on this one, but let's take a moment to appreciate one of the most stand-out features of the Zenbook S 13: its ridiculously slim frame. I don't know how Asus has managed to pull this ultra-slim form off, but whatever magic they have access to, I do know that doctors hate it for this one simple trick.
At just 0.42 inches thick, the Zenbook S 13 is the thinnest laptop I've ever seen — even surpassing both the MacBook Air M2 (0.44 inches) and the Samsung Galaxy Book 2 Pro 360 (0.46 inches.) That's up to 30% trimmer than last year's Zenbook managed, and I truly believe the only thing preventing that number from not being any higher is the full selection of ports available. Of which includes two Thunderbolt 4 Type-C ports, one Type-A 3.2 Gen 2 USB port, a HDMI 2.1 port, and a 3.5mm audio jack.

The ZenBook's svelte profile isn't the only design choice worthy of applause, as there's also the laptop's premium-feel, Plasma Ceramic Aluminum (more on that later) lid, and a sizable ErgoSense TouchPad accommodating enough for any set of fingers to skate across.
Like a clown car full of bodybuilders, there's a lot of beef packed into this small chassis. The Asus Zenbook S 13 OLED is powered by a 13th Gen Intel processor that maxes out with a powerful Intel Core i7 CPU. Configurations also allow for up to 32GB of RAM, 1TB of rapid SSD storage, and Intel Iris Xe graphics.

The lack of a discrete GPU isn't the end of the world as long as you're not planning to tackle the latest AAA games or dive too deep into graphics-intensive tasks. The Iris Xe's Deep Learning Boost technology will however give you a subtle boost in performance when it comes to video and photo editing.

The former tasks will lend themselves particularly well to the Zenbook S 13's 13.3-inch, 2.8K (2880 x 1800) Lumina OLED, NanoEdge display. Asus' OLED panel is Vesa certified and features DisplayHDR and Dolby Vision at up to 550 nits of peak brightness for impeccable contrasts and bright, vivid colors that cover 100% of the DCI-P3 color gamut. As if Asus hadn't impressed with this panel already, it also features a 120Hz refresh rate with a 0.2ms response time for an ultra-smooth and crystal-clear picture.
The Asus Zenbook S 13 OLED is available now at a starting price of just $1,399.99 USD — making this model more affordable and more powerful than that of last year.
If you're in the U.S. you can pick up the Zenbook S 13 OLED at the ASUS eShop, Amazon, Best Buy or Newegg. ABT, and B&H Photo will also have listings, though a current deal will see you save $100 if you grab your new Zenbook S 13 OLED from Micro Center for just $1,299.99.
Those in Canada, can similarly find Asus' latest ultrabook offering from $1,599 CAD at the ASUS eShop, Amazon and Best Buy, as well as Canada Computers and Memory Express.
Asus Zenbook S 13 OLED specs
Plasma ceramic aluminum? Cool. What is it?
Beyond a list of words that might score well in a game of Scrabble, Plasma Ceramic Aluminum is Asus' exclusive, eco-friendly, treatment process that applies a ceramic-like finish onto aluminum surfaces.

The physical and chemical transformation provides the treated surface with improved properties, like increased wear resistance, corrosion protection, increased hardness, a better thermal barrier, and a longer lifespan.

Better still, the treatment process is bath-based and uses pure water, without any need for organic compounds, VOCs, strong acids, or heavy metals. It also ensures the aluminum remains 100% recyclable, resulting in an environmentally low-impact finish that retains a premium feel.
Outlook
Asus' announcement is a gauntlet thrown to the competition. The Zenbook is now the thinnest laptop on the market, and it's highly unlikely that this claim will be one Asus is willing to give up on lightly. Not only that, it accomplished this feat without pulling back on the impressive features that Zenbooks have become so well known for.

The reveal of the Asus Zenbook S 13 OLED, to me at least, is a massive win for the Taiwanese Tech giants.
Category
Back to Ultrabook Laptops
Brand
Processor
RAM
Storage Size
Screen Size
Colour
Condition
Price
Stay in the know with Laptop Mag
Get our in-depth reviews, helpful tips, great deals, and the biggest news stories delivered to your inbox.
Rael Hornby, potentially influenced by far too many LucasArts titles at an early age, once thought he'd grow up to be a mighty pirate. However, after several interventions with close friends and family members, you're now much more likely to see his name attached to the bylines of tech articles. While not maintaining a double life as an aspiring writer by day and indie game dev by night, you'll find him sat in a corner somewhere muttering to himself about microtransactions or hunting down promising indie games on Twitter.