Microsoft Surface October event: Surface Pro 9, Surface Laptop 5, Surface Studio 2+ and everything announced
Find out everything announced at the big Microsoft Surface event 2022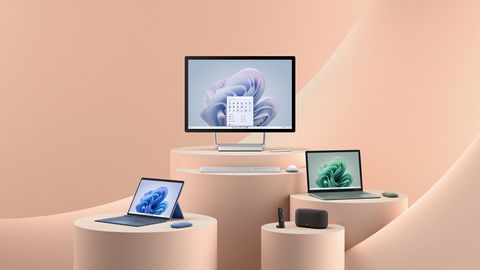 (Image: © Microsoft )
The Microsoft Surface event 2022 revealed a host of new devices, including the Surface Pro 9, Surface Laptop 5, Surface Studio 2+, and more. The show was short a sweet, and we even got a sneak peek at the new Microsoft Designer app.

We heard a lot about how Windows 11 will boost certain features on the new Surface devices, too. Many are already available thanks to the Windows 11 22H2 update that came out recently, but there are more apps and features on their way in the near future.

We covered all the big announcements below, and for more in-depth details on each new Surface product, we've got you covered.
Everything announced at the Microsoft Surface event 2022
For all you need to know about the Surface Pro 9, Surface Laptop 5, and Surface Studio 2+, along with how they measure up with their predecessors, we've got you covered below:
You can catch the full event over on Microsoft's event page, along with videos of each new device over on the Microsoft Surface YouTube channel.
And if you aren't convinced the upgrades are for you there are currently a number of Surface deals running for Amazon's October Prime Day sale with a Surface Pro 8 for $460 off at Amazon and over $350 off some Surface Laptop 4 models at Amazon.

We covered everything Microsoft had in store below. Prepare for all things Microsoft Surface!
Refresh
And we're kicking off! Welcome to Laptop Mag's Microsoft Surface event live blog, where we'll be covering everything Microsoft has in store for this year's Surface event, along with a rundown of any last-minute leaks and rumors we spot.

In fact, we may already know what Microsoft has up its sleeve. Tipster Aggiornamenti Lumia on Twitter has teased leaked specs for Surface Laptop 5 15-inch and 13.5-inch models, along with a hint at what the expected Surface Pro 9 will have under the hood.

If the leaks are accurate, they may not be all that different from the Surface Laptop 4 and Surface Pro 8. However, the tipped specs do include 12th Gen Intel CPUs, specifically i5-1235U and Core i7-1255U processors. The Surface lineup was due for an update, so this comes as no surprise. But the main takeaway is that Microsoft could be gearing up to announce the Surface Pro 9 and Surface Laptop 5, just as we thought.

What else will Microsoft be planning to unveil? Won't be long until we find out.
Surface Laptop 5 15"Common for all variants:- RES: 2496x1664- 12th gen cpu (Intel EVO)- Windows 11 Home- Intel Xe Graphics (integrated graphics)- BT 5.1 + WiFi 6October 7, 2022
So, what do we know about the rumored Microsoft Surface Pro 9? Well, quite a bit.

While it's expected to sport the same design, there are more interesting changes under the hood. According to a WinFuture report, a leak revealed that the standard Surface Pro 9 models should feature Intel 12th Gen CPUs. No surprise there; tipster Roland Quant specified that it will be the Intel Core i5-1235U and Intel Core i7-1255U CPUs to be specific. They are the direct successors to the processors in the Surface Pro 8, so again no surprise, although some may have hoped to see the more powerful P-Series.
The more intriguing option is the Surface Pro 9 5G mentioned in the leak. This model will feature a customized Snapdragon 8cx Gen 3, which Microsoft will call the Microsoft SQ3. This follows the pattern we've seen in the last two generations of the Microsoft Surface Pro X. If this model launches as the Surface Pro 9 5G, that almost certainly marks the end of the Surface Pro X line, which we won't shed a tear for.
Quant went on to say that the Pro 9 will come with 256GB of storage in the base model (a step up from 128GB last year) and top out at 1TB.
Then there's the Surface Laptop 5, which appears to be a safe bet.

Tech site WinFuture claims the next Surface Laptop will be announced in mid-October (just in time for the Surface event), and that it will be equipped with the latest 12th Gen Intel processors and up to a 1TB SSD.

This isn't outside the realm of possibility, as Microsoft doesn't shy away from frequently updating its Surface Laptop line. This is a laptop we're looking forward to, as we were fans of the 13-inch Surface Laptop 4 and 15-inch Surface Laptop 4 with AMD.

Reckon we'll see an update to the Microsoft Surface Duo 2? According to Windows Central, Microsoft is thinking about using the same foldable design as the current Surface Duo or switching it up to something similar to the Galaxy Z Fold 4. If the design is changed, then it's expected to come in a different aspect ratio and thinner design.

We've heard murmurings of Microsoft's scrapped Surface Duo before, which was expected to be a low-cost model with a dual-camera array and plastic exterior. Images of the device popped up on a now-deleted eBay listing, titled as a "dev unit" of the Surface Duo 2. Apparently, it was canceled in late 2021 to focus on the next Surface Duo device.

It's likely Microsoft will take more time to work on the next Surface Duo, so we may not end up seeing it at this Surface event.
Is the tech giant planning to release this rumored Microsoft Surface Gaming Laptop? Sounds great for gamers, but it's unlikely to make an appearance.

Leaked by Prime Gaming, the technical spec sheet details everything from the dimensions to the display of the Microsoft Surface Gaming laptop. According to the spec sheet, we can expect a 16-inch (2560 x 1440) PixelSense Flow display with a 165Hz refresh rate and Dolby Vision support, all in a 14.07 x 9.65 x 0.77-inch form factor.

Under the hood, the sheet claims we'll see up to a 12th Gen Intel Core i7-12700H, up to an RTX 3070 Ti with 8GB GDDR6 video memory, up to 32GB of LPDDR4x RAM, and up to 2TB of storage. This is where we start to get skeptical, seeing as the latest gaming laptops are moving to LPDDR5 RAM.

We can also expect the usual features, including Windows 11, a 1080p webcam with Windows Hello face authentication, and a magnesium and aluminum casing — just like the Microsoft Surface Laptop Studio. However, it will apparently come in Platinum and "Matt Black," according to the sheet. Microsoft has "Matte Black" Surface Laptops, so the spelling is a bit of a throw-off, too.

Prime Gaming is a leaker we haven't come across, and there are questionable specs on the sheet that could turn out to be false, so take this all in with a pinch of salt.
The Surface Laptop Studio was (and still is) a hit last year, featuring an innovative hinge and powerful specs. While we'd like to see an update, there haven't been many rumors of Microsoft gearing up to launch a refreshed model.

However, that isn't to say we won't get something Studio related. Rumor has it the Surface Studio 2 is due for an update, which makes sense seeing how it was released back in 2018. One previous rumor states (via Techradar) that a Studio 3 is in the works, but stated it would come with an 11th Gen Intel processor. We're not too sure about that, seeing as 12th Gen Intel is not out in the wild and the other rumored Surface devices are tipped to get the current processor.

Is a new Surface Studio in the cards? We hope so.
So, what exactly is Intel Evo? According to rumors and leaks, the Surface Pro 9 and Surface Laptop 5 is expected to deliver the Intel Evo platform, which means these laptops have been put through rigorous testing to prove that it's worthy of earning the highly sought-after "Evo" badge.

Laptop's Tech Editor Kimberly Gedeon explains it best:

"An Intel Evo sticker is to laptops as an FDA-approval badge is to grocery store products.
When you see "FDA approved" emblazoned across a food package, you likely have peace of mind knowing that a regulatory body reviewed the product, so you feel more confident about buying it, right? The same can be said about Intel Evo laptop stickers. In order for a laptop to be an Intel Evo laptop, it must meet strict, high standards regarding battery life, performance, weight, and more."

It's Intel's goal to deliver the best specs on a high-quality laptop, meaning Microsoft's next set of Surface laptops are expected to be made of the best stuff. Of course, we won't until they're announced, and we have to get our hands on whatever Microsoft reveals.

For more about what Intel Evo means, we've got you covered.

Only a few hours to go.
One of the hot questions for the Surface event is the price for the rumored devices. Well, we may have a hint about how must the Surface Pro 9 will cost. Tipster Aggiornamenti Lumia on Twitter has another leak, suggesting the price and when the Surface Pro 9 will ship thanks to an Amazon listing.

According to the post, the Surface Pro 9 will ship sometime between November 2 to November 11, with prices starting at £915.83 in the U.K. That price looks a little too specific to be official, so take this with a grain of salt.
What about pre-ordering the new Surface Pro 9 before the #MicrosoftEvent? Yes, you can pic.twitter.com/6IvGpKMCKrOctober 12, 2022
The Amazon listing shows three listings, showing the specs we can expect for the 2-in-1 laptop. This includes an Intel Core i5 model with 16GB RAM and 256GB SSD for £1,165.83, the same model with 8GB of RAM for £915.83, and an Intel Core i7 configuration with 16GB RAM and 256GB SSD for £1,332.50.

No 5G model here as previous leaks have mentioned, but it's a good indicator of the price we can expect. The Surface Pro 8 has a starting price of $1,099 (around £994), meaning Microsoft may have dropped the price. However, the price in the leak is skeptical (it may be due to the delivery charge from the U.K. to Italy).

The official price is still up in the air, but if it's around the $1,000 mark, it's likely to be similar to the Surface Pro 8.
If you had a crystal ball, what would you predict for the #MicrosoftEvent on​ October 12?October 10, 2022
Microsoft posted a poll on Twitter about predictions for the Surface event, and the majority picked "a next-level laptop." Whoever voted for this option is likely to have hit the nail on the head, judging from the numerous leaks and rumors pointing to a Surface Pro 9 and Surface Laptop 5.

But what else is coming? Will we actually see "personalization options" and "operating system updates"? Considering we recently saw the Windows 11 22H2 update, we may see software update announcements that are coming in the future rather than right now.

Who knows. Just under four hours to go.
Microsoft's Surface event coincidentally falls on Amazon's October Prime Day, and we're seeing some big discounts on Surface products.

That includes the brilliant Microsoft Surface Pro 8, which is now $1,139 on Amazon. That's down from $1,599.99, and it boasts an Intel Evo platform Core i7 processor, 16GB of RAM, and 256GB of memory. Not a bad deal of you're thinking about getting a 2-in-1 laptop.

Microsoft is likely to reveal the Surface Pro 9 at the event, but we're not sure how much it will be priced just yet. If you're looking to swipe a good deal on a Surface Pro 8, now may be the time.
Even the Microsoft Surface Laptop Studio has a notable discount in Amazon's October Prime Day event. Judging from previous rumors, an updated Surface Laptop Studio isn't expected to make an appearance at this year's Surface event — making this deal even more worthwhile.

Right now, the Surface Laptop Studio is down to $1,589 at Amazon. That's quite the price drop from the usual $2,099 cost, and you'll get an 11th Gen Intel Core i7-11700 processor, 16GB of RAM, 512GB SSD, along with a sleek 14.4-inch, 2400 x 1600-pixel (3:2) display at 120Hz. Plus, it even comes with a Nvidia GeForce RTX 3050 Ti GPU for some gaming.

Microsoft may have something Studio related pop up in the Surface event, but if you're after one of the best laptops on the market, sporting incredible specs, you'll want to check this deal out.
We're under three hours away from the big Surface reveals, and while the Surface Laptop 5 and Surface Pro 9 appear to be a lock, are there any other devices Microsoft has up its sleeve?

Last year, we saw the updated, ARM-based Surface Pro X come in a Wi-Fi-only model, meaning we could see another update come along. However, the rumor mill has been quiet about a refresh.

But what about accessories? We could see Microsoft deliver a new detachable keyboard, wireless mouse, and even an update to the Surface Slim Pen 2. We're sure we'll see some kind of accessory take the spotlight, especially ones suited for the touchscreens and detachable displays set to arrive with the Surface Pro 9. For now, it's all just speculation.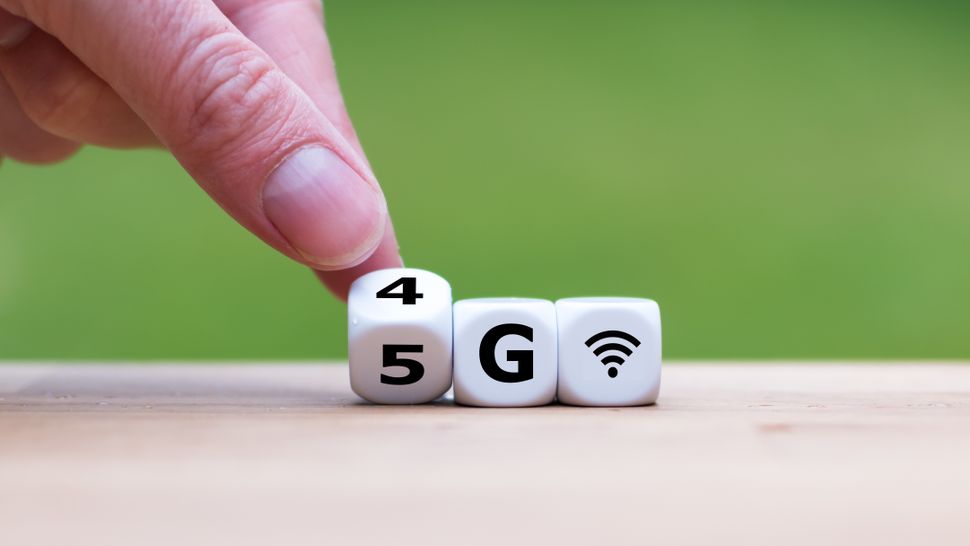 While we may not see an update to the Surface Pro X, the Surface Pro 9 is looking to take a few cues from it. Namely, its 5G capabilities. In fact, tipster Zac Bowden (via Windows Central) claims Microsoft is set to merge the Surface Pro X ARM and Surface Pro 9 Intel versions under one product line.

In the report, it claims the Surface Pro 9 will be adding 5G connectivity, making it a first for a Surface PC. By adding 5G, however, it may mean the 2-in-1 laptop uses a different chip rather than an Intel-based one. We know Qualcomm Snapdragon is a good bet when it comes to 5G products, as the company is know for its 5G chips.

Will we see the end of the Surface Pro X for the Surface Pro 9 to shine brighter? Only two hours until we find out.
We have still yet to see a placeholder video on the Microsoft Surface official YouTube channel, but Microsoft has pinned the event reminder on Twitter. We might see it streamed live on its Twitter page as well, but you can also check out Microsoft's event page to watch all the big reveals (there's a pre-stream video playing with some neat tunes).
Join us Wednesday, October 12 at 10am ET to see what's next for Microsoft Surface. #MicrosoftEvent https://t.co/vYHG0odexJSeptember 27, 2022
So, how long will this year's Surface event be? Last year's Surface event last just under an hour, but it had plenty of products to talk about. This year, there only seems to be a handful of Surface devices set to be announced, according to rumors.

Perhaps this year's event will be shorter. Either way, it looks like the livestream will run just under an hour long. That's enough time to get some popcorn to munch on as all the products are revealed (at least, that's what I'll be doing in between typing).
Just under 45 minutes to go until Microsoft finally reveals all the Surface devices we're expecting, and hopefully a few surprises, too. And, without any YouTube video so close to the event, it looks like the best place to watch is on Microsoft's event page.

Oh, what's this? Is that the outline of a Surface Pro 9 I spot? Probably.
Under 30 minutes to go! The hype is real, especially for all things 12th Gen Intel coming to Surface products (fingers crossed). Stick right here for all the announcements. Oh, and don't worry about refreshing the page, this live blog will do that for you.
It's #MicrosoftEvent day and we're covering it live!Check out our live blog: https://t.co/8nqjtFC8WyAnd join us on here for live tweets (maybe the occasional Simpsons meme - our social guy can't help himself) 🤷 https://t.co/S2uP88Arl9October 12, 2022
Just 10 minutes to go. We'll be live-tweeting all the big announcements, too, so check out @laptopmag on Twitter. Plus, you might want to anticipate some Simpsons memes while you're there (thanks, Jason England).
Just stretching out my fingers while the colorful shadow of a Surface Pro 9 stares me down on the livestream. That will likely be the first product Microsoft reveals. Then, perhaps the Surface Laptop 5. A Surface Duo 3, maybe? Well, just 5 minutes until the show starts. Get the popcorn out.
Microsoft's image turns to a Windows 11 screen, kicking off with, wouldn't you know it, all the innovations the Surface brings.
Celebrating 10 years of Surface! And we're back with Panos Panay, this time in a background of greenery. Panay walks us through the ways Surface products "connect us through technology," along with a background of when he worked.

He talks about how Microsoft was trying to replace the mouse, and how it starts with "you" when it comes to innovations.
Right now, Microsoft is asking itself what's the next step in innovation when it comes to Windows PC. That's a lot of hype for the next Surface products, and we're hearing that the event will talk about what's next for Windows 11 and the new Surface products coming.

Let's get stuck in.
Here it is. The new Surface Laptop 5. With a new Sage Green color option! And Thunderbolt 4! Along with the usual two models: 13.5-inch and 15-inch.

Oh, and all-day long battery life. Interesting.
The Surface Laptop 5 will have an accurate, comfortable typing experience, along with Windows Hello in the webcam. Expect a sleek and light design. Expect the usual colors, expect with the addition of Sage.

The laptops will come with CPUs based on the Intel Evo platform, meaning they will pack a punch (hopefully).

Microsoft claims it can last 18 hours, and fast-charge can get you a whopping 9 hours in 30 minutes. That's a big claim. We're interested to check that out.
Windows 11 will help keep those video calls clear, and there are Studio Mics that claim to offer crystal clear audio. Windows 11 is also offering "Carbon Aware," which will keep things nice and clean and only update when in the right conditions. Neat.
Here's a look at the Surface Laptop 5, by the way.
Now we're onto Windows 11. We've seen many of the updates in the recent Windows 11 22H2 update, but we're seeing a bit more about accessibility now.

Expect system-wide live captions, voice access to control your PC with your voice, along with more natural voices for easier listening.

Plus, Windows 11 is claimed to be the most secure OS ever, and will block malicious threats from hurting your PC. Apparently, it will block 900 password attacks every second. Now that's something I like to hear.
Plus, the Snap Layout feature has gotten even better, allowing you to place an app in a certain layout even before booting it up. Plus, we're getting Window Studio Effects for even better video calls.

Microsoft also announced a new remote presenter, along with a Studio Dock for increased connectivity. Lovely stuff.
Integration with Apple is coming to Windows! Meaning things like photos from your iPhone will automatically appear on your Windows 11 PC. Plus, the Apple Music and Apple TV apps are coming to Windows, too. That's great news for those with Apple devices but with a Windows product.
Now, we're on the Surface Pro 9! That's right, the rumors and leaks hit the nail on the head. The Surface Pro 9 is official, and its now designed with Windows 11 in mind. It looks to be a lot like the Surface Pro 8, but with a few updates like 5G connectivity, all-day battery life, and a 120Hz display. Plus, there's a place to store the Microsoft Surface Pen 2. Wonder if it will come bundled in with the 2-in-1 laptop.

It's looking like quite the beauty.
There's a blueish Liberty Floral print keyboard that comes with the Surface Pro 9, as well. We're seeing all the usual functions of a Surface Pro, including the touchscreen and detachable keyboard. However, with Windows 11, the taskbar is better suited at the bottom, apparently.
The Surface Pen 2 will come into play even more so than previous devices. Some interesting apps are coming, too. Good Notes is coming to Windows 11 soon, and it will come with some collaborative features just for Windows.

With the new Microsoft SQC processor powered by Snapdragon, you can expect 5G on the Surface Pro 9. Plus, this model boasts up to 19 hours of battery life. Wow, no that's a long-lasting laptop.
We're getting a look at the Surface Pro 9 5G's camera, which has an auto-framing feature that follows you as you move. Plus, the camera is also placed at the centre, all so you're not looking off to the side on video calls.

Windows Studio Effects will also be able to adapt to any background you're in, thanks to Portrait Blur. Plus, Voice Focus sounds great. And by that, I mean silent. It centres in on someone's voice and eliminating all other background noise, like a leaf blower or a hair dryer. We're intrigued.

You can even use this feature on any video calling apps.
We have one more product to go, and its the Surface Studio Pro+. Apparently, it is "So, powerful." It comes with three Thunderbolt 4 ports, an 11th Gen Intel chip, and a very big touch display. It's completely flexible, too. You can have four 14-inch displays at once on the display.
We're also getting a new product called Microsoft Designer, which is part of the Microsoft 365 apps. It looks like an AI-powered image app that helps you create images and social media posts by generating images based on your search, along with different layouts.

You can then customize the color, font, or size options, and creates a custom image based on what you've searched. Users can then tweak the post to the way they want, and publish on different platforms like Linkedin and more.
This software is also coming to Bing soon, meaning you can search for customized images in the browser.
And that's the event! That was short and sweet, but more can learned at Microsoft Ignite's event. There was plenty announced, from the new Microsoft Designer app to the new Surface Pro 9, Surface Laptop 5, and Surface Studio 2+.

Stay tuned as we update this page for a recap of everything announced.