Microsoft Surface event: Surface Pro 8, Surface Duo 2, Surface Laptop Studio and everything announced
Find out everything announced at Microsoft's big September event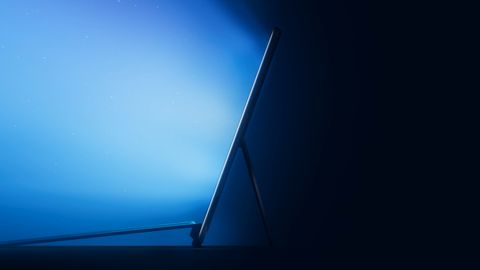 (Image: © Microsoft)
Microsoft unveiled a slew of Surface devices at its September Surface event, with some of the biggest highlights being new 2-in-1 laptops and an update to its dual-screen smartphone to coincide with the launch of Windows 11.

Microsoft has many devices up its sleeves, including the highly anticipated Microsoft Surface Pro 8 and Microsoft Surface Go 3 hybrid tablets, along with the sought-after Microsoft Surface Duo 2. The star of the show came towards the end of the event, with Cheif Product Officer Panos Panay unveiling the Microsoft Surface Laptop Studio. Stay tuned for all our upcoming reviews.

Couldn't watch the big event? You can catch the virtual event over on the Microsoft Surface Twitter account or check out the livestream below via YouTube. Plus, we covered all the big announcements as they happened below.
For all the latest updates, we've got you covered.
Refresh
We still have a while to go until Microsoft kicks off its event, but the company wants us to know that "excitement is in the air," and it's apparently due to Wi-Fi. In the post from Microsoft Surface on Twitter, we also see the tagline "join us to see what's next."

As for "what's next," it's almost a certainty we'll be getting a sneak peek at the long-awaited Microsoft Surface 8. We expected Microsoft to launch a Surface Pro 8 earlier this year, barring any further delays (possibly caused by the coronavirus). However, October 2020 came and went without any signs of a Surface Pro 8, and instead, we got the Surface Pro 7+ for business users.

According to a recent leak, the Surface Pro 8 is expected to boast an Intel 11th Gen CPU, Thunderbolt support, replaceable SSDs, and a 13-inch display with a 120Hz refresh rate and narrow bezels. What's more, the leak claims the Surface Pro 8 will be priced from $799.
Excitement is in the air (thanks to the Wi-Fi). Join us for the #MicrosoftEvent September 22nd. https://t.co/2vzqJbbxKy pic.twitter.com/CJtk6f7QwtSeptember 21, 2021
Will the Microsoft Surface Duo 2 make an appearance? The company's first unique dual-screen smartphone/tablet hybrid made waves when it was first announced back in early 2020, and while it's only been around for just over a year, many are hoping the Microsoft Surface Duo will get a much-needed upgrade.

The good news is all signs are pointing to an updated Surface Duo 2, and it's expected to be unveiled at Microsoft's upcoming event seeing as the original launched on September 10 last year.

While we twiddle our thumbs in the lead-up to the event, check out everything you need to know about the Microsoft Surface Duo 2.
Earlier this year, Microsoft released its Surface Laptop 4, which boasted a fantastic 15-inch display, a comfortable keyboard and touchpad, long battery life, and speedy performance thanks to the AMD Ryzen 7 CPU.

While we doubt we'll see Microsoft announce another Surface Laptop so soon after releasing the Surface Laptop 4, there have been rumors of an updated Surface Book in the works. We reviewed the last Microsoft Surface Book 3 last year, and there are plenty of reasons why the next laptop/tablet hybrid model should arrive soon.
We're just over two hours away from the big reveal. The new wave of Surface devices are expected to be available just in time for the release of Windows 11 on October 5. We're excited to see if Microsoft's next OS will improve its list of upcoming Surface laptops and tablets. In the meantime, check out how you can download Windows 11 for free.
Just a few things we'd like to see if the Microsoft Surface Pro 8 reveals itself:

Thinner bezels: The Surface Pro 8 needs thinner bezels if it doesn't want to fall further behind design trends adopted by the iPad Pro and nearly every premium laptop. The Surface Pro X demonstrated how narrow bezels would benefit the Surface Pro's gorgeous display, now all Microsoft needs to do is bring the same feature to the Surface Pro 8.
Longer battery life: It's easier said than done. Or is it? Because Microsoft released the Surface Pro 6 with 9+ hours of battery life only to take a step back with the Surface Pro 7. With a battery life of around 8 hours, the newest model just doesn't cut it. We need to see the Surface Pro 8 hit that 9-hour mark, or it could be in trouble.
Keyboard and Pen included: OK, so this isn't happening. I want to bring it up anyway because Microsoft markets the Surface Pro as a convertible but sells it as only a tablet. The Type Cover keyboard is what makes the Surface Pro such a compelling product.
Faster SSD: The Surface Pro 8's performance isn't entirely up to Microsoft. The company will use the latest Intel or AMD CPU and hope it does the job. What is on Microsoft is using a fast SSD in the Surface Pro. For the Surface Pro 8, we want to see faster, cheaper storage options (they exist, trust us).
Earlier this year, Microsoft Chief Product Officer, Panos Panay, announced a new update that could make the Surface Duo a lot more interesting to gamers with "Xbox touch controls" for over 50 Xbox Game Pass Ultimate games.

The Surface Duo turned into a portable Xbox, and with the Surface Duo 2 potentially being part of Microsoft's upcoming product launches, we hope to see the updated portable take gaming even further.

Another 45 minutes until we find out.
If you're looking for a place to watch the Microsoft event, look no further.
Join us Wednesday, September 22 at 11am ET to see what's next for Microsoft Surface. #MicrosoftEvent​ https://t.co/QSsPe6bAExSeptember 8, 2021
And the countdown begins! The Microsoft event page has started the livestream with some soothing tunes. Check it out here.
T-minus one minute. We hope there will be way more than one Surface being unveiled. Here we go!
We're getting a better view of the mysterious device that was shown.

CEO Panos Panay kicks off the event by talking about the Windows 11 reveal. Windows 11 is "designed to be centered around you."

Surface hardware will be the highlight of the event, but what will come up first?
As Panay puts it, every single Surface has been designed to be made for us.

We're getting eight new devices and experiences at this event today, which is more than we were expecting.

Expect an update on the Surface Pro and Surface Go lineup, along with the Surface Duo 2, a brand-new Surface adaptive kit, and a new mouse. We're excited to see what they look like.

Stick around until the end for a "pretty cool product." Neat.
The Surface Pro 8 has been announced! Along with a new Surface Slim Pen 2. We'll be getting an in-depth look at what the device offers, and apparently it's been purpose-built for Windows 11.

Expect 16-hours of battery life, Thunderbolt 4 connectivity, up to 32GB of RAM, a 13-inch display with a 120Hz refresh rate.

The Surface Slim Pen 2 is neatly placed under the display of the 2-in-1 laptop, hiding it within the keyboard. What else does it boast? Microsoft claims it includes a 40% higher sustained CPU performance, 74% faster-sustained graphics performance, along with a centered front-facing and rear-facing cameras.
The Surface Pro 8 is the "most powerful Pro" Microsoft has ever built.

The Surface Go 3 has been revealed, and its 60% faster than its predecessors. We can get on board with that.
The Surface Pro 3 appears to be focusing on being a family device, introducing a family safety widget and "kids mode." It boasts a 10.5-inch display for viewing movies and playing games via Xbox Game Pass.

We're also getting the Microsoft Ocean Plastic mouse, an eco-friendly peripheral all about protecting the planet and sustainability.
Microsoft is now talking about accessibility, to make their devices more accessible to everyone. Microsoft introduced the Surface Adaptive Kit as a form of assistive technology.
The kit holds various key cap labels, port labels and stickers to modify a Surface device to make it easier to use and set up, such as fitting a power cable, opening the laptop lid and using the kickstand.
The next device on the table is the Surface Duo 2, to be compatible with a Windows 11 device.

Expect a triple-lens camera, a Qualcomm Snapdragon 888 chip, Microsoft 365 compatibility, advanced editing tools for videos or photos, a new sidebar to check notifications at a glance, and the different modes.
Here's a first look at the Surface Duo 2! Expect a the Duo to come in two colors, including a new "Obsidian" option. As for that sidebar, it's known as the "Glance Bar" to quickly look at notifications.
Much like its predecessor, users will have the ability to run two apps simultaneously on two 5.8-inch displays. As for those cameras, expect a 12Mp wide angle camera, 16MP ultra-wide camera, and a 12MP Telephoto lens.
We're now going onto the final product of the event. It's the "most powerful Surface." With a quad-core Intel 11th Gen CPU. and it turns out the be a laptop with a wicked hinge like the Magic Keyboard for Apple's iPads.

Microsoft introduced the Microsoft Surface Laptop Studio, a new kind of 2-in-1 laptop. As Panay puts it, its a hybrid of the original Studio and Surface Go. We're intrigued by the look of it.
Panay has taken us behind the screen to get a better look at the 15-inch Surface Laptop Studio. He's demonstrating the different modes, easily transitioning between the Studio mode and the Laptop mode.
We heard that right, the Surface Laptop Studio boasts an Nvidia GeForce RTX 3050 Ti GPU, along with Intel 11th Gen processors. Plus, If you look along the bottom of the front lip of the laptop, there's an oblong indentation designed to hold the Slim Pen 2 when it's not in use. You can also expect a touchscreen with a 120Hz refresh rate.
Microsoft is now showing off all the Surface Laptop Studio can do, including its versatility, Thunderbolt connectivity, desktop similarities, and even playing Forza Horizon 5 at 60fps on high settings.

All the products will be available on October 5, along with Windows 11. Each of the Surface products will also be available to pre-order today.
CEO of Microsoft Satya Nadella is now closing out the event by summing up everything announced, and how each device is all about sustainability. He also mentions the future of the cloud, and how apps on Windows 11 will more connected than ever. Microsoft wants to shape the next stage of computing.

And that's it! Plenty of devices and accessories were announced, and we can't wait to get our hands on all of them. From the looks of it, the Microsoft Surface Laptop Studio is looking to be the star of new lineup.
Here's a quick recap of everything announced:
We also got a sneak peek at the new Surface Adaptive Kit to expand each of the Surface devices' accessibility, the eco-friendly Microsoft Ocean Plastic mouse, and the Surface Slim Pen 2.