iPad Pro 14-inch could be a creator-class machine – with Final Cut and Logic Pro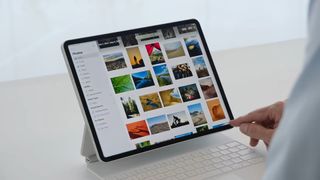 (Image credit: Apple)
Keeping up with the latest ongoings in the tech world can be hard enough as it is, competition is fierce and there's always at least one manufacturer trying something new to pull ahead of the pack. With WWDC and Google I/O on the horizon, we've been doused with more leaks than a rundown brownstone, with information pouring out to such a degree it's sometimes hard to keep your head above water.
However, not all of those leaks point towards the immediate releases these showcases are likely to unveil. Some of these leaks are giving us insight into what's to come over the next few years for the biggest brands in tech.
For example, a recent tweet by tech enthusiast and reputable leaker Revegnus has big claims about what Apple has in store for iPad fans in 2024.
Creator class
The tweet in question suggests the inclusion of an M3 Pro chip inside at least one model of Apple's next iPad devices. Not only that, but that the next iPadOS update could bring many macOS features along with it. Affording the iPad the power and potential functionality of an Apple detachable, and not just the larger iPhone it's sometimes compared to.
It was already great news for fans of Apple's slate when the notion of an M2 Pro chip might be in store, but with the idea of Apple's M3 Pro chip taking centre stage, fans of the iPad have an incredible upgrade to look forward to.
The 14.1-inch iPad will have an M3 Pro.Apple is crazy!!!They are building a monster👽iPadOS will also get a big updateMany features from macOS are coming to iPadOS pic.twitter.com/Z5sYw7ACfBMay 2, 2023
While Revegnus' tweet is short on the details his reported information about the 14.1-inch iPad does line up with leaks from another reputable source on Twitter, Analyst941.
In this tweet, Analyst941 claims that the future iPad 14.1-inch model's support for dual 6K (@ 60Hz) external displays is a serious indicator of an M3 Pro chip. Not only that, but they also point towards a specialized version of macOS 17 for larger Pro/Ultra/Studio iPad models specifically.
He also claims that 1:1 versions of Final Cut Pro, and Logic Pro will be making their way to iPadOS in 2024, and 2025 respectively.
I wanted to say this last week, but I'm going to Prematurely say it right now.Final Cut Pro is coming to iPadOS in 2024Logic Pro is expected 2025.I found this out the same day I found out we're getting 2x (dual) 6K (@ 60hz) external display support on the 14.1" model https://t.co/nMqvvMpqROMay 2, 2023
Outlook
If these leaks turn out to be true, the 14.1-inch iPad, expected to arrive at some point next year, could be an incredible powerful creator-class device that could be the heart of many content creator workstations. Bringing the iPadOS infrastructure in-line with that of macOS could unlock some incredible apps and really let the iPad flaunt its stuff.
Keep your eyes peeled to Laptop Mag for more information about Apple's latest 14.1-inch iPad as it arrives.
Stay in the know with Laptop Mag
Get our in-depth reviews, helpful tips, great deals, and the biggest news stories delivered to your inbox.
Rael Hornby, potentially influenced by far too many LucasArts titles at an early age, once thought he'd grow up to be a mighty pirate. However, after several interventions with close friends and family members, you're now much more likely to see his name attached to the bylines of tech articles. While not maintaining a double life as an aspiring writer by day and indie game dev by night, you'll find him sat in a corner somewhere muttering to himself about microtransactions or hunting down promising indie games on Twitter.