Record-breaking Galaxy S24 Ultra feature may put iPhone 15 Pro on high alert
A bright future ahead for the Galaxy S24 Ultra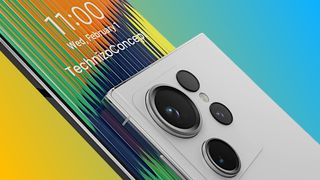 (Image credit: Technizo Concept)
The Samsung Galaxy S24 Ultra is expected to considerably up its game when it likely launches in February 2024. All signs indicate that a simple refresh is well and truly off the cards, with Samsung keen to improve the S24 Ultra across a number of key areas.
From what we know so far, Samsung is expected to transition the S4 Ultra to a titanium frame, boost its telephoto lens with a 50MP 3x optical zoom sensor, house the new Qualcomm Snapdragon 8 Gen 3 processor, switch to a flat display, and boost its response rate to a whopping 144Hz.
Bad news, good news
However, it's not all good news, that flat screen has led to some chunkier bezels according to a recent leak by ever-reliable tech tipster Ice Universe. The Ultra S24's bezels will reportedly measure at 3mm on the top and bottom, and 3.42mm on the left and right. However, before we hiss and scowl at Samsung's crafting of the Bezelzebub, these numbers could prove to be inaccurate.
While the bezel size is a noticeable jump from the S23 Ultra's 1.9mm measurements, it's likely that the S24 Ultra will retain the rounded edges of its predecessor — meaning the rumored bezel width increase to 3.42mm could incorrectly include the frame's curvature.
But, wait. There's more! A follow-up leak from itnyang points to another much more positive and considerable upgrade heading to the Samsung Galaxy S24 Ultra: a peak brightness of over 2,200 nits potentially up to 2,800 nits. My god, it's full of stars.
An Ultra-bright delight?
The rumored peak brightness of the S24 Ultra is a game changer for smartphones and could register as the brightest phone to ever hit the market when it arrives. The S23 Ultra's display was already sitting at a considerable 1,750 nits and you'd be hard-pressed to find a single complaint about that phone's bright and vibrant panel.
Apple's current flagship iPhone the 14 Pro Max has an advertised peak brightness of 2,000 nits and it's part of what makes the display so rich and effortless to use while out and about. It would seem that Samsung isn't interested in keeping up with the Joneses on this one, instead, leapfrogging the competition and aiming for the top spot when it comes to eye-popping displays.
Why is screen brightness important for smartphones?
Why is this upgrade so important? And what's the deal with screen brightness anyway? Well, it all comes down to maintaining the best visual experience no matter the environment you're in. Phones with a lower peak brightness become hard to decipher in direct sunlight — especially while wrestling with screen glare. A panel with a brightness of over 1,000 nits is likely to hold up well in brighter outdoor conditions, but it will sometimes lack that same stand-out, vivid 'pop' that you see while indoors.
However, the higher your phone's peak brightness, the more likely you'll receive that same visual experience under all forms of external lightning. Given Samsung's history of providing excellent photography options in its smartphones, you can bet the additional boost in brightness will be great for summer shutterbugs looking for the perfect snap.
Outlook
On paper, the upgrades in place for the Samsung Galaxy S24 Ultra easily culminate in one of the best smartphones to date. And, given this new information about its ultra-bright display, a true temptation for Apple alumni to switch to the dark side — which will be anything but.
That being said, all the spec upgrades in the world mean nothing when you don't have the software in place to enthrall a user. That's something Apple has had in place for years, offering a best-in-class user experience that's simply too good to give up — no matter how much better a competitor's hardware might be.
For news, rumors, and updates on all things tech, follow Laptop Mag on Twitter, Facebook, and Flipboard for the latest word as it arrives.
Stay in the know with Laptop Mag
Get our in-depth reviews, helpful tips, great deals, and the biggest news stories delivered to your inbox.
Rael Hornby, potentially influenced by far too many LucasArts titles at an early age, once thought he'd grow up to be a mighty pirate. However, after several interventions with close friends and family members, you're now much more likely to see his name attached to the bylines of tech articles. While not maintaining a double life as an aspiring writer by day and indie game dev by night, you'll find him sat in a corner somewhere muttering to himself about microtransactions or hunting down promising indie games on Twitter.