7 games that'll take advantage of the Meta Quest 3's improved features
Experience mixed-reality, better graphics, and more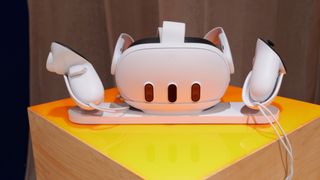 (Image credit: Future)
The Meta Quest 3 earned a strong 4 out of 5 stars in our review thanks to the still affordable price and a host of new features. There are no exclusive titles for the Meta Quest 3 just yet, and there likely won't be until 2024. However, plenty of existing and upcoming games will take advantage of the upgraded features of the Meta Quest 3.
From better graphics and smoother frame rates to a more powerful processor and immersive mixed-reality experiences, there's a lot to look forward to with the Meta Quest 3. If you buy the Quest 3, your first encounter with the headset's best features — most notably its mixed-reality capabilities — will be with a game titled First Encounters, where you'll break down walls in your real-world environment to search for creatures in space.
The following 7 games are full titles that either haven't been released yet or are already out on the Quest 2 and receiving upgrades for the Quest 3. All 7 games have been enhanced in some way to take advantage of the Quest 3's higher specs and new capabilities.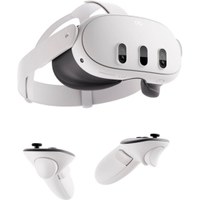 Meta Quest 3: $499 @ Amazon
Order the Meta Quest 3 starting from $499 at Amazon. As a bonus, it includes the upcoming RPG Asgard's Wrath 2 for free. The Quest 3 features a dual RGB color camera and 4K+ Infinite display consisting of two panels with 2064 x 2208-pixels per eye. Powering the VR Quest 3 is an upgraded Qualcomm's Snapdragon XR2 Gen 2. Pick up the Meta Quest 3 for a VR experience like never before. It's the most powerful Quest yet!
Price check: $499 @ Best Buy | $499 @ Newegg
Asgard's Wrath 2
Asgard's Wrath 2 is perhaps one of the most anticipated titles for the Meta Quest 3. In the game, you're tasked with finding the Trickster God Loki and you could easily spend up to 60 hours exploring the world.
The game will feature a mixed reality mode that'll have you fighting off Loki's minions as they crawl out of open spots on your walls and ceiling. The Quest 3's upgraded processor and higher resolution will make Asgard's Wrath 2 look better and feel smoother as well.
If you buy a Quest 3 between now and late January 2024, you'll get a copy of Asgard's Wrath 2 for free when it releases on December 15. Otherwise, it'll cost you $60.
The Walking Dead: Saints & Sinners (Chapter 1)
If you're into zombies, The Walking Dead: Saints & Sinners (Chapter 1) is an excellent VR game to try out on the Meta Quest 3. According to Skydance Interactive, there will be an enhanced version of the game released for the Quest 3 alongside the headset's release. It's not clear what improvements will be made, but it's a safe bet to assume crisper, more detailed graphics and possibly a higher supported refresh rate.
Pavlov Shack
Pavlov Shack is a team-based tactical shooter VR game with various game modes, weapons, and accessories to try out. According to a tweet from the CEO at Vankrupt Games, Pavlov Shack won't receive textural or graphical updates, but it will be able to run at a smoother 90Hz on the Quest 3, compared to 72Hz on the Quest 2.
Stranger Things VR
Stranger Things VR launches November 30 this year, and it'll incorporate the Meta Quest 3's mixed-reality capabilities with the color passthrough cameras. You'll be able to see virtual cracks in your real-world walls, and when you interact with them, creatures can come out of the cracks.
The game will cost $29.99 at launch. It'll also launch on the Quest 2, but you'll experience sharper images and a more immersive experience with the upgraded specs of the Quest 3.
Red Matter 2
In Red Matter 2, you're in a dystopian setting in space where you have to solve puzzles and embark on quests to uncover the secrets of Red Matter. The game is already released for Quest 2 headsets, but it'll receive improved graphics and smoother overall performance for the Quest 3.
Red Matter 2 was one of the games Meta used to demonstrate the visual differences between the Quest 2 and 3. According to The Verge, this game features text that's only readable on the Quest 3 and includes detailed graphics models compared to the blocky alternatives on the Quest 2.
BAM!
BAM! is a multiplayer tabletop game in which you and other players battle it out in a combat arena that sits in the middle of all the players. With the Quest 3's mixed-reality features, it looks like the tabletop game is hovering over your real-world coffee table while you play.
The mixed-reality features add a more personal element to playing VR games with friends and family in real-time, but you can also play BAM! remotely with other VR players from around the world.
Lego Bricktales
Lego Bricktales is an exciting AR game that'll allow you to play with virtual Legos in your real-world space. With color passthrough and mixed-reality capabilities on the Meta Quest 3, you'll be able to see the real world in color while you virtually build something awesome on your coffee table.
This game will release for Quest 2 and 3 headsets on December 7 for $29.99. Because the Meta Quest 2 doesn't have color passthrough, your surroundings will look black and white.
The Meta Quest 3 will release on October 10, but you can pre-order one now if you know you already want one. Or, check out this comparison of the Meta Quest 3 and the Apple Vision Pro—despite the huge price difference, the competition is close than you'd think.
Stay in the know with Laptop Mag
Get our in-depth reviews, helpful tips, great deals, and the biggest news stories delivered to your inbox.