Meta Quest 3 vs Apple Vision Pro: Mismatch or close fight?
A crazy comparison on paper, but its closer fought than you think...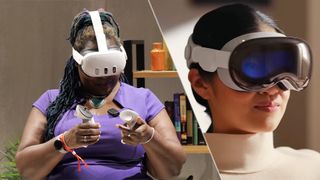 (Image credit: Future)
Putting the $499 Meta Quest 3 up against the $3,499 Apple Vision Pro? Am I crazy? A little, but we're not talking about my personal life. Stick with me here, though, because this mismatch is not as wild as you think.
Meta has got the jump on Apple in making a true Mixed Reality (MR) headset, and while there are some big jumps in specs (as you'd expect when comparing devices at two very different price points), those upgrades may not necessarily be worth that additional three bags.
So, rather than babble on, let's take a closer look at the differences, and help you make a decision about whether you should grab the cheaper option or spend big.
Meta Quest 3 vs Apple Vision Pro: Specs
Swipe to scroll horizontally
| Device | Meta Quest 3 | Apple Vision Pro |
| --- | --- | --- |
| Starting Price | $499 / $649 | $3499 |
| Chipset | Snapdragon XR2 Gen 2 | Apple M2 Chip / R1 Chip |
| Storage | 128GB / 512GB | TBD |
| RAM | 8GB | TBD |
| Display | 4K+ Infinite Display (2x LCD displays at 2,064 x 2,208 pixel per eye), up to 120Hz refresh rate | 4K resolution display per eye |
| Lenses | Pancake lens optical stack | Zeiss Optical lens stack |
| Tracking | 6 cameras, 2 MR sensors, 1 depth projector | 12 cameras, 5 sensors, eye tracking |
| Battery | Approx. 2.2 hours runtime | Approx. 2 hours runtime |
Meta Quest 3 vs Apple Vision Pro: Design
The Meta Quest 3 takes a lot from the Quest 2's playbook in terms of aesthetics and design. While it is 40% slimmer, it still sports that same all-white matte plastic body with a black foam lining and fabric head strap.
The main difference you'll notice is the 3 sensors on the front of the headset, which may trigger some with a particular phobia, and gives the headset a slightly more odd appearance overall compared to the minimalist look of the Quest 2.
On top of that, the thinner profile provides a more customizable fit than Quest 2 to enable improved comfort for longer periods of use.
Meta Quest 3 headset dimensions: 184 x 160 x 98 mm
Meta Quest 3 headset weight: 515 grams
Meta Quest 3 controller dimensions: 126 x 67 x 43 mm
Meta Quest 3 controller weight: 126 grams
Meanwhile, the Apple Vision Pro reeks of luxury from every angle — like if a pair of AirPods Max and a MacBook Pro got a little freaky. It is a combination of premium fabrics for the headband, a single piece of 3D curved glass across the front, and a metallic casing.
Nothing specific has been confirmed about the dimensions and weight, but I can only assume the far more premium materials on offer here will make it a chonky boi. On top of that, the battery is a separate piece of kit that I assume you'll need to put in your pocket.
This raises some questions around usability, but we can't really make a solid judgment without going properly hands-on with the device.
Meta Quest 3 vs Apple Vision Pro: Ports
This is a simple face-off. While the Quest 3 ditches the 3.5mm headset jack of the Quest 2, and just sticks with a USB-C port for charging and data transfer, the Vision Pro has no ports whatsoever.
Instead, it opts for a magnetic connector on the side to attach that battery pack. While versatility on the Quest 3 has been limited by the removal of the audio jack, it's still far more connectible to a wealth of devices.
Meta Quest 3 vs Apple Vision Pro: Controllers
Inspired by the Quest Pro, Meta Quest 3 is ditching the loops at the top of the Quest 2 pads in a brand new pair of Ring-free Touch Plus controllers with improved haptics. The rest remains largely the same with middle-finger and index-finger triggers as well as a capacitive joystick, touchpad, and face buttons.
On top of that, with the upgraded sensors and emphasis on MR, you can explore the virtual space with just your hands too, with improved accuracy of hand and finger tracking.
Apple is taking a different approach with the Vision Pro — ditching the controller altogether and relying entirely on accurate hand and finger tracking to navigate the OS. Of course, you can connect the likes of a PS5 DualSense controller to play all of the best Apple Arcade games. But with a lot of VR games reliant on controllers, I'll be curious to see just how developers port their titles over to this.
Meta Quest 3 vs Apple Vision Pro: Experience
At the moment, VisionOS is a bit intangible. We've seen a lot, and we've heard a lot. But until we try it, we can only work off of what we know and what others thought about their brief time with it.
The MR experience of the Vision Pro is aimed quite broadly across work and home applications — centering around a familiar home screen that you interact with using eye tracking and pinch gestures that are picked up using the sensors. A VR/AR mix can be fully customized to your taste with the Digital Crown on the headset, which adjusts the immersion into whatever digital world you see.
Meanwhile, Meta Quest 3's experience follows a little in Apple's footsteps with an MR experience afforded to it by full-color passthrough cameras, which will allow apps and games to blend into the environment around you. This is a huge upgrade over the grayscale image the Quest 2 provides.
This opens up a literal world of new possibilities for the Quest 3, similar to what we saw with the Quest Pro. You could use the Quest 3 for productivity tasks, using your actual laptop while augmenting it with additional virtual displays appearing alongside it.
Games will also be able to overlay on reality, with a virtual tabletop gaming environment shown in the trailer for Quest 3, letting players roll their dice and watch the results of their actions play out on a virtual board placed on their table thanks to the depth sensor in the Quest 3.
Outlook
On paper, this should be a mismatch. But given it looks likely that you can get a similar MR experience from Meta's headset at $500 to what Vision Pro is touting for its device seven times the cost, I've no doubt that Apple is getting a little nervous right now.
Sure, there are cutbacks between the two — the Vision Pro has a far more luxurious aesthetic and build, which packs far more processing power, and more sensors for accurate tracking. However, the Quest 3 offers a lot of the same with less powerful components, a plastic build, and a vastly cheaper price.
It's enough to make anyone unsure about whether Apple's pricey pick is the way to go, especially when it comes to the fact that Meta has years of app and game support under its belt. At the moment, the choice seems obvious. But we'll revisit this once we can go hands on with the Vision Pro.
Stay in the know with Laptop Mag
Get our in-depth reviews, helpful tips, great deals, and the biggest news stories delivered to your inbox.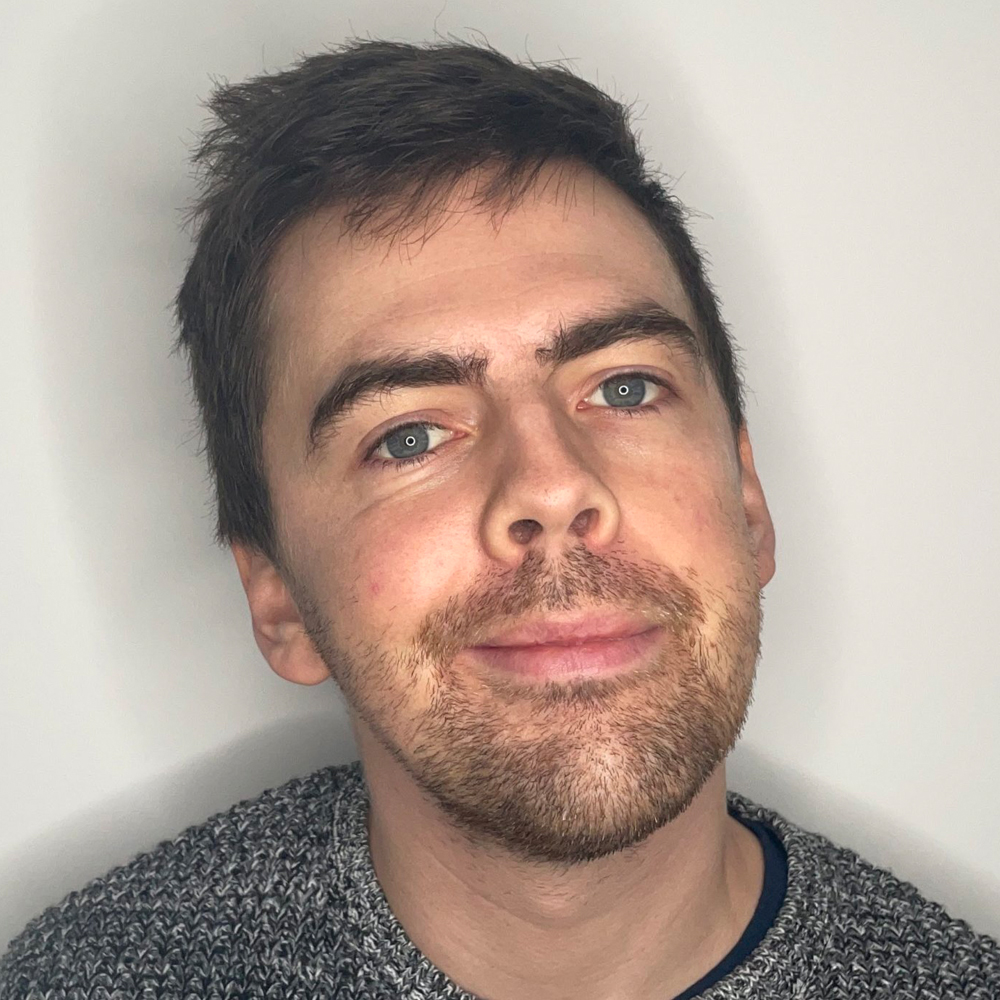 Jason brings a decade of tech and gaming journalism experience to his role as a writer at Laptop Mag. He takes a particular interest in writing articles and creating videos about laptops, headphones and games. He has previously written for Kotaku, Stuff and BBC Science Focus. In his spare time, you'll find Jason looking for good dogs to pet or thinking about eating pizza if he isn't already.