This is the biggest lie told about Chromebooks
Chromebooks have been fooling you! Let's break down the truth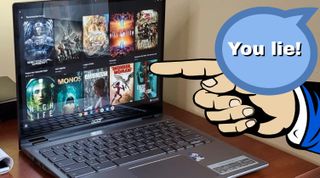 (Image credit: Future)
Chromebooks exploded in popularity in recent years, especially after the pandemic pushed remote employees and students to purchase laptops to facilitate a new work-from-home lifestyle.
Can you blame 'em? The PR engine behind them sold Chromebooks as affordable, secure, Chrome ecosystem-friendly machines with — er — "excellent battery life." Uh huh, sure Jan! Let's play three truths and a lie. Can you spot the BS?
According to a report from Canalys, the demand for Chromebooks skyrocketed to epic proportions in 2020. For example, demand for Lenovo Chromebooks, such as the ultra-popular Chromebook Duet, increased by a whopping 1,766%.
However, as 2022 crept by, the demand for Chromebooks took nosedive. According to IDC data, sales plummeted 48% — the pandemonium from the pandemic began to taper off. More employees and students are returning back to the office and classroom, so the need for budget-friendly hardware plummeted.
But I also wonder if people are starting to feel disillusioned after realizing Chromebooks aren't what they're cracked up to be. Scroll down to the advantages section of any "Pros and Cons of Chromebooks" article on the internet, and you'll find the laughable "Chromebooks have great battery life" claim.
Bullcrap! We've reviewed countless Chromebooks and this is the biggest lie ever told. Stick around to find out why.
Chromebooks have long battery life — the biggest lie ever told
I don't know who originated this untruth, but whoever it is, they've been lying through their teeth. Sure, there are a few long-lasting Chromebooks, but I wouldn't go as far as saying that it's an undeniable characteristic of ChromeOS systems. Personally, almost every Chromebook I reviewed delivered mediocre battery life results.
Chromebooks that hit Laptop Mag's desk must go through our battery testing, which involves continuous web surfing over Wi-Fi at 150 nits of brightness until the laptop runs out of juice. We've recorded the average runtime out of all the Chromebooks we've reviewed: it's only 9 hours and 49 minutes. Is that awful? No, not necessarily, but it's not monumental enough to claim that Chromebooks have "great battery life."
The years 2020 and 2021, yes during the height of the pandemic and global lockdowns, were particularly uneventful for Chromebook runtimes. I saw battery runtimes as low as five hours.
Let's take Samsung's fleet of Chromebooks, for example. The South Korea-based tech giant makes sensational phones (I still love my Samsung Galaxy S22 Ultra), but it cannot — for the life of it — make power-efficient ChromeOS systems. Case in point: In 2020, Samsung launched the Samsung Galaxy Chromebook. How long did it last? A dismal 5 hours and 56 minutes. Yikes! Its 2021 successor, the Galaxy Chromebook 2, only lasted 8 hours and 16 minutes.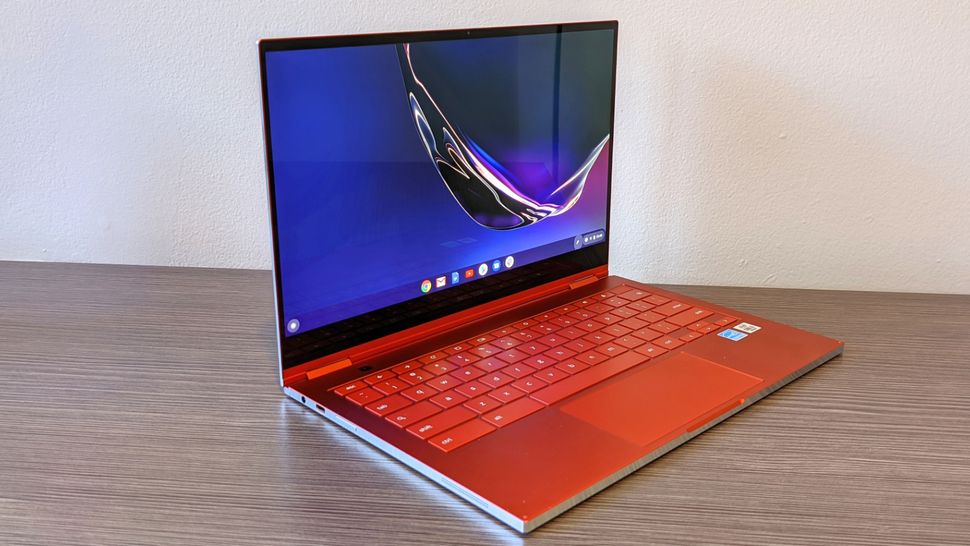 For better perspective, let me give you a rundown of Chromebooks' runtime performance in recent years.
Chromebooks in 2020
In 2020, we reviewed about 16 Chromebooks. Nearly 70% of them delivered runtimes around the 9-hour mark or lower. On the plus side, there were a few exceptions to the rule. For example, the Acer Chromebook Spin 713 and the Google Pixelbook Go surprised us with runtimes that surpassed 11 hours, which is pretty damn good.
It's too bad that Google shuttered the Pixelbook series (for the foreseeable future at least). This was quite surprising because Google is, of course, most familiar with ChromeOS. Wouldn't it want its foot in the Chromebook market too?
Fortunately, Acer is still a major player in the Chromebook space. As you read on, you'll understand why they're one of the few OEMs who can potentially flip my current sour perspective on ChromeOS laptops and their so-so battery runtimes.
Chromebooks in 2021
In 2021, a global chip shortage threw a wrench in laptop OEMs' plans, making it more difficult for them to secure the necessary components for production and distribution. Despite these setbacks, this year was admittedly better than the last, thanks to Acer launching Chromebooks that hovered around the 10-hour mark:
Asus did well, too, with the Chromebook CX9 and Chromebook C423NA both delivering 10-hour battery life.
Unfortunately, there were also some flops that dragged the average down:
Funnily enough, although the Flex 5 Chromebook (7 hours and 25 minutes) was our worst energy-efficient Chromebook of 2021, Lenovo turned things around by rolling out the ultra-popular Lenovo Chromebook Duet, which lasted a whopping 12 hours and 46 minutes on a single charge. Overall, battery runtimes varied wildly in 2021.
Chromebooks in 2022
Runtimes were still over the shop in 2022. On one hand, we were blessed with the record-breaking Acer Chromebook 514, which lasted for a whopping 14 hours and 8 minutes on a single charge. (Now that, ladies and gentlemen, is long battery life!)
On the other, 40% of the Chromebooks we reviewed in 2022 fell below the 9-hour runtime. Notable losers include the Acer Chromebook Spin 714 (7 hours and 25 minutes) and the HP Elite Dragonfly Chromebook (9 hours and 14 minutes). Conversely, the next best Chromebook after the Acer Chromebook 514 is the Lenovo Duet 5 Chromebook, which lasted 13 hours and 13 minutes.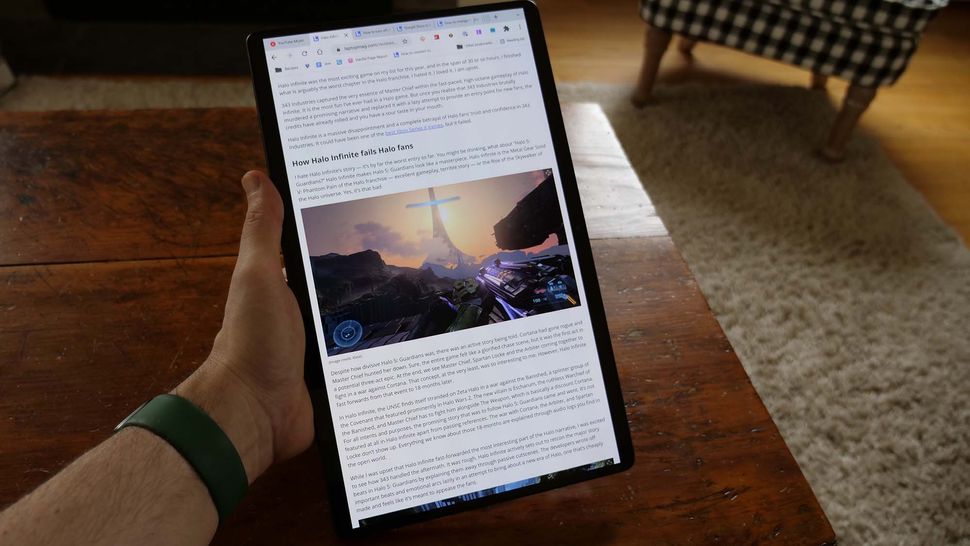 Still, with such inconsistent runtimes throughout recent years, I don't feel comfortable labeling Chromebooks as power-efficient machines just yet. Let's see how Chromebooks fare in 2023 and 2024 before I consider eating my words.
Are Chromebooks' battery life looking up for 2023?
If you were to ask The Verge whether Chromebook battery runtimes are shaping up to be better this year, the answer is a resounding no, especially if the $1,000 HP Dragonfly Pro Chromebook is the exemplar of what we can expect from ChromeOS systems in 2023.
"I said this in 2020 when I reviewed the OLED Samsung Galaxy Chromebook, and I'll say it again here: outside of gaming and workstations, a battery life of less than five hours is not acceptable on a $1,000 device," Monica Chin from The Verge said, giving the Dragonfly Pro Chromebook a tongue lashing for its poor battery life.
When we reviewed the Dragonfly Pro Chromebook, it lasted only 9 hours and 17 minutes, which is slightly below the average runtime of a Chromebook (9 hours and 45 minutes). The Verge, however, recorded an abysmal battery runtime of two and a half hours, adding that the Dragonfly Pro Chromebook would need to be charged two or three times a day. I understand that we recorded a better runtime than The Verge, but even 9 hours doesn't cut it anymore. I want to see 10 hours or more on Chromebooks consistently before we can claim they're battery life champs.
The question is, why do most Chromebooks stumble when it comes to battery life? My guess is that their chips are simply not power efficient enough. For example, the HP Dragonfly Pro Chromebook runs on a last-gen 12th Gen Intel Core i5-1235U CPU, which is a mid-range laptop processor that isn't designed to be a performance beast per se, but ironically, it's meant to be energy efficient. Intel needs to step it up when it comes to power efficiency. To put it into perspective, why would I drop $1,000 on the Dragonfly Pro Chromebook with piss-poor battery life when they can get an M2 MacBook Air, which has a 15-hour runtime and better performance? (As of this writing, it's on sale for $1,050).
With my co-workers grumbling about the battery runtimes of their 13th Gen Intel CPU-packed review units this year, (e.g., the Samsung Galaxy Book Pro 3 Pro 360 delivered less than 8 hours of battery life), I'm not feeling particularly optimistic about the next crop of Chromebooks that are set to run current-gen Intel processors. Chances are high that power efficiency will continue to be unnoteworthy for Chromebooks in 2023. I do hope I'm wrong!
Bottom line
To be fair, there are plenty of advantages to owning a Chromebook that are actually true. For example, Chromebooks are more secure, sport a cleaner, lighter OS, and they're affordable (save for a few pricey options like the aforementioned Dragonfly Pro Chromebook).
However, the "great battery life" claim is rubbish. CDW, for example, compiled a "Top Pros and Cons of Chromebooks" list and said Chromebooks have "outstanding" battery life, adding that "it isn't unheard of for a Chromebook to have 18 hours of battery life." Haha! The jokes write themselves. I'll bet my bottom dollar that no one can show me a Chromebook that can last 18 hours on the Laptop Mag battery test.
Chromebooks require less powerful hardware because they're more reliant on the cloud, but still, many of them still manage to only deliver 9 hours or less.
On the plus side, if you want to grab a few diamonds in the rough, look for the Acer Chromebook 514. This bad boy broke a Chromebook record, lasting over 14 hours on a single charge. Lenovo makes good energy-efficient Chromebooks, too, like the Lenovo Duet 5 Chromebook. Interestingly, neither the Chromebook 514 nor the Duet 5 Chromebook run on Intel.
Don't forget to check out our laptops with the best battery life page as well as our similar page for long-lasting Chromebooks.
Stay in the know with Laptop Mag
Get our in-depth reviews, helpful tips, great deals, and the biggest news stories delivered to your inbox.
Kimberly Gedeon, holding a Master's degree in International Journalism, launched her career as a journalist for MadameNoire's business beat in 2013. She loved translating stuffy stories about the economy, personal finance and investing into digestible, easy-to-understand, entertaining stories for young women of color. During her time on the business beat, she discovered her passion for tech as she dove into articles about tech entrepreneurship, the Consumer Electronics Show (CES) and the latest tablets. After eight years of freelancing, dabbling in a myriad of beats, she's finally found a home at Laptop Mag that accepts her as the crypto-addicted, virtual reality-loving, investing-focused, tech-fascinated nerd she is. Woot!