There's nothing wrong with buying refurbished wireless headphones – here's why
Great performance, verified operating quality, warranty coverage, and a lower price makes for an amazing deal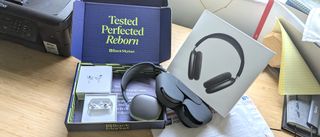 (Image credit: Alex Bracetti/Future)
The word "refurbished" often carries a negative connotation for consumers. That's understandable. Most of us would rather buy something brand new than take a chance on a restored product that was previously used or defective. As a former GameStop employee, I know all about dealing with shoddy electronics; the number of refurbished PS2s returned to my store was embarrassingly high. But that was 20 years ago.
Major retailers have stepped up their repair efforts and sell high-quality refurbished products for much less than the retail MSRP. Just look at the wireless headphones market.
Yes, factory-sealed options at low prices are abundant, with many of the best cheap wireless headphones and wireless earbuds listed under $100. But what about popular mid-range and luxury models? I'm talking about class leaders like the Sony WH-1000XM5 and AirPods Pro 2, which are considerably expensive. Surely, you're open to snagging these highly coveted models at a more attainable price, right? I'm telling you that refurbished is the way to go.
Packaging might not be as fancy as it would be right off the assembly line, and there could be a missing accessory like a USB-C cable. However, you're getting a fully functional item that has been thoroughly repaired and tested, including the battery, build quality, connectivity, and sound performance.
Our guide breaks down everything you should know about buying refurbished wireless headphones, as well as our firsthand experiences and the best deals right now. Let's dive right in.
Is there any difference between refurbished and renewed?
You've likely stumbled upon an inexpensive listing for premium headphones on Amazon with "renewed" at the end of the title. That's just Amazon's spin on the word "refurbished." Are there any significant differences between the two terms? Not really. Renewed products are generally less used than refurbished products. Aside from that, they all receive similar repair treatments from third-party refurbishers.
What's the warranty for refurbished headphones?
Popular marketplaces like Amazon and Back Market offer identical warranties: 1 year to cover defects for hardware and software. This applies to most refurbished/renewed products.
Back Market has a 30-day return policy, whereas Amazon offers a 90-day return policy for Renewed products and a 1-year return policy for Renewed Premium products. You're eligible for a refund if the seller cannot repair or replace broken headphones.
Also, both marketplaces sell annual and multi-year protection plans to extend coverage on damaged items. Amazon's plans range from $5 to $34, depending on the headphone model. Back Market adds an additional year of coverage for $18. Overall, these are great rates for anyone who breaks their headphones every few months.
In what condition are refurbished headphones sold?
Amazon lists refurbished products as Excellent, Good, or Acceptable, while Back Market lists them as Excellent, Good, or Fair. Each of these have varying descriptions. The lower the condition, the lower the price. Just know that you're not getting banged up hardware. Refurbished wireless headphones usually ship in great condition, as refurbishers buff out scratches and fix major dents to restore their appearance.
How do marketplaces select refurbishers?
Every marketplace has their own vetting process for third-party refurbishers. Back Market makes them go through rigorous screenings before joining, which includes a questionnaire about their operations and quality procedures; only 1 out of 3 refurbishers get approved. Those chosen are monitored in real time through customer feedback and by Back Market's internal team consisting of experts who place anonymous orders weekly to verify quality of work.
Amazon says their suppliers are either Amazon-qualified manufacturers or "specialized third-party refurbishers" that professionally inspect and test products. Their process includes a full diagnostic test, replacement of faulty parts, and a thorough cleaning process performed by either the supplier or Amazon.
What was our experience like buying and using refurbished wireless headphones?
Mostly positive. I picked up the AirPods Max ($449) and first-gen AirPods Pro with MagSafe charging case ($184) from Back Market. All accessories and documents (manuals, warranties) were included, and everything was packaged neatly, the same way it would be if purchased brand new. Both products were delivered on time and shipped in different packaging: the AirPods Max came in a bubble mailer sleeve and the AirPods Pro in an attractive mid-sized Back Market box.
The AirPods Max were in mint condition: no scuffs or scratches on the earcups. Padding felt comfy and fresh. The action button and digital crown operated smoothly for accurate playback and listening mode activation. Smart functions like auto-pause/play, automatic switching, "Hey Siri," and Find My (AirPods) functioned well. Oddly, it was easier to pair the headphones to my Android phone than my MacBook Pro, but I eventually got them working on the laptop and enjoyed seamless functionality.
My only complaint involved the Smart Case. It felt new in hand, but it looked used with notable chalky stains on the magnetic closure.
Why did I choose the original AirPods Pro versus the newer and more affordable AirPods Pro 2 ($170)? Well, the latter was only available in fair condition, and I prefer the call quality of their predecessor. I wasn't disappointed with the performance or condition: both were excellent. Connectivity was instantaneous with my all iOS/macOS devices. The force sensors produced solid tactility. "Hey Siri" voice activation ran smoothly. Wireless charging worked. I couldn't ask for anything more.
The best refurbished wireless headphones deals right now
On top of Amazon and Back Market, there are other online marketplaces like Best Buy, eBay, Newegg, Target, and Walmart that offer competitive discounts on refurbished wireless headphones. Here's a list of the best deals right now.
Amazon
Back Market
Best Buy
Newegg
eBay
Target
Walmart
What's this about brand refurbished models?
If you lack faith in third-party refurbishers, go straight to the source. Several audio brands are selling their headphones and earbuds refurbished, which can be purchased directly on their sites. Some of the big names doing this are Audio-Technica, Bose, JBL, Klipsch, and Sennheiser.
Audio-Technica
Bose
JBL
Klipsch
Sennheiser
Stay in the know with Laptop Mag
Get our in-depth reviews, helpful tips, great deals, and the biggest news stories delivered to your inbox.