I'm a fed-up tech journalist — how Microsoft, Apple and Google can do better in 2023
We're two months into the new year, and like our readers, we have wants, needs, and expectations we hope to see achieved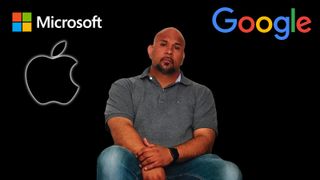 (Image credit: Future)
It's been six weeks since tech makers showed off all the new tech for 2023 at CES. We got hands-on with great VR devices like the HTC Vive XR Elite. We were blown away by a haptic suit that allowed us to feel some of what our in-game avatar experienced. My favorite was Nvidia solving gaming for Apple and others who struggle with it.
At CES, I collected fascinating opinions and attendees' grievances on the latest tech, including the iPhone 14. They also weren't shy about what improvements they hoped to see in 2023.
This led me to ponder my tech wants in 2023 sincerely. And with the excitement of CES now behind me and with tangible data starting to emerge, I have a solid wishlist for smartphones, laptops, cameras, and peripheral makers.
Let's take a quick ride together through what I'm thinking based on what you've shared and my musings.
Windows laptops
Maybe nobody wants to say it openly, so I will, especially after talking to a group of tech makers this past week. Windows 11 is awful and annoying with its wantonness and desire to mimic an Apple OS while being the most time-wasting operating system on the planet. Really Microsoft? I can't choose Google Chrome as my default browser.
Instead, other consumers and I have to go into the settings menu and select every instance, and why did we choose it to open webpages of every kind, including PDFS seriously?
And now that laptops with Intel 13th Gen processors have started shipping, I've heard whispers that Windows 11 is affecting performance, causing odd bottlenecks and battery life issues. In our lab testing, our amazing team of mad scientists noticed in late spring and early summer of 2022 that battery test results " went bonkers" and were all over the place but returned to within normal ranges after working with Microsoft.
The hypothesis was that a Windows update was the cause. Also, in recent testing, we saw lower battery life than expected which goes against all we were told to expect. However, we've seen that battery life has not improved. Intel and Nvidia both mentioned we should expect better battery life and performance, so what gives?
Nvidia also gave a fantastic demo showcasing how the new mobile 4000 Series will improve performance and battery life.
I believe them, I saw it for myself, but again, makers like Nvidia and Intel can only do their part, and if the OS is a hindrance, it's a significant issue.
Microsoft, I hope you realize this is tough love. Seriously, Windows 11 is a joke and very clingy. You talk about a better experience, freeing up users, and almost being open source, but nothing could be further from the truth. Do you know what used to make Windows great? It looked nothing like macOS (why did you move the start to the center?). You can improve your OS to compete without morphing into the competition. Lastly, Microsoft, stop it with the browser. Just put it to bed. So you're working with Google to integrate more of it into Windows, but you're still trying to push Edge on us like a stalker. Save time, effort, and money. Focus on making Windows 11 a great experience all around.
Creator class PCs
It seems many OEMs are targeting Apple as they try to win a larger portion of the content creation market. It's become even more lucrative since Covid produced a new wave of content creators. Hell, even my grandmother asked me for an iPhone to start filing TikTok videos and a laptop to edit them.
My ask from PC laptop makers is twofold. If you want to compete with Apple in the creator space, battery life, and performance must be your primary focus. Also, your systems have to run video and photo editing software without stuttering, freezing and taking too long to render.
Here is a secret, most people are filming short videos trying to hit that YouTube sweet point of seven mins on longer videos, but primarily 90-second videos for other platforms. You will not win this market if you build devices that can't handle that quickly. Also, more creators are using Blackmagic's free DaVinci Resolve software, thanks to its award-winning color grading capabilities and ease of use. It's GPU intensive, so consider that.
For Intel, this means you have to develop a graphics chip that can handle that kind of workload. Iris Xe and Intel UHD have their place, and it's not in a laptop targeting creators.
Right now, AMD is on a winning streak as more tech makers are using their mobile CPUs than ever before, with AMD advantage's presence growing and numbers closing in on Apple's battery life. AMD is one to watch for sure.
Apple
Oh, Apple, you're so easy to have a love-hate relationship with. You're like the ex-wife you sometimes remember fondly when you pick up the kids for a long weekend. You make the most user-friendly devices and have these significant events throughout the year that have the production value of Hollywood blockbusters.
The Castle of Cupertino is so elitist that green bubbles become a controversial conversation during the holidays. Pope Cook tells people to buy their mothers an iPhone with a tongue-in-cheek cuteness and arrogance that disregards that the phone would cost a whole paycheck for the average consumer.
The thing is, yes, you make a tremendously user-friendly product. However, you're getting lazy, and others are catching up and will soon surpass you. Your camera capabilities were the actual thing that separated you in the past. However, look over your shoulder. The Pixel 7 Pro bests you in some significant ways. The Pixel 7 Pro bests you in some significant ways, such as camera performance. Shocking, but overall the Pixel 7 Pro has better zoom and overall image quality. This is what happens when you become complacent with just throwing pretty stylized events to launch devices with tiny incremental, lateral improvements.
You better hope your AR/VR headset is genuinely innovative because the rumored $3,000 price tag for something already made by others for a lot less is a lot, even for your most devout Apple zealots.
As far as your MacBooks go, I have no complaints; you know your space, you stick to what works for you, and you've mastered that space, so bravo. However, you could use a styling update and charge less for memory upgrades. Lastly, you know that the last batch of SSDs was meh. Fix that. Thanks.
I ask Apple to make an innovative product this year that wows consumers instead of leaving them quietly upset because they fear angering the god of fruit-powered devices. Also, it's okay to admit when a device and iOS were released before being perfected. Humility is beautiful.
Smartphones
Ok, we know Samsung and Apple dominate this space, but phones like the Google Pixel 7 and 7 Pro with its Tensor CPU are causing more than a ripple in the waters. Another maker to watch out for is OnePlus. The launch of the OnePlus 11, powered by Qualcomm's powerful Snapdragon 8 Gen 2 chipset, is a beast. The most impressive thing about the OnePlus 11 is it delivers flagship specs and performance for $400 to $500 less than the Samsung S23 Ultra and iPhone 14 Pro.
The Pixel and OnePlus phones are giving consumers what they want and need at a price they can afford, and I hope we will see more of this in 2023. We all want to drive a Mercedes. However, we settle for a Honda and are super happy.
My biggest ask for all Android phone makers is to work with Google on its Play Store. Keep tighter tabs open for developers and what is making it into the app store. Malware has become the bane of existence for users, and every bit helps. Yes, we, as users, need to be more conscientious of what we download. However, you must be just as careful as what you let on the platforms.
I think 2023 will be an exciting year for smartphones. As the Samsung Galaxy S23 Ultra and OnePlus 11 have already proven this past month, the new Snapdragon chipset is powerful, and when married to a good build, can get even a devout iPhone user to make the switch.
Cameras
Camera makers have been making some considerable gains in ease of use, autofocus, autofocus tracking, and lowlight performance across the board. Panasonic's latest Lumiox S5II and S5IIX, with its new Phase autofocus and other improvements, blew me away at CES 2023.
Canon and Sony also wowed me last year with the A7R4 and R7. However, my one bone to pick with Sony is I do not enjoy its UI (user interface) very much, but since it doesn't affect the camera's performance in any way, it is something I can live with.
Canon has been a bit all over the place, and they seem to be undergoing some changes. However, the R series of cameras are good shooters that hit well within specific markets and user needs. RF glass has proven to be amazing, and the R system is a win as Canon is now profoundly in with the mirrorless systems they seemed to have avoided initially.
Blackmagic keeps putting out great cinema cameras for every budget, which makes me happy. I wish they could find an intelligent way to add some smooth autofocus and tracking to their pocket cinema lineup because that is what many consumers want.
In the end, I would like more camera makers to take note of Blackmagic and consider making powerful cameras that are a smidge more affordable. There also needs to be a way to create creative financing programs for filmmakers and creatives of every level.
Peripherals (docks, webcams and more)
We want peripherals that work as advertised, and I'm here to say most peripheral makers are spot on and make great products. However, I have questions. Who is still using a VGA monitor in 2023? And why are VGA ports still a thing on some docking solutions? Maybe in some dystopian future, I will regret writing that, but for now, it feels like it is time to retire VGA ports for good.
External webcams are facing hard times after being in high demand during the pandemic, and here is why. Laptop makers got tired of hearing about how terrible built-in webcams were (720p), and so have mostly moved on to FHD (1080p) — some even added 5MP sensors. If you're an external webcam maker, you must be in the 4K resolution range to interest consumers in this market.
There is a lot of innovation in the peripherals market, and I believe focusing on end users' needs is what makers do an excellent job of addressing. I feel that many OEMs are doing a fine job anticipating what the big tech makers are bringing to market and quickly building products to match.
I guess my one ask is for better build quality from some of the smaller peripheral firms. I know you're all working hard to deliver outstanding products, but sometimes cutting corners comers affect reliability.
Final thoughts
I hope nobody reads this and takes offense. It's my job to review products fairly, and anyone who has worked with me or met me knows I am incredibly fair. However, as tech journalists, we write with end users in mind, not just about our personal preferences. We want our readers to make the most informed purchase decisions.
We're all part of the same ecosystem. Whether you're an OEM or a tech journalist, we all want to celebrate great products, innovation, and advancements that improve our quality of life. With that in mind, I hope this brings, at the very least, a modicum of insight to the tech world's trailblazers so that 2023 continues unfold with killer tech products I can rave about.
Stay in the know with Laptop Mag
Get our in-depth reviews, helpful tips, great deals, and the biggest news stories delivered to your inbox.
Mark has spent 20 years headlining comedy shows around the country and made appearances on ABC, MTV, Comedy Central, Howard Stern, Food Network, and Sirius XM Radio. He has written about every topic imaginable, from dating, family, politics, social issues, and tech. He wrote his first tech articles for the now-defunct Dads On Tech 10 years ago, and his passion for combining humor and tech has grown under the tutelage of the Laptop Mag team. His penchant for tearing things down and rebuilding them did not make Mark popular at home, however, when he got his hands on the legendary Commodore 64, his passion for all things tech deepened. These days, when he is not filming, editing footage, tinkering with cameras and laptops, or on stage, he can be found at his desk snacking, writing about everything tech, new jokes, or scripts he dreams of filming.