I ran Windows 11 on an M1 Mac: Here's my experience
We put Parallels' Windows 11 virtual machine to the test on an M1 Mac Mini to see if it's worth your money.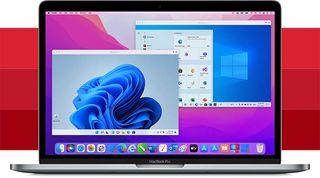 (Image credit: Parallels)
Microsoft's strict hardware limits for Windows 11 meant millions of PC owners will be stuck on Windows 10 forever — that list also includes MacBooks. Since Windows 11 demands a TPM chip to run and the latest M1 Macs don't support Boot Camp utility (which has let Mac owners install Windows on their computers for years), it's not possible to install Microsoft's new OS on Apple-branded computers. Yet, for the last week, I've been running Windows 11 and macOS programs side-by-side on my M1 Mac Mini.
That's courtesy of Parallels, the virtualization software whose latest update makes booting up Windows 11 in a window on an M1 Mac as simple as downloading an app. It skirts Windows 11's mandatory TPM chip requirement with a virtual alternative that's enough to trick the OS into believing you're using it on a compatible machine.
More importantly, Parallels has made a series of under-the-hood upgrades to get the most out of the M1 chip, and after a couple of days of use, I can report that it'd be hard for you to tell which operating system your Mac came preloaded with. (I was on the Windows 11 Home 22000.348 Insider build.)
Parallels 17 allows Apple's M1 chip to run Windows 11 like its second nature. Although Microsoft has explicitly said it has no plans to support M1 Macs anytime soon, the chip handles Windows 11's ARM version with ease and faces zero compatibility hiccups.
How stable is a Windows 11 virtual machine on an M1 Mac?
Windows 11 on Parallels was remarkably stable for a virtual machine, and that allowed me to use it as my primary workspace.
Everything from Windows 11's refreshed animations to resource-intensive multitasking worked as Microsoft intended it to. Plus, it can wake up from sleep in an instant in the same state you left it, including all the open apps. It supports all the new Windows 11 bells and whistles, except for Android games since Parallels can't replicate the "hardware acceleration" option just yet.
Installing Windows on Parallels is no longer a multi-step process either. Once you download Parallels on your Mac, its installation assistant will grab and load up the Windows 11 ISO file for you, and the M1 chip's performance chops wrap up that process in about 30 minutes.
Once you're inside the Windows 11 virtual machine, there's little for you to set up. Parallels automatically shares your macOS profile's data with the VM, such as Wi-Fi and printer settings. On top of that, it offers a host of handy tools so that you can adjust the experience depending on your demands.
The most important tool is the ability to configure how much memory and CPU bandwidth is allocated to the virtual machine. So if you own an entry-level Mac with only 8GB of RAM like me, you can utilize this to ensure running two operating systems doesn't grind your machine to a halt.
In case your computer doesn't have enough RAM to handle the virtual machine and macOS together, Parallels can also process tasks on your hard drive instead. This could potentially degrade the performance, but it's certainly a better option than freezing your system. There are predefined profiles, too, for different workflows, such as "Productivity" and "Gaming," that you can pick instead of fine-tuning memory and CPU allocation.
Of course, the biggest highlight of Parallels has always been how well it syncs the Windows virtual machine with macOS, and that experience has only improved with the latest iteration.
With the "Coherence" mode, you can access Windows apps as if they're installed on macOS itself and effortlessly drag and drop files across them and Mac apps -- minus the constant back and forth between the VM and macOS. Both the desktops can stay in sync as well, which means the active Windows programs will appear on the macOS dock. Similarly, you can access Mac files from the Windows File Explorer, and Mac apps will be available in Windows' "Open-with" menu.
The one aspect where the Windows virtual machine is still no match for a direct installation is gaming. Since Parallels doesn't support DirectX 12, that leaves out most new video games, and for the ones it can launch, like Counter-Strike: Global Offensive, you'll have a better time playing them on macOS itself. As we found out in our M1 gaming review, the Mac Mini can produce a reasonable performance for mid-tier titles, including Fortnite, Asphalt, CS: GO, and more. In comparison, when I played Counter-Strike on the Windows 11 virtual machine, it was practically unplayable at15 frames per second.
Outlook
At a starting price of $80, Parallels is certainly not cheap, and it's important to remember that it doesn't include the cost of a Windows license. However, if you do constantly need Windows programs on your Mac, it's a no-brainer, and it will, at the end of the day, save you a lot of money than shelling out for a separate Windows computer altogether.
Stay in the know with Laptop Mag
Get our in-depth reviews, helpful tips, great deals, and the biggest news stories delivered to your inbox.
Shubham Agarwal is a freelance technology journalist from Ahmedabad, India. His work has previously appeared in Business Insider, Fast Company, HuffPost, and more. You can reach out to him on Twitter.