Best mouse in 2023
Here are the best computer mice to cater to your needs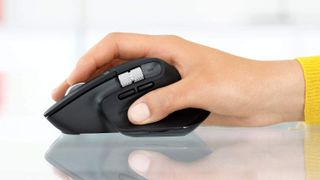 (Image credit: Logitech)
The best computer mouse is a subjective title, as not all hands suit any single mouse nor do all workstations accommodate every device. However, there are some fantastic peripherals out there that are great for catering to specific needs.
While you'll be hard-pressed to find a laptop that doesn't at least supply you with a serviceable touchpad, nothing beats the sheer performance and versatility of even the most basic mouse. Taking things one swipe further, an external mouse can help up your game by improving performance and comfort for hours on end.
The mouse selection available on the market can become quite daunting if you don't know what it is you're looking for. Check out our best gaming mouse guide for a more in-depth look at what's on the market. However, if you're unsure about which mouse is best for you, we've selected several options to help narrow down your decision. Whether you need a cutting-edge gaming mouse, something to improve your workflow, or just a new daily driver, Laptop Mag has you covered.
What is the best computer mouse?
Why you can trust Laptop Mag Our expert reviewers spend hours testing and comparing products and services so you can choose the best for you. Find out more about how we test.
Realizing what it is you want from your peripheral can narrow down a veritable landslide of options. There is no true universal one-above-all mouse out there, but if you're looking for a device that has the versatility to offer a little bit of everything (and do it all well), the Logitech MX Master 3 should be topping your shortlist. Logitech's premium peripheral has been a top pick for some time now thanks to its quality build, enduring comfort, and wealth of features.
If you're looking for something a little more gaming-friendly, the Razer Basilisk Ultimate is a future-proof gaming mouse that has a lightning-quick response time and uber-long lifespan of 70 million clicks.
On the hunt for something less expensive? The SteelSeries Rival 3 won't break the bank, and it boasts many of the same features as more expensive competitors on this list.
Best mouse overall
Reasons to buy
+
Ergonomic design
+
Premium build
+
MagSpeed scroll wheel
+
Great battery life
Released in 2022, the Logitech MX Master 3S had a very easy task: make small but impactful improvements on what has been the best ergonomic mouse for years in the original MX Master 3. And it should come as absolutely no surprise that that's exactly what Logitech did.
It's a fantastic candidate for a reliable mouse, and whether you're using Photoshop, Premier or Microsoft Office, the MX Master 3's ergonomic design ensures comfort over longer periods of work. While you won't see the MX Master 3 topping any lists as the best gaming mouse, it remains entirely serviceable in all but the most ultra-competitive of games thanks to its comfort and accuracy.
Its seven well-placed buttons afford a high level of customization for any task at hand, and two machined steel scroll wheels make vertical and horizontal navigation of even the largest documents a breeze.
But while the improvements are subtle, they make the experience all the more impressive. The Darkfield high-precision sensor resolution has been upped to 8000 DPI for ultra accuracy and responsiveness, the click switches are a lot quieter, and the company's done all this while still maintaining that same 70-day battery life. That means you can be confident in its performance and uptime.
Packed with some of Logitech's most premium features, this peripheral isn't exactly a budget buy, and picking one up could set you back as much as $99. While that does mean you could probably bag the still impressive MX Master 3 for cheaper, and we will continue to demand a left-handed version of this mouse until the company listens, this true all-rounder with zero compromise will always be a sound investment.
See our full Logitech MX Master 3S review.
Best gaming mouse
Reasons to buy
+
Comfortable design
+
Charging dock
+
Great performance
+
Impressive response time
Reasons to avoid
-
$150 without charging dock
The Razer Basilisk Ultimate is a high-performance 20K DPI gaming mouse that'll leave its mark on more than just the leaderboards. With 11 programmable buttons, 14 customizable Chroma lighting zones, and customizable scroll wheel resistance, the Razer Basilisk really does give you ultimate control over your gaming experience.
Razer claims its optical switches to be the fastest in the industry, using infrared beams to transmit clicks instead of physical contact switches. This gives the Basilisk Ultimate a response time as low as 0.2 milliseconds and prevents the mouse from registering misclicks. It also helps reduce the wear and tear on the mouse itself, with Razer estimating a lifespan of up to 70 million clicks.
That longer-lasting lifespan might be what makes the Razer Basilisk Ultimate's price tag somewhat easier to swallow. A mouse this good is future-proof, and knowing it was created with durability in mind should leave you confident that you can game on it for a good number of years.
The Basilisk Ultimate is a right-handed mouse by design and doesn't offer a left-handed variant. However, there's the cheaper left-handed version of the Razer Naga, or the ambidextrous-friendly Logitech G Pro Wireless.
See our full Razer Basilisk Ultimate review.
Best budget mouse
Reasons to buy
+
Affordable
+
Accurate and responsive sensor
+
Comfortable in use
+
Modest RGB
For under $50, the SteelSeries Rival 3 is a budget buy that packs enough punch to handle itself across a variety of uses. Designed with gaming in mind, the Rival 3 contains a TrueMove sensor that tracks on a one-to-one scale. Capable of handling resolutions of up to 8,500 DPI, the mouse is accurate, responsive, and reliable.
For a budget peripheral, it strikes the perfect balance between work and play. While not the most ergonomic of designs, the SteelSeries Rival 3 is lightweight and comfortable to use over long periods. The Rival 3 isn't as flashy or over-designed as some gaming mice tend to be. The RGB lighting isn't obtrusive and can be disabled if you choose through the SteelSeries software.
Two thumb buttons on the left side of the mouse break what is an otherwise ambidextrous form, but for a truly ambidextrous mouse within a similar price range, there's always the Logitech G900.
See our full SteelSeries Rival 3 review.
Best on-the-go mouse
Reasons to buy
+
Very portable
+
MagSpeed scroll wheel
+
USB-C compatible
+
Premium Build
Reasons to avoid
-
Awkward for larger hands
The MX Anywhere 3 is Logitech's attempt to take many of the features found within the MX Master 3 and cram them into a mouse more suited for travel. A similar level of style and elegance remains, though now in a more compact and snug shape. It's a perfect companion for those who find themselves on the go, as the MX Anywhere 3 is small enough to fit in a pocket, durable enough for travel, and features a battery life that lasts upwards of 70 days.
Cutting down on more than size, the MX Anywhere 3 is a premium mouse with a less-than-premium price. That reduction in price doesn't equate to a reduction in features, though. You can still control multiple workstations simultaneously, save your button configurations into app-specific profiles, and enjoy superfast scrolling thanks to Logitech's machined steel MagSpeed mouse wheel. The inclusion of Logitech's Darkfield sensor also means you can reliably use the MX Anywhere 3 on practically any surface and still receive a fantastic and accurate experience.
That being said, this smaller profile won't suit all hands and is better suited as a travel backup. However, those with small-to-medium-sized hands shouldn't find this as much of an issue. Left-handed users would have to give up on the two thumb buttons located on the left side of the mouse, though if this is a problem, there's a more ambidextrous alternative in the Microsoft Modern Mobile Mouse.
See our full Logitech MX Anywhere 3 review.
Best ergonomic mouse
Reasons to buy
+
Unparalleled comfort
+
Impressive battery life
+
Great for small workstations
+
Accurate and responsive sensor
Tilted and curved to accommodate a relaxed grip, the M575 ergonomic trackball mouse takes the strain off of your arm, allowing you to control your cursor without moving the mouse an inch. It's great for cramped workstations or anyone struggling with wrist fatigue from traditional mice.
Powered by a standard AA Battery, the M575 can power its 2,000 DPI advanced optical sensor over an impressive 24-month lifetime. The tracking is smooth and responsive, though it can be a head-twister at first if you're not accustomed to a trackball interface. However, adjusting to the trackball across a variety of tasks isn't as challenging as you'd think, especially for competent texters or analog stick users who are more used to having their thumbs take control.
While the M575's design is ergonomically sound, it also cements itself as a right-hand-only mouse. With Logitech not catering to the left-handed amongst us, the best solution could be potentially found in the Elcom Left-Handed EX-G. For those that prefer a
See our full Logitech ERGO M575 review.
The best ambidextrous ergonomic mouse
Reasons to buy
+
Comfortable ergonomics
+
Smooth, responsive scroll wheel
+
Available in left- and right-handed configurations
Reasons to avoid
-
Takes some getting used to
At 5.1 x 2.9 x 3.3 inches and 4.7 ounces, the Logitech Lift is a curiously tall peripheral that towers over your keyboard. While there's definitely a sleekness to the curves, the overall design does take some getting used to.
On top, the silent magnetic scroll wheel has a grippy rubberized texture to launch a fast scroll and stop at precisely the right place on a column of text. The silent click switches also have a nice tactile feel to them. All in all, it's a great mouse for getting stuff done.
Like the vast majority of Logitech wireless peripherals, the Lift works right out of the box. But if you want the full experience, you can install Logitech Options, which gives you button customization, mouse speed options, battery level indicators, and more.
See our full Logitech Lift Vertical Ergonomic Mouse review.
Stay in the know with Laptop Mag
Get our in-depth reviews, helpful tips, great deals, and the biggest news stories delivered to your inbox.
Rael Hornby, potentially influenced by far too many LucasArts titles at an early age, once thought he'd grow up to be a mighty pirate. However, after several interventions with close friends and family members, you're now much more likely to see his name attached to the bylines of tech articles. While not maintaining a double life as an aspiring writer by day and indie game dev by night, you'll find him sat in a corner somewhere muttering to himself about microtransactions or hunting down promising indie games on Twitter.