Best Dell Latitude and Precision Business Laptops 2021
These are Dell's best business laptops for your hard-earned buck.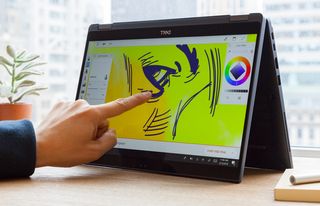 Dell has expanded its business offerings in recent years, and now the company sells everything from detachable tablets to powerful (and expensive) rugged workstations. Each machine has its own strengths and weaknesses, and every consumer has their own individual needs, so we've rounded up our favorite Dell business laptops by category.
Comfortable keyboards (for touch typists), durable chassis (for mobility), and a wide range of dynamic security features are just some of the perks you can expect from these top-notch enterprise notebooks. Here are the best Dell Precision and Latitude laptops you can buy today; read on to find the best one for you.
Best Dell business laptops
Why you can trust Laptop Mag Our expert reviewers spend hours testing and comparing products and services so you can choose the best for you. Find out more about how we test.
1. Dell Latitude 7410
2. Dell Latitude 7320 2-in-1
3. Dell Latitude 7320 Detachable
4. Dell Precision 7550
5. Dell Latitude 5490
6. Dell Latitude 9510
7. Dell Latitude 5290 2-in-1
8. Dell Latitude 5420 Rugged
The best Dell business laptop overall
Specifications
CPU:
Intel Core i7-10610U (10th Gen)
Size:
12.7 x 8.2 x 0.8 inches
Reasons to buy
+
Attractive, compact design
+
Beautiful 4K Display
+
Great performance
Reasons to avoid
-
Upgrades can get expensive
-
Heavier than rivals
The Dell Latitude 7410 is the business laptop that convinced our reviewer to put their own laptop and desktop combo into sleep mode. Capable of acting as both a portable notebook and powerful stay-at-home solution, the Latitude 7410 helped is all about creating a more efficient workflow.
The 7410 combines a sleek aluminum design with powerful 10th Gen Intel processors and a gorgeous 4K display to work as both your business laptop and day-to-day notebook. It's good for use in the office now that many companies are returning to a state of normalcy.
See our full Dell Latitude 7410 review.
2. Dell Latitude 7320 2-in-1
A perky performer and stylish travel partner
Specifications
CPU:
Intel Core i5-1145G7
Display:
13.3-inch, 1080p
Size:
12.1 x 7.9 x 0.7 inches
Reasons to buy
+
Lightweight and sturdy chassis
+
Colorful display
+
Solid performance
The Dell Latitude 7320 2-in-1 is a lightweight business laptop that is the ideal companion for mobile professionals. Outfitted with an Intel Core i5 vPro processor and Intel Xe integrated graphics, the 7320 2-in-1 can handle just about any workload you throw at it. Plus, the laptop has a host of useful security features and over 12 hours of battery life in case you need to put in some overtime. If you're looking for a serious work notebook, you've found it. The Dell Latitude 7320 2-in-1 is a genuinely portable unit you will enjoy moving around your home, office, or taking on a business trip.
See our full Dell Latitude 7320 2-in-1 review.
3. Dell Latitude 7320 Detachable
A sweet detachable to rival Microsoft and Lenovo
Specifications
CPU:
Intel Core i7-1180G7
Display/Resolution:
13-inch (1920 x 1280)
Size:
11.4 x 8.2 x 0.3 inches
Reasons to buy
+
Comfy keyboard with pen charging slot
+
IR camera and fingerprint sensor
+
Class-leading webcam
+
Slim aluminum design
Adopting many of its rival's best bells and whistles, the Latitude 7320 swims toward the top of our best tablets and best 2-in-1 laptops rankings. Standout features include a gorgeous 13-inch display, fast performance, a comfortable detachable keyboard with a built-in stylus slot, useful security features, and a class-leading webcam (yes, you read that right). These are all packaged in a sleek metal chassis that can easily be slipped into a backpack or purse.
See our full Dell Latitude 7320 Detachable review.
The best performance is a bit pricey
Specifications
GPU:
Nvidia Quadro RTX 5000
Display Size/Resolution:
15.6-inch, 4K
Size:
14.17 x 9.53 x 1.08 inches
Reasons to buy
+
Powerful performance and graphics
+
Bright 4K display
+
Amazing battery life
Reasons to avoid
-
Exorbitantly expensive
-
Display could be more colorful for the price
If you're looking for the king of workstations, we might've just found it. The Dell Precision 7550 offers incredible performance from its Intel Xeon W-10885M CPU and Nvidia Quadro RTX 5000 GPU. There's also a bright 15.6-inch, 4K display, long battery life, a comfortable keyboard and even a pair of high-quality speakers. Not to mention, this machine is super configurable.
To top it off, the display isn't as colorful as the price tag would indicate. However, given all of the pros that come with this laptop (especially the battery life and power combo), the Dell Precision 7550 is undoubtedly one of the best workstations you can buy, if you can afford it, that is.
See our full Dell Precision 7550 review.
Stay thrifty with this budget pick
Specifications
GPU:
Intel UHD Graphics 620
Storage:
256GB M.2 PCIe NVMe SSD
Display Size/Resolution:
14-inch, 1080p
Size:
13.1 x 9 x 0.8 inches
Reasons to buy
+
Strong performance
+
All-day endurance
+
Tons of security options
If you're running a startup or small business and don't have the funds to buy every employee a workstation, then go with the Latitude 5490. Starting at $399, this affordable business laptop gives you a lot for your money, including strong performance, nearly 9 hours of battery life and a comfortable keyboard. Most important, the Latitude 5490 has a bunch of security features — including a fingerprint sensor and IR camera — to ensure your company's sensitive data is protected.
See our full Dell Latitude 5490 review.
A great 2-in-1 laptop at an excellent value
Specifications
CPU:
Intel Core i7-10810 vPro
Display Size/Resolution:
15-inch (1920 x 1080)
Size:
13.4 x 8.5 x 0.6 inches
Reasons to buy
+
Longest-lasting battery life ever
+
Slim design
+
Relatively bright 15-inch display
+
Solid performance
The Dell Latitude 9510 features a bright 15-inch screen and solid performance packed inside a super slim design, and it'll last you two workdays on a single charge.
However, at the price of some configurations ($1,899 and higher), it might just be cheaper to sell your digital soul. But if you have money to blow and don't care about the display resolution or having discrete graphics, the Latitude 9510 is for you, and it certainly makes its mark as one of the best business laptops. In short, if you are a discerning manager eyeing this laptop because you want to equip your employees with a top-of-the-line laptop, then you've found it.
See our full Dell Latitude 9510 review.
Another fantastic tablet
Specifications
GPU:
Intel UHD Graphics 620
Display Size/Resolution:
12.3-inch (1920 x 1280)
Size:
11.5 x 8.5 x 0.6 inches
Reasons to buy
+
Clever auto-deploying kickstand
+
Long battery life
+
Clear webcam
Reasons to avoid
-
Weak speakers
-
Low storage capacity
Tablets are great for getting work done on the road (or in the air) because of their compact size and responsive touch screens, but they're not always convenient to use. Dell's answer to the Microsoft Surface Pro, the Latitude 5290 2-in-1 fixes our biggest gripes with detachables by using an auto-deploying kickstand. Just press the bottom edge of the laptop down on a desk and out pops an adjustable kickstand. The ingenious mechanism — combined with the 5290 2-in-1's long battery life — make it the perfect travel companion.
See our full Dell Latitude 5290 2-in-1 review.
The best rugged business laptop
Specifications
Storage:
512GB M.2 PCIe NVMe Class 40 SSD
Display Size/Resolution:
14-inch, 1080p
Size:
13.7 x 9.6 x 1.3 inches
Reasons to buy
+
Survives 3-foot drops
+
Fast performance
+
All-day battery life
+
Comfortable RGB keyboard
The Latitude 5420 Rugged didn't flinch when we dropped it from 3 feet, then doused it in water. This practically indestructible beast passed a range of military-grade durability tests, from repeated drops to exposure to sand and dust. Further proving that the Latitude 5420 Rugged belongs outdoors are its excellent battery life and super bright touch-screen display, which is clearly visible on the sunniest of days. For gaming or running graphics-intensive programs, the Latitude 5420 Rugged has a discrete GPU and comfortable RGB keyboard.
See our full Latitude 5420 Rugged review.
How we test laptops
When we bring a laptop into our lab, our goal is to see how it would work if you brought it into your home or office. While we use a number of industry-standard benchmarks, such as Geekbench and 3DMark, we focus heavily on real-world tests that we have developed in-house.
To test endurance, the Laptop Mag Battery Test surfs the web at 150 nits of brightness until the system runs out of juice. To judge pure processing power, we use a giant spreadsheet macro that matches 65,000 names with their addresses, a video transcoder that converts a 4K video to 1080p and the Geekbench 4 synthetic test. We measure graphics prowess with both 3DMark Ice Storm / Fire Strike and a series of actual game titles.
We use a colorimeter to measure screen brightness and color gamut while other instruments help us determine a laptop's key travel and ambient heat. See this page on how we test laptops for more details on our benchmarking procedures.
Specs to look for
Screen Resolution: Unfortunately, 66 percent of consumer laptops and 51 percent of business systems have low-res screens. If possible, get a display with a 1920 x 1080 (aka 1080p, or Full HD) or higher resolution.
CPU: An Intel Core i5 provides good mainstream performance. Some budget systems will come with Core i3, Celeron or Pentium CPUs, which are good for basic tasks but not heavy multitasking. Get a Core i7 or a quad-core processor (serial number ends in HQ or HK) for gaming or high-end productivity tasks such as video editing and 3D modeling.
RAM: 8GB is ideal for most, but power users will want 12 or 16GB. 4GB is acceptable for budget systems. Secondary laptops and Chromebooks may have less.
Storage: Unless you're a gamer or a power user, 256GB of internal storage is probably enough. If possible, get an SSD (solid-state drive) rather than a hard drive, because it's going to make your computer a lot faster.
Graphics Chip: Gamers and creative professionals need to do some research and figure out which discrete GPU from Nvidia or AMD is good enough to run their favorite software. Everyone else will be happy with the built-in Intel HD Graphics that come with the CPU.
Bottom line: 1080p / Core i5 / 8GB are the specs to look for. You can spend a lot of time delving into specs, but these are the key components to think about when buying a 17-inch laptop. If you just want really good mainstream performance, go for a Core i5 CPU, 8GB of RAM, a 256GB SSD and a 1080p screen.
Stay in the know with Laptop Mag
Get our in-depth reviews, helpful tips, great deals, and the biggest news stories delivered to your inbox.
Phillip Tracy is the assistant managing editor at Laptop Mag where he reviews laptops, phones and other gadgets while covering the latest industry news. After graduating with a journalism degree from the University of Texas at Austin, Phillip became a tech reporter at the Daily Dot. There, he wrote reviews for a range of gadgets and covered everything from social media trends to cybersecurity. Prior to that, he wrote for RCR Wireless News covering 5G and IoT. When he's not tinkering with devices, you can find Phillip playing video games, reading, traveling or watching soccer.