Best 13-inch laptops in 2023
The best 13-inch laptops, from XPS 13 to MacBook Pro
QUICK LINKS
1. The list in brief
2. Best 13-inch MacBook
3. Best 13-inch Windows laptop
4. Best MacBook for students
5. Best MacBook workstation
6. Best business machine
7. Best Chromebook
8. Best laptop for creators
9. Best 13-inch 2-in-1 laptop
10. Best ThinkPad
11. Best overall design
12. Best Windows 11 laptop
13. Best 13-inch gaming laptop
14. How to find the right laptop
15. How we test
16. Why trust Laptop Mag
The best 13-inch laptops blend portability and productivity in equal measures. Students can effortlessly carry 13-inch laptops around campus and business professionals can slip them into briefcases when traveling (or from your home office to the couch). Despite their size, a 13-inch laptop equipped with an Intel, AMD Ryzen or Apple M1 processor can provide plenty of performance for most users.
We've compiled the best 13-inch laptops, but if you're not sold on this screen size, check out our best laptops page or the best 15-inch laptops if you need more screen real estate. Students should see our best college laptops page, where they'll find the best notebook for their respective fields of study.
We've even got a 13-inch gaming rig on this list, but if you want even more screen real estate check out our short list for the very best 17-inch laptops, which are often much more powerful by default.
The Quick List
Best 13-inch MacBook
Best 13-inch MacBook
Specifications
Display:
13.6 inches (2560 x 1664)
Size:
11.97 x 8.46 x 0.44 inches
Reasons to buy
+
Good performance
+
Bright, colorful screen
+
Excellent battery life
Reasons to avoid
-
Only two ports
-
SSD somewhat slower than M1 Air
The M2 chip makes the Air a bonafide workhorse, and with over 14 hours of battery life, you can work all day long and then some. Plus, you get to stare into that gorgeous 13.6-inch display, enjoy the surprisingly powerful speakers, type on an ultra-comfy keyboard, and put your best self forward with the improved FHD (1080p) webcam.
Yes, the $1,199 starting price (our review unit's $1,899 price tag) is a bit steep. However, the M2 outclasses the M1 in just about every category, making it well worth the investment. With the M3 Air soon to come, we can expect the price to drop soon enough.
For the money, the MacBook Air 13-inch gives you more than enough horsepower to push documents for the next five years while only weighing 2.7 pounds, making it easy on your back and not too hard on your wallet.
See our full MacBook Air M2 review.
Best 13-inch Windows Laptop
Best 13-inch Windows laptop
Specifications
CPU:
Intel 12th Gen Core i5-1240P
GPU:
Intel Iris Xe Graphics
Storage:
512GB M.2 NVMe SSD
Display:
13.4 inch 1920 x 1080 Touch display
Size:
11.6 x 7.8 x 0.6 inches
Reasons to buy
+
Sleek, minimalist design
+
Great performance
+
Comfortable keyboard
Reasons to avoid
-
The design is highly polarizing
-
Below-average battery life
The Dell XPS 13 Plus is one of our favorite laptops with sleek looks and a fantastic keyboard. Its minimalist styling is both futuristic and divisive, but dig deeper and you'll be won over by its powerful performance and a stunning optional 4K display that will knock your socks off.
The Dell XPS 13 Plus displayed its power during our synthetic tests, such as Geekbench 5.4, our comprehensive performance test. With a score of 10,621, the 13 Plus crushed the 6,179 premium average. This is perfect for those who push a lot of documents or refuse to ever close a single browser tab.
When we ran the Handbrake video transcoding benchmark, the Plus transcoded a 4K video to 1080p in 8 minutes and 17 seconds, roasting the 9:47 category average. The MacBook Pro saw a time of 6:51. That is not too shabby for a mainstream laptop..
The lack of a discrete GPU will cross this off your list if you are looking to play any remotely modern games or get heavily into content creation. But what the XPS 13 Plus lacks in gaming prowess, it makes up with powerful productivity performance. Also, thanks to apps like Pixlr and PhotoPea, which are free and readily available, you can easily handle most of your photo editing needs lickity split.
The Dell XPS 13 Plus is a top performer where it matters and an excellent choice for busy on-the-move workers who need to remain productive.
And here is our review of the Dell XPS 13 with 4K display and the XPS 13 OLED released in 2021.
Best MacBook for Students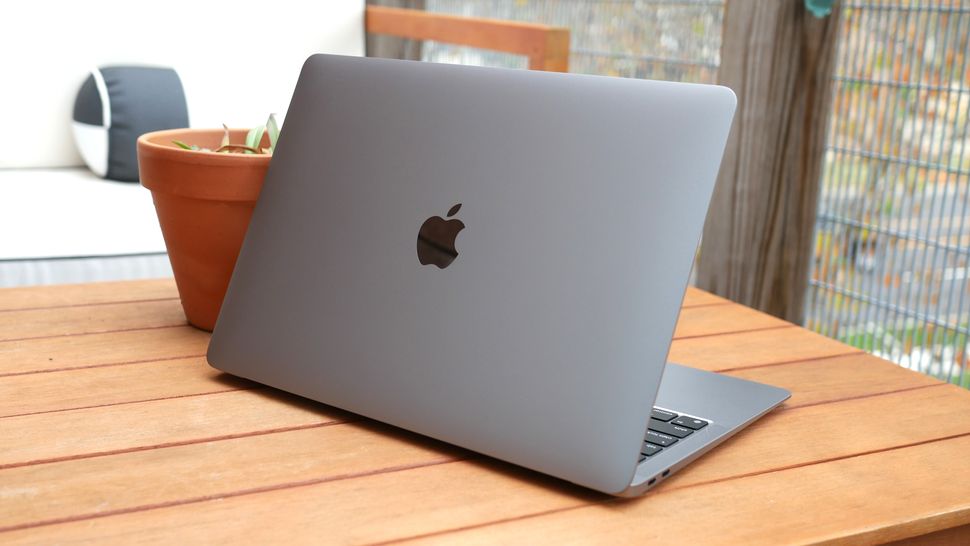 Best MacBook for students
Specifications
Storage:
256GB/512GB/1TB/2TB
Display:
13.3-inch, 2560 x 1600-pixel
Size:
11.9 x 8.4 x 0.6 inches
Reasons to buy
+
Breathtaking performance
+
Outstanding battery life
+
Slim unibody aluminum chassis
+
Great speakers and Magic Keyboard
If you prefer macOS to Windows 11, go with the Apple MacBook Air. The biggest improvement to this year's model is the new M1 chip, which delivers outstanding performance and excellent battery life, making the new MacBook Air the fastest ultrathin laptop ever.
Best of all, the MacBook Air still costs only $999, and with the M3 Air coming soon, the price will continue to drop and keep it on our list as it is aging very well. You can still get unrivaled performance along with 14 hours and 41 minutes of battery life. You'll only find this combination from the best Windows 10 laptops, and even they can't compete in head-to-head performance.
So why buy the MacBook Air instead of the Pro? While the Pro has better-sustained performance, the MacBook Air is cheaper and is pin-drop silent because it doesn't have a fan. And, of course, Apple's least expensive 13.3-inch model is the most portable, coming in at only 0.6 inches thick and 2.8 pounds.
But now the MacBook Air is slower to parity with the MacBook Pro than ever before. It has similar speed and battery life, the same 720p webcam, a comfortable Magic keyboard and two USB-C ports. Also, the 13.3-inch, 2560 x 1600-pixel Retina display on the M1 model was improved with P3 color coverage, making it more vibrant than the previous panel.
See our full Apple MacBook Air (M1, 2020) review
Best MacBook Workstation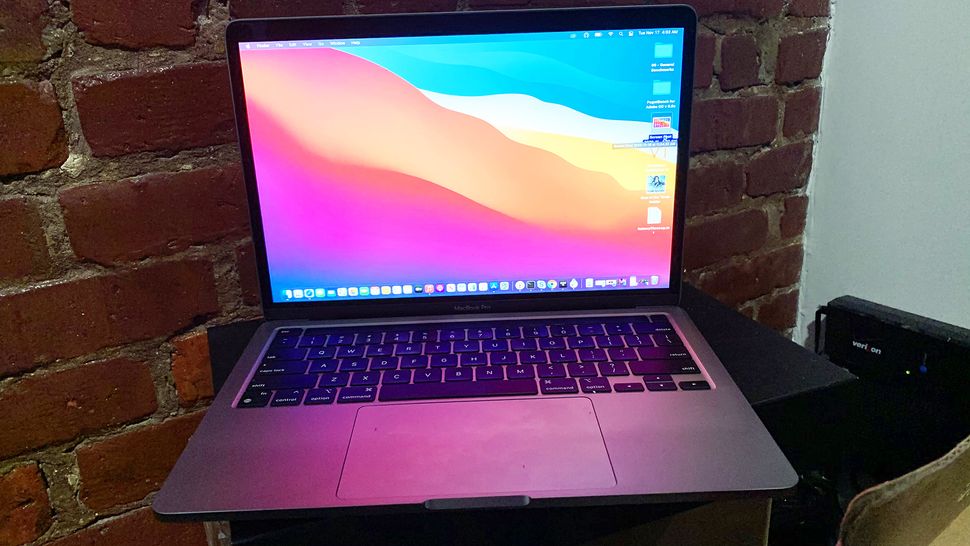 Best 13-inch MacBook workstation
Specifications
Storage:
256GB/512GB/1TB/2TB
Display:
13.3-inch, 2560 x 1600-pixel
Size:
12 x 8.4 x 0.6 inches
Reasons to buy
+
Breathtaking performance
+
Outstanding battery life
+
Slim unibody aluminum chassis
+
Great speakers and Magic Keyboard
This is the huge leap forward we were waiting on. It is all thanks to the M1 chip, Apple's first-ever custom SoC for laptops. With the best power-per-watt performance of any processor, the M1 brings the MacBook Pro's performance and battery life to the next level.
More specifically, the MacBook Pro is more powerful than nearly every PC on the market, including some workstations. And despite cramming so much power into such a slim and sleek chassis, the Pro lasted for an outstanding 16 hours and 32 minutes on our battery test, which simulates real-world testing.
With an image processing unit, the webcam (sadly, still 720p) is better than before and since it runs on Apple's ARM-based architecture, iPad and iPhone apps are now available on Mac. Yep, you can run all your favorite iOS games and apps on your laptop now.
Rounding out the numerous enhancements found in the latest MacBook Pro is Big Sur, the latest version of macOS. The largest update since OS X launched a decade ago, Big Sur is a beautiful redesign of the desktop OS. With the benefit of sustained performance, the MacBook Pro is a more capable 13-inch laptop than the MacBook Air but not as good of a value.
See our MacBook Pro (13-inch, M1, 2020) review
Best Business Machine
Best 13-inch business laptop
Specifications
CPU:
Intel Core i7-1160G7
Display:
13-inch, 2K (2160 x 1350)
Size:
12.7 x 8.5 x 0.66 inches
Reasons to buy
+
Stylish, stealthy design
+
Bright 13-inch, 2K display
+
12-hour battery life
Reasons to avoid
-
Limited ports
-
Small touchpad
You are probably familiar with the ThinkPad X1 Carbon at this point. It has been our favorite business laptop for ages due to its lightweight design, excellent performance and convenient features. The X1 Nano uses the Carbon as a platform but packs everything into an even smaller chassis with a 13-inch, 2K display.
That panel is an excellent one, flaunting a sharp picture and gorgeous colors. Despite the high-res panel, the X1 Nano lasted for 12 hours on a charge, making it great for frequent travelers. The performance is good, not great, but you still get a fast machine that weighs only 2 pounds.
It isn't a perfect laptop — we still favor the X1 Carbon — but for those who need the absolute most portable solution, the X1 Nano is the way to go.
See our full Lenovo ThinkPad X1 Nano review.
Best Chromebook
Best 13-inch Chromebook
Specifications
Display:
13.3-inch, 1080p touch screen
Dimensions:
12.2 x 8.1 x 0.5 inches
Reasons to buy
+
Superslim design
+
Bright, colorful display
+
Great battery life
+
Solid performance
The Pixelbook Go is easily one of the best Chromebooks you can buy. Google's laptop is super slim and light at just 2 pounds, and it sports an easy-to-grip design. The extreme portability extends to this Chromebook's battery life, as it lasted a very impressive 11 hours and 29 minutes on our web-surfing battery test.
Other highlights include a vibrant 13.3-inch display and solid performance form its Core m3 processor (Core i5 is available). The speakers aren't stellar and Chrome OS still has its limitations, but overall the Pixelbook Go is a great option.
Read our full Pixelbook Go review.

Best Laptop for Creators
Best 13-inch laptop for creators
Specifications
CPU:
Intel Core i7-1165G7
Display:
13.3-inch, 1080p IPS touchscreen
Size:
12.1 x 7.7 x 0.7 inches
Reasons to buy
+
Sturdy, compact chassis
+
Bright 1080p display
+
Fast performance
Reasons to avoid
-
Terrible webcam
-
Small touchpad
If I had to choose between the Spectre x360 14 and Spectre x360 13, I'd buy the 14-inch model. But when you factor in the extra cost of the larger version, I start leaning toward the Spectre x360 13. Like the Spectre 14, this 13-inch version has a bright display, a comfortable keyboard, epic battery life, and one of the most striking designs we've ever seen on a laptop.
It brings with it 11th Gen Intel CPUs for speedy performance and the included IR camera and fingerprint sensor mean you never have to use a password again. And while it may not include a stylus, the Spectre x360 13 is reasonably priced for a premium convertible laptop that can transform into a tablet.
If you want a larger screen, we strongly recommend the Spectre x360 14.
See our HP Spectre x360 13 review.
Best 13-inch 2-in-1 Laptop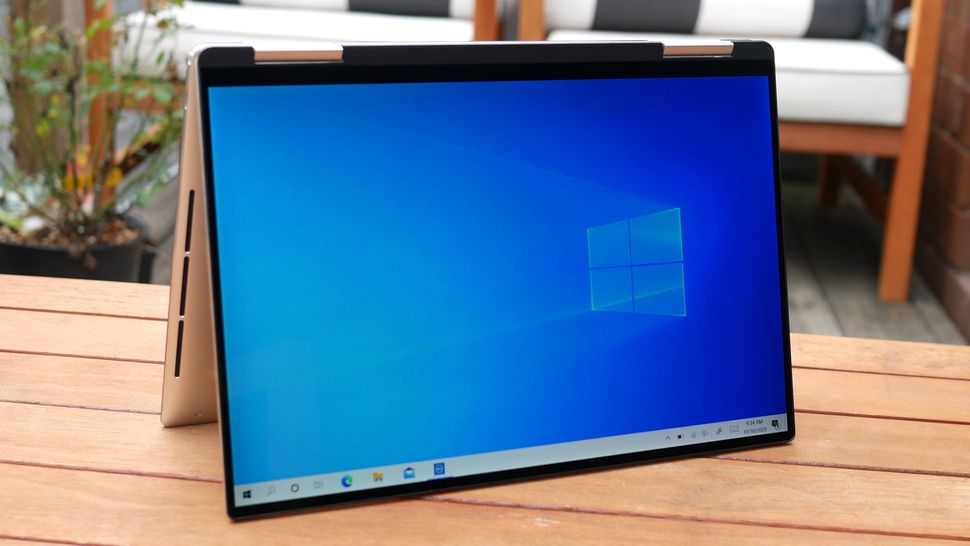 Best 13-inch 2-in-1 laptop
Specifications
CPU:
Intel Core i3/Core i5/Core i7 (11th Gen)
Display:
13.4-inch,1920 x 1200-pixel or 4K
Size:
11.7 x 8.2 x 0.5 inches
Reasons to buy
+
Slim, attractive design
+
Bright 13.4-inch display
+
Long battery life
Reasons to avoid
-
Scant on ports
-
Shallow keyboard
Dell's XPS 13 2-in-1 takes everything we love about the clamshell XPS 13 — fast performance (thanks to 11th Gen CPUs), a sleek, lightweight design and very long battery life — and put it in a flexible convertible chassis. You also get a unique 13.4-inch, 1920 x 1200-resolution display.
No, that's no typo; The XPS 13 2-in-1's touch screen has a 16:10 aspect ratio, making it taller than almost every other 13-inch display. Better yet, that panel is both bright and vivid. While the shallow keyboard won't be for everyone, the XPS 13 2-in-1 makes up for it with long battery life and excellent build quality.
See our full Dell XPS 13 2-in-1 review.
Best ThinkPad
Best 13-inch ThinkPad
Specifications
CPU:
Intel Core i7-1160G7
Display:
13-inch, 2K (2160 x 1350)
Size:
12.7 x 8.5 x 0.66 inches
Reasons to buy
+
Stylish, stealthy design
+
Bright 13-inch, 2K display
+
12-hour battery life
Reasons to avoid
-
Limited ports
-
Small touchpad
Lenovo's ThinkPad X1 Nano is the best 13-inch business laptop due to its ultra-thin and light design, strong battery life and solid performance. Starting at just over $1,000, the ThinkPad X13 gets you all the best ThinkPad features, including a world-class keyboard, a webcam cover, a rubber pointing stick and a magnesium chassis rated to military-grade durability.
On top of those security and durability features, the ThinkPad X1 Nano delivers solid performance with its 11th Gen Intel CPUs and while it may not reach quite the processing heights of some competitors, it handles all typical productivity tasks with ease and that 12 hours of battery life is the icing on the cake.
See our full ThinkPad X1 Nano review.
Best Overall Design
Best overall laptop design
Specifications
CPU:
Intel Core i7-1165G7
Display Size:
13.3-inch, 1080p OLED
Size:
11.98 x 7.99 x 0.55 inches
Reasons to buy
+
Great battery life
+
Clicky keyboard
+
Compact, slim and durable chassis
+
Touchpad doubles as a numpad
The ZenBook 13 may not have been able to surpass the beastly Acer Swift 5 on our benchmarks, but it crushed the Dell XPS 13 and the HP Spectre x360 13 on the graphics and file-transfer tests. It also blew all of its rivals out of the water with its extremely colorful OLED display. The clicky keyboard is impressive, too — especially for such a compact, portable laptop. Laptops with 13-inch displays typically feel cramped, but I felt comfortable typing on the ZenBook 13.
The Numberpad 2.0 is another stellar feature. Asus also deserves a pat on the back for the MyAsus software, an all-in-one app that facilitates all your needs, including quick, wireless file transfers, screen mirroring, configuring fan controls, initiating updates, running a system diagnostics, and coolest of all, using your phone as a webcam. Plus, the ZenBook 13 lasts more than 13 hours on a charge.
See our full Asus Zenbook 13 (UX325) OLED review.
Best Windows 11 Laptop
Best 13-inch Windows 11 laptop
Specifications
CPU:
Intel Core i7-1185G7
Display Size:
13.5-inch, 2256 x 1504-pixel
Size:
12.1 x 8.8 x 0.6 inches
Reasons to buy
+
Bright and vivid display
+
Quick performance
+
Long battery life
Reasons to avoid
-
No Thunderbolt 3 ports
-
Thick display bezels
Windows 11 users envious of the MacBook Pro or MacBook Air should turn their direction to the Surface Laptop 4. With a first-rate build quality and a slim, elegant aluminum chassis, the Surface Laptop 4 is arguably more attractive than Apple's beloved notebooks. It also has a similarly fantastic 13.5-inch display (with a 3:2 aspect ratio) that is more vivid than the one on the newest MacBook Pro.
Other things we like about the Surface Laptop 4 are its fast performance more than 10:45 hours of battery life. The keyboard is also fantastic, and even more comfortable to type on than the new Magic Keyboard on the MacBook. So although there are no Thunderbolt 3 ports and the bezels remain a bit chunky, the Surface Laptop 4 is a wonderful laptop for people who want a stylish ultraportable machine with outstanding build quality.
See our full Microsoft Surface Laptop 4 review.
Best 13-inch gaming laptop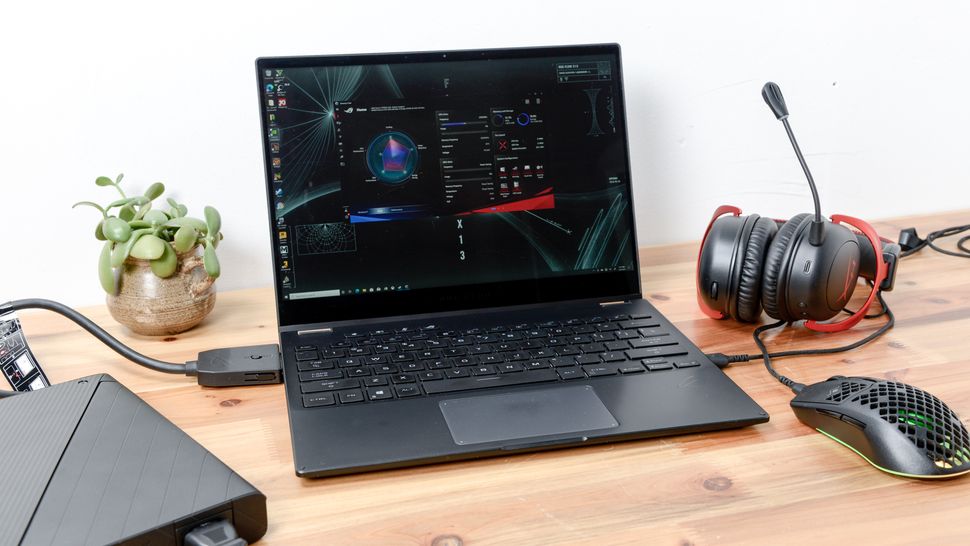 Best 13-inch gaming laptop
Specifications
GPU:
Nvidia GTX 1650 Max-Q/ Nvidia RTX 3080
Storage:
Dual 1TB PCI m.2 SSDs
Reasons to buy
+
Head-turning, versatile design
+
Great gaming and overall performance
+
Excellent battery life
Reasons to avoid
-
Keys are a bit small
-
Display could be brighter and more vivid
Asus has done it again. They've changed the definition of what the best gaming laptop is. By itself, the Asus ROG Flow X13 is a compelling laptop. It's very rare to see a 13-inch gaming laptop and even rarer for it to be a 2-in-1. But Asus didn't stop there, they threw a high-powered AMD Ryzen 9 processor into the mix and even outfitted the notebook with its own discrete Nvidia GPU.
It's when the XG Mobile comes into play that things get interesting. For the life of me, I'm baffled how they fit an RTX 3080 into such a small enclosure. Even though I wish Asus could have found a more elegant solution than that huge proprietary plug, I can't argue with the results. The XG Mobile is the proverbial trap card, transforming it into the dark magician of gaming laptops. It doesn't have any right to be as powerful as it is, but here we are, again impressed by Asus' ingenuity.
See our full Asus ROG Flow X13 review.
If the ROG Flow sounds intriguing but a detachable form factor is more your speed, the new Asus ROG Flow Z13 could be the answer.
How to choose the best 13-inch laptop
Do your intensive daily workloads require more RAM than the average Joe? Are you a video editor who needs extra storage? Are you a gamer who wants a powerful GPU? Sorting through the best laptops to fit your lifestyle is a tricky business.
To make your shopping process a little easier, our Editor-in-Chief Sherri L. Smith has put together some tried-and-true guidelines to help you choose the best laptop.
Budget: What you get for the money.
You can find decent Windows laptops and high-quality Chromebooks for under $500. However, better mainstream laptops usually cost more than $700 and premium Ultrabooks can run over $1,000. The best gaming laptops can cost $2.000 and up, but you can play the latest titles at decent frame rates on gaming laptops under $1,000.
Screen Size: 12 to 14 inches for Portability
Knowing a laptop's screen size tells you a lot about its portability overall. If you want to use your computer on your lap or carry it around a lot, go for one with a 12, 13 or 14-inch display. If you want to use the computer on tables and desks and won't carry it around much, a 15-inch model may give you more value. Some gaming rigs, media machines and workstations even have 17 or 18-inch screens, but those are hardest to carry.
2-in-1 or Clamshell?
More and more of today's laptops are 2-in-1s with screens that either bend back 360 degrees or detach so you can use them as tablets. If you like the idea of using your laptop in slate mode for drawing, media consumption or just using it standing up, a 2-in-1 could be for you. However, you can often get better features or a lower price by going with a traditional clamshell-style laptop.
Battery Life: 8+ Hours for Portability
Unless you only plan to use your laptop on your desk, battery life matters. Even within the home or office, having plenty of juice enables you to work on the couch or at the conference table, without being chained to the nearest outlet. For the best portability, we recommend getting a laptop that lasted over 8 hours on the Laptop Mag Battery Test. The longest-lasting laptops endure for over 10 hours.
Specs: 1080p / Core i5 / 8GB Are Best Bets
You can spend a lot of time delving into specs, but here are the key components to think about. If you just want really good mainstream performance, go for a Core i5 CPU, 8GB of RAM, a 256GB SSD and a 1080p screen.
How we test the best 13-inch laptops
We put each laptop through extensive benchmark testing — both synthetic and real-world — before they end up in the hands of our reviewers. We evaluate each aspect of the laptop, including its performance, battery life, display, speakers and heat management.
In our benchmark testing, we use a Klein K10 colorimeter to detect the brightness and sRGB color gamut of the laptop's display. For performance testing, we run the laptop through a gauntlet of benchmarks, including Geekbench 4.3 and 5.0 and 3DMark professional graphics tests.
To determine real-world performance, we task the laptop to convert a 4K video to 1080p resolution and to duplicate a 4.97GB multimedia file. Our real-world graphics test is the Dirt 3 benchmark with medium settings at 1080p resolution.
We also run heat tests by playing a 15-minute full-screen video and measuring temperatures in different areas of the laptop. Last but not least, our battery test consists of continuous web surfing over Wi-Fi at 150 nits of brightness. For MacBooks and premium Windows 10 laptops, a runtime of over 9 hours is considered a good result whereas gaming laptops and workstations that can stay powered for longer than 5 hours deserve praise.
These tests are complemented with extensive hands-on testing from our reviewers who critique everything from the laptop's materials to the feel of its touchpad.
See this page on how we test laptops for more details on our benchmarking procedures.
Why Trust Laptop Mag
Laptop Mag reviews over one hundred different laptops every year, from paperweight ultralights to everyday workhorses to lumbering gaming notebooks that scorch the frame rates of even the hottest AAA games. We're not just experts in the laptop field, as we go one step further by meticulously testing smartphones, tablets, headphones, PC accessories, software, and even the latest in gaming.
We are 100% independent and have decades of experience to help you buy with confidence. In fact, Laptop Mag has been testing and reviewing products for three decades, and we continue to deliver trustworthy reviews you can rely on.
Our experienced team of writers and editors scour the available information about the laptop and put it through its paces to determine which is best for you. But before they start, the testing team subjects each system to a rigorous regimen of synthetic and real-world tests to see how a system handles the type of work and games you're most likely to throw at it.
Our editorial trustworthiness is enforced by one of the world's largest technology publishers, Future Publishing. As a company, we have unrivaled experience across every tech sector — and we're the group's specialist for all things mobile tech.
Stay in the know with Laptop Mag
Get our in-depth reviews, helpful tips, great deals, and the biggest news stories delivered to your inbox.
Sean Riley has been covering tech professionally for over a decade now. Most of that time was as a freelancer covering varied topics including phones, wearables, tablets, smart home devices, laptops, AR, VR, mobile payments, fintech, and more. Sean is the resident mobile expert at Laptop Mag, specializing in phones and wearables, you'll find plenty of news, reviews, how-to, and opinion pieces on these subjects from him here. But Laptop Mag has also proven a perfect fit for that broad range of interests with reviews and news on the latest laptops, VR games, and computer accessories along with coverage on everything from NFTs to cybersecurity and more.