PS5 DualSense Controller drops to all-time lowest price in Days of Play sale — Daily Deals
The best Days of Play deal brings the DualSense controller down to just £45!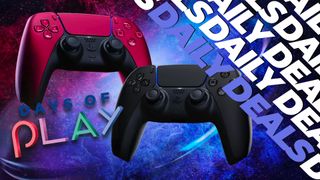 (Image credit: Future)
The Days of Play sale is here and it's becoming clear what the best deal is: getting up to £20 off DualSense controllers, which brings the price down to a far better £45!
Anybody that has a PS5 knows just how special the DualSense is, specifically for its haptics and triggers, but that has come with quite a steep RRP. But now, with this discount, that's not a problem.
And, because it's worth mentioning again, with £315 off, this is without a doubt the cheapest HDMI 2.1 gaming monitor you can get. If you're picking up a new controller for your PS5, then you might as well snag a new screen too!
Best of the rest: Quick Links
Today's best deals: In more detail
Looking for more deals?
Every day, we scour the internet for the best bargains for your buck. Check out these lists for the most up-to-date curated selection of savings worth every penny.