Pixel Watch 2: Is a new Google wearable set to launch alongside the Pixel 8?
Even more to watch out for at Google I/O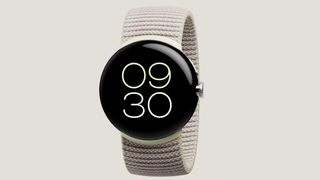 (Image credit: Google)
The Pixel Watch launched in October of 2022 and quickly became one of the best smartwatches on the market. Since then there's been barely a word about a potential follow-up, with many assuming Google intended for the Pixel Watch to be set for a bi-annual refresh.
This year's Google I/O event seems like a stacked affair as it is, and with so much information leaking about the products expected to be unveiled, no mention of the Pixel Watch among any of them seemed to confirm just that.
However, according to a source known to 9to5Google, that may not be the case after all. In fact, if the source is accurate, we could be seeing a new Pixel Watch later this year — likely to arrive alongside Google's new lineup of Pixel 8-series smartphones.
Pixel Watch 2: Electric Boogaloo
With the original Pixel Watch having been out less than a year at the time of writing, for some, it may seem like early days for a follow-up. However, with the next Samsung Galaxy Watch looking set to arrive later this year also, a refresh of some of the device's internals would go some way to keeping it competitive.
Google tends to announce and release its latest flagship devices in the month of October, which lines up nicely for a Pixel Watch 2 announcement too. According to 9to5Google's source, this is currently Google's plan — something which could possibly be backed up by a report in April mentioning Google's goals to incentivize early Pixel Fold adopters with a free Pixel Watch.
In some cases, this is a marketing technique to sweeten the deal while also getting rid of any backlog of inventory before a new product is revealed to take its place. However, that's not to say the Pixel Watch hasn't performed well and that Google is sat atop a stockpile of smartwatches. In fact, according to reports by Canalys Google had managed to ship ~880,000 units of its wearable in Q4 2022 alone.
Outlook
Beyond this single source, we have no additional confirmation yet to back up the claims that the Pixel Watch 2 could be on its way.
That being said, if we do see Google use the original Pixel Watch as leverage to sway customers to the Pixel Fold, that will certainly be a strong indicator that a follow-up is coming this fall. Google also can't afford to cede a year without a hardware upgrade in the competitive smartwatch market, the Pixel Watch is an excellent first effort, but hopefully, we see a second size introduced this year and perhaps battery life to rival some of Google's own Fitbit wearables.
Check back with us as Laptop Mag regularly for more news on the Pixel Watch 2, it's Google so you can depend on many more leaks before the wearable ships.
Stay in the know with Laptop Mag
Get our in-depth reviews, helpful tips, great deals, and the biggest news stories delivered to your inbox.
Rael Hornby, potentially influenced by far too many LucasArts titles at an early age, once thought he'd grow up to be a mighty pirate. However, after several interventions with close friends and family members, you're now much more likely to see his name attached to the bylines of tech articles. While not maintaining a double life as an aspiring writer by day and indie game dev by night, you'll find him sat in a corner somewhere muttering to himself about microtransactions or hunting down promising indie games on Twitter.