I'm a foldable follower after the Z Flip 5 finessed me with over 400k folds
Samsung is the last to fold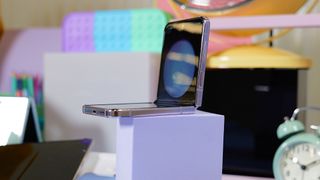 (Image credit: Future)
The Samsung Galaxy Z Flip 5 is the best flip-foldable in the game – at least for now. It may also be the device that gives the greatest reassurance to those sitting on the foldable fence about the durability of these often castigated clamshells for their supposed fragility.
If one thing is for certain, the release of any foldable device will be quickly followed up by a slew of horror stories about day one disasters that render cutting edge tech into an expensive wreck.
That being said, the Galaxy Z Flip 5 might have just won the hearts and minds of Samsung skeptics after an incredible display during a recent YouTube live stream where it went head to head with Motorola's Razr Plus in a to-the-death trial of sand, dust, heat, water, ice, and… Cake mix?
Samsung Galaxy Z Flip 5 Vs. Motorola Razr Plus: Which flip will flop?
The livestream, dubbed "The Great Folding Test" and hosted by YouTuber Mrkeybrd, saw the pair of foldables go flip-for-flip to see which dominates when it comes to device durability.
To set the scene on what we would have expected before this test, Motorola has previously claimed that the Razr Plus can surpass 400,000 folds. On the other hand, the Samsung Galaxy Z Flip 5 has been rated for a lifespan of 200,000 folds in normal conditions by the Bureau Veritas certification company.
However, Mrkeybrd had far more than "normal conditions" in mind when putting the smartphones to scrutiny.
The Great Folding Test
Over the course of the next week, both the Motorola Razr Plus and Samsung Galaxy Z Flip 5 were subjected to constant folding and unfolding to stress test their hinges and displays.
It wasn't long before Motorola's durability claims became somewhat dubious. After ~44K folds, the Razr Plus developed a minor issue with its hinge – though it soldiered on regardless, with no issues to the display or functionality.
After 100K folds, the MrKeybrd team decided to encase each phone in a bag of dust and give everything a shake around for good measure. It's here that the Motorola Razr Plus may have met its match, as its IP52 protection rating seemingly caved under the particulate pressure. Roughly 20K folds later, the Razr Plus' screen would finally give up the ghost at 126.3K folds.
However, the Samsung Galaxy Z Flip, even with its untested particulate rating of IPX8, remained completely unphased.
A victory lap for the Z Flip 5
Having proven itself to be the more durable foldable, Samsung's victory lap would escalate into proving just how much more stress it can possibly handle. And oh boy, can it handle stress.
After making it through a trial of dust, the Z Flip 5 celebrated 200K folds by being submerged under water and folded for 30 minutes. After this, Samsung's foldable developed its first issue at 223K folds, with the hinge clearly weakened by its previous scuba session. However, the Z Flip 5 remained otherwise perfectly functional and marched ahead. Flipping and folding without any indication of damage to its screen or operation.
And so it would continue, even while bathed in heats of 164.8 degrees Fahrenheit (74.5 degrees celsius), treated to an ice bath, and even buried and folded in sand. Samsung's Galaxy Z Flip 5 was an unstoppable force, at least until eggs, flour, sugar, and water were thrown at it. At which point, I'm going to assume it was felled by a gluten intolerance.
A thousand folds after being cleaned up from its cake batter bath, the Z Flip 5's screen failed. Tallying 401,136 folds in total – over 200K folds more than its official rating, while no doubt being put through much harsher testing conditions.
The results
Mrkeybrd claims that regular users are likely to open their phone roughly 60 times per day. However, a recent survey conducted by reviews.org sees that number climb to a whopping 144 times per day for the average American user.
So, in real world numbers (according to the surveyed data) the Motorola Razr Plus's hinge issues would become apparent after less than a year of use – and the Razr Plus' 126.3K fold lifespan is the equivalent to just ~2.5 years of use.
In contrast, the Z Flip 5's hinge issues come into effect after over 4 years of use – eventually kicking the bucket after a respectable service of over 7 and a half years.
Outlook
I don't know about you, but I tend not to bathe my phone in dust, use it while snorkeling, or make it the key ingredient of a Victoria Sponge Cake. Which only further bolsters my confidence in the product Samsung has developed.
Foldables may be the future, but if you want to enjoy the world of tomorrow today there seems to be only one option to go with if you don't want to end up getting burnt for your buck – Samsung. More specifically, the Samsung Galaxy Z Flip 5.
I'm a convert! After buying into the fragile foldable hype, I've had my doubts about the longevity of these devices for some time. But this bizarrely captivating and fascinating live stream by Mrkeybrd may have put my foldable fears to rest.
Want to know more content about Samsung's mighty Z Flip 5 foldable smartphone? Be sure to check out the following coverage:
For news, rumors, and updates on all things Samsung and tech, follow Laptop Mag on Twitter, Facebook, and Flipboard for the latest word as it arrives.
Stay in the know with Laptop Mag
Get our in-depth reviews, helpful tips, great deals, and the biggest news stories delivered to your inbox.
Rael Hornby, potentially influenced by far too many LucasArts titles at an early age, once thought he'd grow up to be a mighty pirate. However, after several interventions with close friends and family members, you're now much more likely to see his name attached to the bylines of tech articles. While not maintaining a double life as an aspiring writer by day and indie game dev by night, you'll find him sat in a corner somewhere muttering to himself about microtransactions or hunting down promising indie games on Twitter.