Samsung Galaxy Z Flip 5 Vs. Motorola Razr+: It's closer than ever
Samsung's best goes head-to-head with Motorola's cutting edge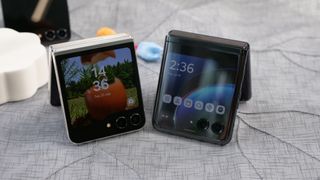 (Image credit: Laptop Mag/Sean Riley)
It's good to be king, and when it comes to foldables, Samsung's Galaxy Z Flip has reigned supreme. But is it worthy of the crown? Or was Samsung merely running unopposed in its quest for the throne? The last year has certainly seen some contenders rise up, primarily the Motorola Razr+ — the foldable revival of the flip phone fantastic circa 2004.
With Samsung Galaxy Unpacked's Galaxy Z Flip 5 announcement, we now know what to expect with the latest flippy foldable from Samsung, and it's time to see how it measures up against the competition. Whether you're looking to "join the flip side" or "flip the script," these two foldable phones are top of their game and excellent options.
However, we're ready to pit Samsung's best against Motorola's cutting edge and see which one comes out on top.
Samsung Galaxy Z Flip 5 Vs. Motorola Razr+
Swipe to scroll horizontally
| Header Cell - Column 0 | Galaxy Z Flip 5 | Motorola Razr+ |
| --- | --- | --- |
| Price | $999 / $1,119 | $999 |
| CPU | Snapdragon 8 Gen 2 | Snapdragon 8 Plus Gen 1 |
| RAM | 8GB | 8GB |
| Storage | 256GB/512GB | 256GB |
| Cover display | 3.4-inch AMOLED, 720 x 748, 60Hz | 3.6-inch OLED, 1066 x 1056, 144Hz |
| Internal display | 6.7-inch Dynamic AMOLED 2X, FHD+ (2640 x 1080), 120Hz | 6.9-inch OLED, FHD+ (2640 x 1080), 165Hz |
| Main camera(s) | 12MP Wide (f/1.8, 1.8μm) OIS 12MP Ultra-wide (f/2.2, 1.12μm) | 12MP (f/1.5, 1.4μm) OIS 13MP Ultra-wide (f/2.2, 1.12μm) |
| Front camera(s) | 10MP Selfie (f/2,2, 1.22μm) | 32MP (f/2.4, 0.7μm) 8MP QuadPixel (f/2.4, 1.4μm) |
| Battery | 3,700 mAh | 3,800 mAh |
| Protection | IPX8 | IP52 |
| Dimensions (folded) | 3.35 x 2.83 x 0.59 inches | 3.48 x 2.9 x 0.59 inches |
| Dimensions (open) | 6.5 x 2.83 x 0.27 inches | 6.7 x 2.9 x 0.27 inches |
| Weight | 6.6 ounces | 6.63 ounces |
Samsung Galaxy Z Flip 5 Vs. Motorola Razr+ price
With both phones touting the same $999.99 price tag, two things become clear: Motorola did its homework and assumed the Galaxy Z Flip 5 would stick to its price pattern, and that the Lenovo subsidiary fully intends to challenge it for market dominance.
The Motorola Razr+ comes in only one configuration with 256GB of storage, however, the Galaxy Z Flip 5 has storage configurations of 256GB or 512GB with the latter pushing the price of Samsung's foldable to $1,119. (Though a free limited-time free storage upgrade is currently in place.)
Samsung Galaxy Z Flip 5 Vs. Motorola Razr+ design
Both phones share a foldable clamshell design, with each featuring a similar "teardrop" or "dumbbell" hinge to limit the amount of creasing foldable phones have become synonymous with and to produce a gapless seam when closed. It's also better for durability. Both foldables are capable of withstanding more rigorous use and folds than ever before.
The Razr+ is the largest, measuring 3.48 x 2.9 x 0.59 inches when folded and 6.7 x 2.9 x 0.27 inches when open. This allows for a slightly bigger internal and cover display of 6.9-inch and 3.6-inch in comparison to the Galaxy Z Flip 5's 6.7-inch internal and 3.4-inch cover screens.
The Galaxy Z Flip 5 measures 3.35 x 2.83 x 0.59 inches in size when folded and 6.5 x 2.83 x 0.27 inches when open, giving it a marginally smaller footprint. However, both devices weigh roughly the same with the Galaxy Z Flip 5 and Motorola Razr+ weighing 187.1 grams and 187.9 grams, respectively.
Of the two, Samsung's Z Flip 5 features superior protection. It inherits an IPX8 rating from the Z Flip 4, meaning the device will function properly after 30 minutes in freshwater of up to 1.5m in depth, but it lacks any certification against dust or particulates. By contrast, the Razr+'s IP52 rating only shields from water sprays less than 15 degrees from vertical and limited dust or particulate protection.
Samsung Galaxy Z Flip 5 Vs. Motorola Razr+ displays
The differences between these devices become more apparent when we get to their displays. The Samsung Galaxy Z Flip 5 features a vastly improved cover display from the Z Fold 4 in terms of size, performance, and functionality.
The 3.4-inch AMOLED "folder" shaped display is sizable enough to handle a number of functions and widgets in a fair amount of detail bringing greater purpose to its cover screen than ever before. Its 720 x 748 resolution allows for a solid amount of detail and space for widgets and even an onscreen keyboard, and a 60Hz refresh rate keeps things relatively smooth.
However, the Motorola Razr+ blows Samsung's new cover screen out of the water from the get-go, delivering a larger, smoother, and more functional external display that, for once, leaves Samsung on the backfoot. The 3.6-inch, edge-to-edge OLED panel has a silky-smooth refresh rate of 144Hz and a 1066 x 1056 resolution that affords much more screen real estate for apps to make use of.
The internal display of the Samsung Galaxy Z Flip 5 is a spacious 6.7-inch Dynamic AMOLED 2X panel with a FHD+ resolution of 2640 x 1080 pixels and a spritely 120Hz refresh rate. However, once again, the Motorola outshines with a larger and faster display. Open up the Razr+ and you'll be met with a 6.9-inch OLED, FHD+ panel with a 2640 x 1080-pixel resolution and a super-fast 165Hz refresh rate.
The Galaxy Z Flip 5's saving grace is its use of AMOLED 2X panels for brighter and more vivid pictures than the Razr+'s OLED counterpart. Still, its faster refresh rate, larger screens, and more functional cover display may still give it the edge over Samsung's foldable for many.
Samsung Galaxy Z Flip 5 Vs. Motorola Razr+ performance
The Motorola Razr+ is outfitted with a Qualcomm Snapdragon 8+ Gen 1 CPU with 8GB of RAM, affording it an impressive level of performance across the board. It's the same chip found in both the Galaxy Z Flip 4 and One Plus 10T, solid devices with a wagonload of processing power and great Adreno 730 graphics — not to mention a considerable battery life to boot.
However, the Galaxy Z Flip 5 is similarly equipped with 8GB of RAM, but also features the newer Qualcomm Snapdragon 8 Gen 2 processor which is capable of all that of its predecessor and more. It's the same processor you'll find inside of Samsung's flagship S23 Ultra, which delivered impressive benchmark scores when facing off against the Tensor G2-powered Pixel 7 Pro and Apple A16 Bionic-powered iPhone 14 Pro Max.
The Galaxy Z Flip 5 clearly has the edge with its more modern chip, but its Dynamic AMOLED display will also give it the leg-up, thanks to its ability to pump the brakes on its 120Hz refresh rate to make the most of its smaller 3,700 mAh battery capacity.
Of course, while better is better, both chips offer top-tier performance that many will barely scratch the surface of with typical day-to-day use. Power users and enthusiasts will gain the most from the Z Flip 5's upgrade, but don't feel like you'll be missing out on too much otherwise.
Samsung Galaxy Z Flip 5 Vs. Motorola Razr+ cameras
Samsung knows a thing or two when it comes to delivering quality camera sensors, which only makes it all the more surprising that they appear to have made little to no changes from the camera array found in the Z Flip 4. Both 12 megapixel wide and ultra-wide sensors return alongside a familiar 10MP selfie camera. There are one or two tweaks when it comes to pixel density or focal length, but practically nothing worth highlighting.
In contrast, the Motorola Razr+, a foldable whose entire concept revolves around reviving a mid-2000s flip phone that had a camera so bad even Bigfoot would be embarrassed to pose in front of it, startlingly pulls ahead with a 12MP (f/1.5, 1.4μm) main sensor with OIS and a 13MP ultra-wide (f/2.2, 1.12μm) lens paired with a 32MP (f/2.4, 0.7μm) and 8MP quadpixel (f/2.4, 1.4μm) set of selfie/front cameras.
Outlook
The final part of this head-to-head exemplifies exactly where Samsung's problems dwell. Whether it's through stagnation or overconfidence, the Galaxy Z Flip 5 does only the bare minimum to stay relevant. The Z Flip 5 improves on its performance and cover display to impressive effect, but forgets to show any willingness for improvement elsewhere.
This gives competition like the Motorola Razr+ an excellent opportunity to play catch up, pressing ahead in all areas to get the edge over Samsung's foldable however it can. And in a few areas, that's exactly what it manages to do. Its edge-to-edge cover screen, improved camera array, bigger and faster panels, and similar pricing make it a very real threat to Samsung's market share.
Unless Samsung comes out swinging with the Z Fold 6, it's hard not to imagine companies like Motorola completely overtaking them in the foldable market. For now, the Galaxy Z Fold can keep its throne, but only by a slim margin.
Stay in the know with Laptop Mag
Get our in-depth reviews, helpful tips, great deals, and the biggest news stories delivered to your inbox.
Rael Hornby, potentially influenced by far too many LucasArts titles at an early age, once thought he'd grow up to be a mighty pirate. However, after several interventions with close friends and family members, you're now much more likely to see his name attached to the bylines of tech articles. While not maintaining a double life as an aspiring writer by day and indie game dev by night, you'll find him sat in a corner somewhere muttering to himself about microtransactions or hunting down promising indie games on Twitter.