Apple Watch may color-match your clothes in the future — here's how it'll work
This color-adapting feature seems like magic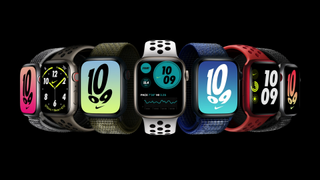 (Image credit: Apple)
Apple has filed patents for its devices in the past that never make it to fruition, but we're hoping to see this color-changing patent for upcoming Apple Watches come to life. Put simply, the patent describes how you'd be able to point your Apple Watch at anything — a band or your outfit — and see it magically the item's color.
This Apple Watch patent was originally filed in July 2021, and just granted a few days ago on August 22, 2023. Right now, you can customize your Apple Watch by choosing a different watch face, but it takes time and a bit of storage space. With this patent, the process of customizing your watch face for the day would be easier and more personalized.
If you haven't purchased an Apple Watch yet, check out our Apple Watch Series 8 review.
The technology behind auto-changing colors on the Apple Watch
Personalizing your Apple Watch by swapping out your band is a great choice. It's easy to change an Apple Watch band, and there are so many options to choose from. Buying multiple bands can quickly add up, which is why people turn to changing up their Apple Watch face instead.
If you want to customize your watch face to match your outfit for the day, this can be a time-consuming process. You're also limited to the color palettes currently available in the Watch app. Apple's possible patent would allow people to match their watch face to the color of their choosing in a short time with a color-sampling light sensor behind the display.
The Apple Watch could determine an object's color by "[emitting] light towards the external object in front of the display while the light sensor gathers color measurements." The patent notes that the watch could match colors "of an external object such as a watch band, a piece of clothing, or any other suitable external object." This suggests that you could point your Apple Watch at a piece of jewelry, a handbag, a tie, or even a piece of furniture if you wanted to.
The patent describes how "the control circuitry may use a watch-band specific algorithm" to accurately determine colors of watch bands and a "clothing-specific algorithm" for clothes. Because Apple knows the colors of its bands and can program this into the algorithm, matching your watch face to a band would likely be more accurate and rely less on light-reflecting measurements than matching the watch face to a piece of clothing.
There's also information on how the capacitive display and its touch sensor may be used to determine the material of the object you're pointing your watch at. There could be specific algorithms designed for each potential material, and your Apple Watch face would reflect the material and color of your object.
Filing a patent or even having it granted isn't definitive confirmation that we'll see the feature come to future Apple Watches. However, it is a sign that Apple has thought about this chameleon-like feature and how the company would go about creating it.
Stay in the know with Laptop Mag
Get our in-depth reviews, helpful tips, great deals, and the biggest news stories delivered to your inbox.