What does the 14-inch MacBook Pro M3 tell us about 2024 MacBooks
The newly announced M3 MacBook Pro has a lot to say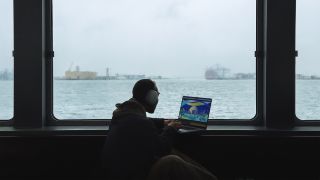 (Image credit: Apple)
One of the new devices Apple announced at its 'Scary Fast' event—the 14-inch MacBook Pro M3—gives us a little insight on what 2024 MacBooks might be like. Of course, this is all speculation, but it's nice to dream about potential MacBook products when Apple is so tight-lipped about upcoming products.
Recent rumors suggest M3 MacBook Air models are expected in 2024, as well as the potential of a low-cost MacBook to rival Google's successful Chromebooks. The announcement of a 14-inch MacBook Pro M3 allows us to predict a few more details surrounding these two rumors.
Apple's 14-inch MacBook Pro M3 clues us into 2024 MacBook performance
In 2020, Apple announced and released the 13-inch MacBook Pro M1 alongside the 13-inch MacBook Air M1. Then, the 13-inch MacBook Air M2 released shortly after the 13-inch MacBook Pro M2 in 2022.
Launching the 14-inch MacBook Pro M3 now and the new M3 MacBook Airs sometime in 2024 creates the largest gap between new Pro and Air devices to date. This gap in release windows for Apple's new M3 MacBooks is curious, but more importantly, it offers us some rare insight into how well the new MacBook Air M3 models might perform.
In our MacBook Pro M1 review, the laptop scored 5,882 on the Geekbench 5.0 overall performance test. Meanwhile, the MacBook Air M1 scored 5,962 on the Geekbench 5.2 test in our review.
Both laptops reached almost identical scores on overall performance, but because of the MacBook Air's fanless design, it faltered a little bit when it came to performing more intense tasks. With battery life, the Pro M1 outlasted the Air M1 by about two hours.
The story is pretty similar when comparing the MacBook Pro M2 and the MacBook Air M2. The 13-inch Pro M2 scored 8,911 on Geekbench 5.4, and the 13-inch Air M2 scored 8,919 on Geekbench 5.4—basically the same score on overall performance. Then, the Pro M2's battery lasted about four hours longer than the Air M2 model.
With historically similar performance results on Geekbench tests, it's a safe bet that the MacBook Air M3 will match leaked Geekbench results for Apple's M3 MacBook Pro. Granted, this won't be a comparison of two 13-inch models because Apple is retiring the 13-inch MacBook Pro, but the performance results should still be relatively similar.
It also gives us ideas about the rumored budget MacBook
The 13-inch MacBook Pro mysteriously disappeared from the M3 lineup, which is sad for those wanting a tiny powerhouse laptop, but great for those potentially holding out for the low-cost MacBook that Apple might be working on.
This budget-friendly MacBook, which some are calling the MacBook SE, is thought to be Apple's answer to Google dominating the affordable laptop space with its Chromebooks. With the 13-inch MacBook Pro design retiring completely, it's a sign that Apple might be looking to streamline its available laptop designs ahead of a low-cost MacBook.
It's possible that Apple could create a new design for the 'MacBook SE' that consists of lower-quality (and cheaper) materials, but it'll likely be a smaller design that could even resemble the 13-inch MacBook Air. Everything will be downgraded in quality to keep costs low, but if Apple uses a similar design to the MacBook Air, they'll likely use an existing Apple Silicon chip.
Apple's budget-friendly MacBook could be equipped with a weaker version of the M3 chip, but it's more likely that we'll see an M2 chip in the design, or even a redesigned M1 chip with renewed support.
Check out where to preorder the new 14-inch MacBook Pro M3 if you're interested in Apple's newest MacBook. Or, hold out for the new MacBook Air models and the possible budget MacBook coming in 2024.
Stay in the know with Laptop Mag
Get our in-depth reviews, helpful tips, great deals, and the biggest news stories delivered to your inbox.