Xbox Cloud Gaming could add PC games — here's what we know
These internal emails from 2021 are full of details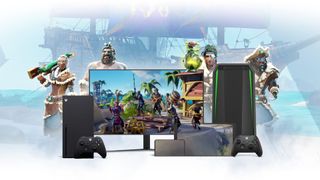 (Image credit: Microsoft)
In early 2022, Microsoft announced its plans to acquire Activision Blizzard, which prompted a legal battle with the FTC. Among other interesting documents, the US Courts just released a few internal emails from Microsoft employees in 2021 talking about PC games coming to Xbox Cloud Gaming.
These emails appear to be in response to the threat of Google's Stadia service, which has since been shut down. The emails between leadership from Microsoft and Xbox discuss the possibility of using its Azure servers to stream PC games over Xbox Cloud Gaming. Even though the threat of Stadia's existence is no longer there, we hope Microsoft pushes forward with allowing PC games to be streamed via the cloud.
The likelihood of PC games streaming over Xbox Cloud Gaming
The email chain kicked off with Microsoft CEO Satya Nadella emailing a few key employees a link to a 9to5 article talking about Google Stadia hinting at a white-label future with a recent job listing. In the email, Nadella writes "Seems like they will have a leg up because their stuff is more generic Linux VMs + Network… But I am assuming we will do the same for Game Pass PC – right? And if so we can have the same flexibility in terms of offering Cloud Gaming as a PaaS [Platform as a Service] backend as well."
Within an hour of Nadella's initial email, he received a response from Phil Spencer, the CEO of Microsoft Gaming. One of the most noteworthy snippets from Spencer's email is where he writes "From a cost to serve the generic point is right, Google has the ability to reuse their Linux cloud hardware and yes as we stream PC native games from an Azure GPU SKU we would have more re-use scenarios to recoup their costs."
In layman's terms, Spencer was alluding to Microsoft's ability to offer a similar white-label cloud service to what Google was reportedly going to offer with Stadia. Another email in the thread from Kareem Choudhry, head of Microsoft Cloud Gaming, agrees with what Spencer wrote in his email and goes on to say that he and Sarah Bond, head of Xbox Creator Experience, were "driving a suitable Azure SKU…as part of a series that will serve the customer demand we see externally for IAAS and to run our xCloud PC streaming stack."
From these emails, it's clear Microsoft figured out how to go about streaming PC games over the cloud. The company was in the process of trying to make it work as of July 2021, so two years later, why isn't this feature finished and ready for public consumption?
There's the possibility that Microsoft put this feature on the back burner when Google Stadia services shut down, but elements of Phil Spencer's email make it clear that Stadia didn't seem like much of a threat even in 2021. He writes "Google is a massive and aggressive competitor but honestly I've been surprised by their lack of progress with Stadia. To date our #1 competitor here is really nVidia with GeForce now."
Google Stadia didn't seem like a huge threat in 2021 and Microsoft was talking about plans for streaming PC games over Xbox Cloud Gaming, so it seems like an independent decision to amplify features of Xbox Game Pass rather than a decision dependent on standing out from the competition.
If you've found yourself wondering why cloud gaming isn't ready for the masses yet, you're not alone. It seems like such a straightforward feature that many people would love to have, but for some reason, it's just not an available feature right now.
Category
Back to Gaming Laptops
Brand
Processor
RAM
Storage Size
Screen Size
Colour
Condition
Price
Stay in the know with Laptop Mag
Get our in-depth reviews, helpful tips, great deals, and the biggest news stories delivered to your inbox.