The Pixel 7a has made its presence known, and this budget behemoth from the Pixel A-series lineup has already proven itself by besting its flagship brethren in the Pixel 7 during our faceoff. But how does the Pixel 7a fare against other sub-$500 smartphone competition? Particularly, competition in the form of 2022's Apple iPhone SE.
We reviewed the latest iPhone SE in August of 2022 and were impressed by its powerful performance and budget-conscious price point. Its blazingly fast processor, ultra-portable form, and handy iOS features made it one of our top picks for the best budget phones available today. So how well does Google's latest entrant to the Pixel family lineup stack up against Apple's small-scale smartphone? Let's find out.
Swipe to scroll horizontally
Google Pixel 7a vs. Apple iPhone SE (2022)

| | | |
| --- | --- | --- |
| Row 0 - Cell 0 | Google Pixel 7a | Apple iPhone SE (2022) |
| Price | $499 | $429 |
| Display | 6.1-inch (2,400 x 1080) 90Hz Adaptive OLED | 4.7-inch (1334 x 750), 60Hz Retina HD |
| Storage | 128GB | 64GB, 128GB, or 256GB |
| CPU | Google Tensor G2 | Apple A15 Bionic chip |
| RAM | 8GB of RAM | 4GB of RAM |
| Rear camera(s) | 64MP, f/1.89, 0.8 μm; 13MP f/2.2 1.25µm | 12MP, f/1.8, 1.22 µm |
| Front camera | 13MP, f/2.2, 1.22μm | 7MP, f/2.2, 1µm |
| Dimensions | 6 x 2.9 x 0.4 inches | 5.45 x 2.5 x 0.3 inches |
| Weight | 6.8 oz | 5.02 oz |
Google Pixel 7a vs. Apple iPhone SE (2022) price
The Pixel 7a's $499 launch price is about $50 more than what people expected or were hoping for. However, the latest Pixel A-Series phone has the value to match its price tag — and then some.
The iPhone SE (2022) is priced at a more affordable $429 and is certainly no slouch in terms of a great midrange smartphone. However, as we go further on the differences between these two devices it will become more clear just what saving yourself that extra $70 will cost you.
If you're a dyed-in-the-wool Apple fanatic, it's unlikely you'll see the merit of stretching your budget just a little further for the Pixel 7a — but if you're not locked into any one platform and you're looking to make every dollar count, the Pixel 7a's incredible value and a guarantee of 5 years of updates makes it the ideal choice for anyone looking for a sub-$500 smartphone.
---
Winner: Google Pixel 7a
---
Google Pixel 7a vs. Apple iPhone SE (2022) design
Looking at these phones side-by-side, I'm genuinely amazed that there's only a year and change between them in terms of release. The iPhone SE looks like a technological relic when compared to the Pixel 7a's modern aesthetic.
The Pixel 7a's tighter rounded corners and swanky camera bar give it a real sense of personality, while the iPhone seems to be imitating the personality of a phone released in 2017 — nostalgically clinging to a design that was, for good reason, long ago phased out.
While the iPhone SE is marginally thinner, its chunky iPhone 8-era design does it no favors — paling in comparison to the Pixel 7a's clean and sleek vibe. The design of Pixel smartphones might not have changed much in recent years, but it's light years ahead of what the iPhone SE is offering.
Both phones offer IP67 certification, affording each dust protection and survivability for 30 minutes in water at depths of up to 1 meter (3 feet), both also feature some variant of Corning drop protection with the Pixel 7a's front-facing Gorilla Glass 3 and the iPhone SE's front-and-back custom Corning-made glass shielding.
While the Pixel 7a's protection is more scratch resistant, it does only cover the front of the device — with the back composed of a 3D thermoformed composite. Or, as most humans would say, plastic.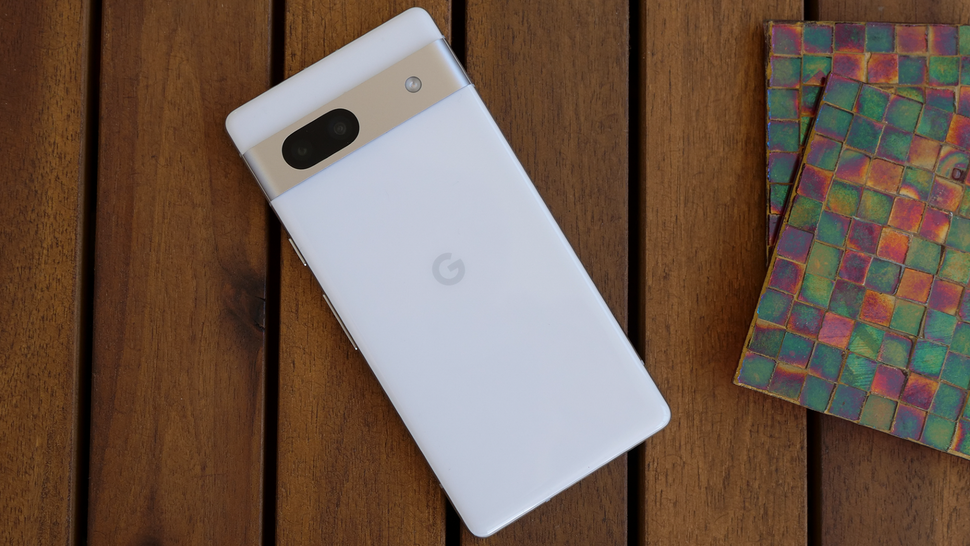 They say beauty is in the eye of the beholder, but some things are just objectively ugly. Luckily, neither of these phones suffers from such an affliction, and while it likely comes down to personal preference at the end of the day, the Pixel 7a feels fresher in just about every way — even if its design doesn't stand out all that much from other Pixel offerings.
---
Winner: Google Pixel 7a
---
Google Pixel 7a vs. Apple iPhone SE (2022) display
Size isn't everything when it comes to determining how good a display is. In fact, you can probably compensate for the iPhone's smaller 4.7-inch screen against that of the Pixel 7a's 6.1-inch display by just holding it ever so slightly closer to your face. However, there's no offsetting the quality of the picture — a quality that the Pixel 7a's impressive 2400 x 1080, 90Hz OLED display has in spades.
The iPhone SE (2022)'s LCD-backed Retina HD display doesn't have nearly the vibrancy or richness as the Pixel 7a, and its 1,400:1 contrast ratio doesn't fare much better against Google's 1,000,000:1 offering.
The Pixel 7a is across-the-board outfitted with a superior display, and if you don't want to believe your lying eyes, then the results of our benchmarking tests should make it clear as day.
Swipe to scroll horizontally
| Display benchmark | Google Pixel 7a | Apple iPhone SE (2022) |
| --- | --- | --- |
| Brightness (with adaptive brightness on) | 1,024 nits | 550 nits |
| DCI-P3 color gamut | 92% (Adaptive color) | 81% (Adaptive color) |
| Delta-E color accuracy | 0.05 | 0.21 |
---
Winner: Google Pixel 7a
---
Google Pixel 7a vs. Apple iPhone SE (2022) performance
Apple's budget buy might not look up to par in the visuals department, but when it comes to raw performance its A15 Bionic chip outperforms Google's G2 Tensor SoC across almost every metric.
Both phones are capable of some serious multitasking and have an impressive amount of performance on tap. However, when it came to our benchmark testing the gap in potential performance between the two becomes far more apparent.
Swipe to scroll horizontally
| Performance Benchmark | Google Pixel 7a | Apple iPhone SE (2022) |
| --- | --- | --- |
| Geekbench 5 multicore | 3,065 | 4,482 |
| Adobe Premiere Rush video export | 56 seconds | 27 seconds |
Apple's claims that the iPhone SE (2022) houses a CPU that is "faster than all the competition at any price" isn't one that falls flat — at least when it comes to Google's latest offering.
To hop off the fence briefly, it's also worth pointing out that while the iPhone pulls away from the competition in dramatic fashion here, a lot of the power available to Apple's device is unlikely to be touched by the average user. So don't be perturbed, or disillusioned if you think this makes the Pixel 7a a "weak" phone as a result of these benchmarks. It just makes the iPhone SE (2022) a very powerful one.
---
Winner: Apple iPhone SE (2022)
---
Google Pixel 7a vs. Apple iPhone SE (2022) cameras
The iPhone SE (2022) puts its single main camera to great use, recreating colors and tones in a true-to-life fashion thanks to Apple's Smart HDR 4. The wide-angle lens is quite capable of capturing most scenes placed in front of it, especially with Apple's Deep Fusion neural image processing in play — at least during the day anyway.
The lack of Night Mode will leave photos dull and muddy in the absence of sufficient light. It's a good camera offering from Apple, but it'll only perform its best under the right circumstances.
On the other hand, the Pixel 7a's 64MP and 13MP wide and ultrawide main camera array shine by comparison with excellent color and tone reproduction with a sharp and crystal clear eye for detail — even in low light conditions (and we mean low, low light conditions) thanks to the incredibly impressive Night Sight.
The Pixel 7a makes for an all-around great shooter, whether you're looking for portrait, landscape, or low-light subjects.
Swipe to scroll horizontally
Google Pixel 7a vs. Apple iPhone SE (2022) camera specs

| | | |
| --- | --- | --- |
| Row 0 - Cell 0 | Google Pixel 7a | Apple iPhone SE (2022) |
| Main camera | 64MP (f/1.89 aperture, 0.8 µm) | 12MP (f/1.8 aperture, 1.22 µm) |
| Ultrawide | 13 MP (f/2.2 aperture, 1.25 µm, 121-degree field of view) | N/A |
| Front facing | 13MP (f/3.05 aperture, 1.22 µm, 5x optical zoom) | 7MP (f/2.2 aperture, 1µm) |
Where the Tensor G2 falls short of the iPhone SE in raw performance, it pulls far ahead in terms of picture quality, image processing, and available software — especially with features like Magic Eraser, which will allow you to effortlessly remove unwanted appearances from your pictures.
---
Winner: Google Pixel 7a
---
Google Pixel 7a vs. Apple iPhone SE (2022) battery life
Depending on how you use your smartphone, battery life may be one of the most important factors to keep in mind when choosing your next daily driver. And, if we were to look at the battery offerings from the Pixel 7a and iPhone SE solely based on the numbers you'd think that it was a sure-fire no-contest.
The Pixel 7a is outfitted with a 4,385mAh battery, while the iPhone SE (2022) features a battery of just 2018mAh in capacity. I'm no mathematician but you'd think this would equate to the Pixel 7a having an uptime of over twice that of Apple's device. However, the A15 Bionic chip inside the iPhone is impressively efficient and can make that shorter capacity last for far longer than most Android devices would be able to.
During our Laptop Mag battery test, which involves continuously surfing the web on a 5G cellular network at 150 nits of brightness, the iPhone SE (2022) managed to last for 9 hours and 18 minutes. However, the Pixel 7a still managed to pull ahead with a lifetime of 10 hours and 5 minutes.
Hats off to Apple's efficiency, but when all is said and done the Pixel 7a remains the longer-lasting device.
---
Winner: Google Pixel 7a
---
Overall winner
It'll take some number crunching to be sure of who came out ahead on this one, but my own expert analysis says this is somewhat of a blowout for the Pixel 7a. While you might have to fork out a little more to get your hands on one, the $70 difference in price is small potatoes when you consider what you gain across almost every metric.
The Google Pixel 7a outshines the iPhone SE (2022) in terms of design, battery life, camera, software, and display. While the iPhone is in possession of an incredibly powerful processor, there's just so much more on offer from Google's smartphone that raw performance alone can't make up for.
Category
Back to Ultrabook Laptops
Brand
Processor
RAM
Storage Size
Screen Size
Colour
Condition
Price