Whether you're streaming TV shows or working with multiple spreadsheets, 17-inch laptops are the ultimate productivity machines. While they've historically been criticized for being large and clunky, the recent trend toward thin bezels has reduced the overall footprint of some of the best laptops.
Yes, we still recommend the best 13-inch laptops and the best 15-inch laptops if you want something portable, but if you want to maximize productivity or want a theater-like experience, go with the biggest display you can find.
What's more, 17-inch laptops are great for content creators because of their vast canvases. If you're a creator who wants specific recommendations, check out our best laptops for photo editing and best video editing laptops pages.

From the powerful Alienware m17 R5 to the fantastic Dell XPS 17, check out the best 17-inch laptops to pick up.
The best 17-inch laptops in 2023
Why you can trust Laptop Mag Our expert reviewers spend hours testing and comparing products and services so you can choose the best for you. Find out more about how we test.
AMD and Alienware have teamed up to create the most powerful 17-inch AMD gaming laptop in the Alienware m15 R5. Both the AMD Ryzen 9 6900XT and Radeon RX 6850M XT GPU deliver big numbers on performance, enough to give their Intel and Nvidia-powered competitors a run for their money more often than not.
And that's with no small help from the AMD Advantage software suite designed to squeeze every bit of performance out of the system no matter the situation. The lovely 4K display, powerful speakers, ultra-low profile Cherry MX are the literal cherry on top. Oh and with that Legend 2.0 design, it's just a stunner of a system.
See our full Alienware m17 R5 (AMD Advantage) review
Dell's XPS 17 takes everything we love about the XPS 13 and XPS 15 and supersizes it. But don't get the wrong impression, the XPS 17 is a surprisingly portable laptop thanks to its relatively small footprint, which is aided by a four-sided edge-to-edge display. As impressive as it looks on the outside, there is no ignoring what's on the inside.
Sometimes a simple spec change is all that's needed to keep you at the top of the heap. Such is the case with the Dell XPS 17. Thanks to its 11th Gen Intel processor and 30-series Nvidia GPU, the premium system has more than enough power to keep even its fiercest competitors struggling to keep up. And it doesn't hurt that the laptop has a large, bright display, a great pair of speakers, and a comfy keyboard.

See our full Dell XPS 17 (2021) review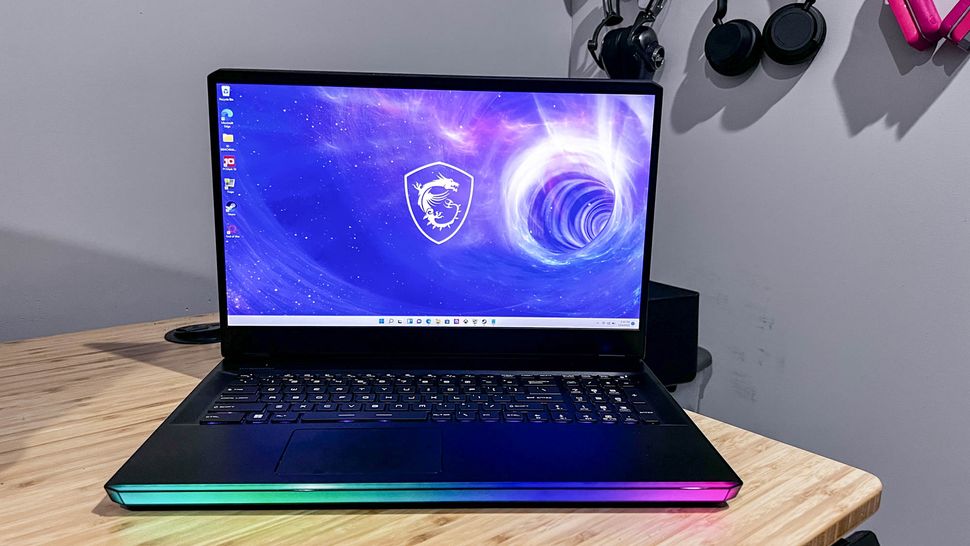 It might be a gaming laptop, but the MSI GE76 Raider is not playing any games when it comes to specs. The desktop replacement is an absolute ringer bringing Intel's new 12th Gen Alder Lake H-series chips to the fray.

But it doesn't stop there, it's also got one of Nvidia's new RTX 3080 Ti GPUs to the mix and the result is an unstoppable beast of a machine. Throw in some ridiculously fast SSDs and decent battery life, along with its 17.3-inch display in a 15-inch chassis, and you've got yourself a powerful laptop that's hard to miss.

See our full MSI GE76 Raider review
The Alienware x17 R2 offers a tantalizing bounty of power thanks to Intel's new 12th Gen processors and Nvidia's RTX 3080 Ti GPU. Take heed though, it's very expensive.

The Alienware x17, which has quickly become a Laptop Mag favorite, has gotten scores more powerful thanks to some shiny new specs. First, you've got the Intel 12th Gen processor that stands heads and shoulders over its predecessor. Next, you've got the Nvidia GeForce RTX 3080 Ti GPU which has torn through every benchmark we've thrown at it. Add in the super clicky Cherry MX keyboard, powerful Dolby Atmos sound, and gorgeous 17.3-inch, 1920 x 1080 display with a 360Hz refresh rate, and you've got a laptop worth checking out.

See our full Alienware x17 R2 review
It's time to get bent — in a good way. After years of teasing, the world's first foldable 17.3-inch laptop is here and there is plenty to like. The Asus Zenbook 17 Fold OLED is a multi-pronged solution to work and play thanks to Asus' proprietary hinge and a foldable OLED display created by both Asus and Intel. Speaking of Intel, the Core i7 U-series processor is no slouch, delivering a surprising amount of power for a chip that's known for its focus on power efficiency.

OLED. Just 17.3 inches of beautiful, bendable OLED display in all its vibrant glory. Like most foldables on the market, you can see the crease made from the hinge. But it's not so pronounced that it distracts from the overall beauty of the panel, especially when you're gazing at it head-on in Tablet or Desktop mode. In those modes, you get the full experience of the 2.5K (2560 x 1920) resolution and its 4:3 aspect ratio. When the convertible is in either of the Laptop modes, the screen shifts to a 12.5-inch, 1920 x 1280 panel. And yes, it's still a stunner.

The $3,499 pricing will hurt anyone's wallet, but that won't stop drawing all the oohs and ahhs as it transforms from a ginormous tablet to a dainty laptop.

See our full Asus Zenbook 17 Fold OLED review
Potent specs, solid design, crisp display, and breathtaking gaming performance make the Asus ROG Strix Scar 17 (2023) a brilliant choice for performance-hungry gamers.

As the 17.3-inch, QHD (2560 x 1440) display with a 240Hz refresh rate came into full view, we were instantly sold on the Scar. Not to mention it's a gaming laptop powered by an AMD Ryzen 9 7945HX, 32GB of RAM and an NVIDIA GeForce RTX 4090 GPU.

The redesigned Scar is the Cris Hemsworth of muscular gaming laptops, and this time it has a webcam. It also features some of the quietest cooling fans and packs a serious gaming punch.
See our full Asus ROG Strix Scar 17 (2023) G733PY review
The MSI Vector GP76 delivers outstanding performance, a solid display, and a comfortable keyboard. However, the weak battery life and thermal performance are the only things keeping it from top-tier status.

The Vector GP76 gives you a massive 17.3-inch, 1080p display with a 360Hz refresh rate, an Intel Core i7 CPU paired with an Nvidia RTX 3060 GPU, and 16GB of RAM. The MSI Vector GP76 gives gamers a lot of what they want with outstanding performance, a great keyboard, and a solid 360Hz refresh rate display. If you never, or at least rarely, use your laptop away from a charger and you do all of your gaming with a headset on, this is a solid option.

See our full MSI Vector GP76 review
It's the Raider's time now. As MSI puts its formidable Titan out to pasture, the GE76 Raider is here to fill that ginormous footprint. A smaller, thinner version of the Titan, the Raider proves it's every bit as powerful as its behemoth predecessor, bringing an Intel Core i7 processor and an Nvidia RTX 3080 GPU to the party. Plus, you get incredibly fast transfer speeds, solid battery life, and great audio.
But for $2,899, there are a few flaws to contend with, namely a mushy keyboard and a dim, dull display. However, that panel does have one of the highest refresh rates available.
See our full MSI GE76 Raider review.
The Alienware m17 R4 will give you all the power you can handle. The Nvidia's new RTX 3080 GPU with its ridiculous 16GB of VRAM tore through every game we threw at it. And the 10th Intel Core i9 processor made light work of our multitasking loads. And a straight-up chef's kiss to the display's 360Hz refresh rate that's so smooth it's making babies' butts everywhere jealous.
The display could be a tad brighter and more vivid. Also, I would expect faster file transfer speeds. And, of course, longer battery life always sits at the top of my list. But if power and super high refresh rates are paramount, the Alienware m17 R4 is the laptop for you.
See our full Alienware m17 R4 review
If you want a portable laptop capable of playing the latest games on high graphics settings, then the Aero 17 HDR should be at the top of your list. This specific model comes with a 4K HDR display that we found to be both vivid and bright. Our model came equipped with an Intel Core i9-11980HK CPU and an RTX 3080 GPU, components powerful enough to run just about any workflow.
On top of that, you get a sleek aluminum chassis, a comfortable keyboard and decent battery life. Of course, with these specs, the Aero 17 HDR doesn't come cheap, but if you're willing to splurge, this is one to do it on.
See our full Aero 17 HDR review
As if you needed another reminder that we live in the future, meet the monstrous HP ZBook Fury 17 G8, a workstation laptop that simply doesn't know the meaning of "overkill."

It can come fully loaded with an Intel Xeon W-11955M CPU (+$1,239), discrete Nvidia RTX A5000 graphics (+$3,147), a 3840 x 2160 LED touchscreen display (+$483), 64GB of RAM (+$820), a 1TB SSD (+$365), and a few other bells and whistles, jacking the price all the way up to $6,421 total.

Granted, you don't have to shoot for the moon as you're speccing out your config; there are ten different Intel Core i5, i7, and i9 processors to choose from, not to mention six different Nvidia cards. Is the HP ZBook Fury 17 G8 the best workstation on the market? I suppose that depends on your budget and configuration, but if your pockets are deep enough for an Intel Xeon processor and Nvidia RTX A5000 graphics (boy howdy!), this is about as future-proof as laptops get right now.

See our full HP ZBook Fury 17 G8 review
What to look for in a 17-inch laptop
Specs: 1080p / Core i5 / 8GB Are Best Bets. You can spend a lot of time delving into specs, but here are the key components to think about when buying a 17-inch laptop If you just want really good mainstream performance, go for a Core i5 CPU, 8GB of RAM, a 256GB SSD and a 1080p screen.
Screen Resolution: Unfortunately, 66 percent of consumer laptops and 51 percent of business systems have low-res screens. If possible, get a display with a 1920 x 1080 (aka 1080p, or full HD) or higher resolution.
CPU: An Intel Core i5 provides good mainstream performance. Some budget systems will come with Core i3, Celeron or Pentium CPUs, which are good for basic tasks, but not heavy multitasking. Get a Core i7 or a quad-core processor (serial number ends in HQ or HK) for gaming or high-end productivity tasks such as video editing and 3D modeling.
RAM: 8GB is ideal for most users, but power users will want 12 or 16GB. 4GB is acceptable for budget systems. Secondary laptops and Chromebooks may have less.
Storage: Unless you're a gamer or a power user, 256GB of internal storage is probably enough. If possible, get an SSD (solid-state drive) rather than a hard drive, because it's going to make your computer a lot faster.
Graphics: Gamers and creative professionals need to do some research and figure out which discrete GPU from Nvidia or AMD is good enough to run their favorite software. Everyone else will be happy with the built-in Intel HD Graphics that come with the CPU.
How we test 17-inch laptops
We put 17-inch laptops through extensive benchmark testing -- both synthetic and real-world -- before they end up in the hands of our reviewers. We evaluate everything from speed and battery life to display brightness, speaker volume and system heat.
We use a Klein K10 colorimeter to detect the brightness and sRGB color gamut of a laptop's display. For performance benchmarking, we run the laptop through a gauntlet of benchmarks, including Geekbench 4.3 and 5.0 and 3DMark professional graphics tests.
To determine real-world performance, we task the laptop to convert a 4K video to 1080p resolution and to duplicate a 4.97GB multimedia file. Our real-world graphics test is the Dirt 3 benchmark with medium settings and 1080p resolution.
We also run heat tests by playing a 15-minute full-screen video and our battery test consists of continuous web surfing over Wi-Fi at 150 nits of brightness. We consider everything over the category average (8 hours and 36 minutes) to be a good result. Of course, these tests are complemented with hands-on testing from our reviewers.