Best Cyber Monday monitor deals in the UK
Here are the best Cyber Monday PC monitor deals in Britain.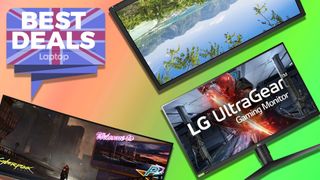 (Image credit: Future)
So, you're looking for a new computer monitor. Fortunately for you, the Cyber Monday bargains are pouring in across gaming displays and productivity panels.
Whatever your needs, from a crisp picture and high refresh rate for the competitive advantage to a curved, ultra-wide blue light-reducing screen for getting stuff done, there are big discounts to be had out there.
Why buy a computer monitor if you already have a laptop? I'll answer that with another question — why settle for that small portable display when you could hook up to a monitor at home?
Don't get me wrong, the convenience of opening up a laptop and doing something quickly when inspiration strikes is great. Whether it's some late-night binge-watching in bed or an article idea while cooking (guilty), having a system there ready for your input is warmly welcome.
For work and play, nothing beats plugging that laptop into a monitor for a big-screen experience. With that in mind, here are the best monitor deals you can buy today!
Best Cyber Monday monitor deals overall
Best Cyber Monday gaming monitor deals
Best Cyber Monday productivity monitor deals