Don't waste your money on an Apple Watch — this fitness tracker won me over
Don't throw your money away on an Apple Watch the Fitbit Charge 6 is better and more affordable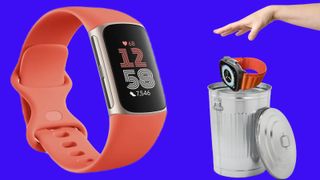 (Image credit: Future)
I've enjoyed owning several smartwatches over the past seven years, including a pair of Apple Watches. During that time, I've enjoyed hands-on time with devices from almost every wearable maker. I'm shocked to say that after seven years, the Fitbit Charge 6 has won me over, and I refuse to spend a dime on another Apple Watch.
Consumers, including myself, like products that require the least amount of thought and maintenance. We want fast-charging and long-lasting wearables that can handle more than just "all-day" active use while maintaining some semblance of style. They must be durable, and connecting them to our devices must be a breeze. Nobody wants to spend hours figuring out why their Bluetooth devices don't like each other.
Apple Watches do connect quickly and easily, and they tend to be durable, although I did have one fall apart. The biggest downside was trying to get it repaired and being told it's better to just buy a new one. As if we all have an extra $250-$800 lying around to dispense to Apple at will.
While reviewing the Fitbit Charge 6, I pondered why an Apple Watch costs so much. Is it R&D? Could it be fitness and health tracking?
Are we paying for the yearly Hollywood-produced horror films Apple shows at their launch events? The production values are great, but I hope I'm not spending more just to hear that if I don't own an Apple product, I might die, or to listen to celebrities tell us Mother Nature will end us if we don't buy an Apple Watch and iPhone.
Regardless of the reason for the Apple Watch's price point, I know that for $159.95, I can buy a Fitbit that will pretty much do everything an Apple Watch can do. Beyond the excellent health and fitness tracking, it alerts me to my incoming emails, phone calls, and calendar events – what more do I or you need? Oh, it does tell time, too.
Fitbit and save
Looking over the features of the Apple Watch and the Fitbit, we find many similarities. They both track our daily health and fitness. They both ask questions: how much water did you drink today? How are you feeling? They both offer helpful suggestions and remind us to create quiet time to calm down and meditate. They both tell time, shocking, although it's something of an afterthought. Both offer us data and reminders to fit caring about our health and well-being into our days.
If you go based on the messaging alone, the Fitbit is a healthier option and a less stressful purchase. As mentioned above, Apple's messaging of late seems to suggest imminent death, destruction, and mayhem if you do not purchase their product. Google's messaging is more like your vegetarian Yoga instructor friend: "Hey Silvia, you should come to check out my low-intensity Yoga class and then have a smoothie with me sometime." Both can be strong motivators, but I like Fitbit's vibe way better.
I initially thought the Fitbit would have a limited feature set. I didn't realize I could set up email and calendar alerts or answer or reject phone calls. I didn't know I could check and read my emails or get alerts when someone triggered my home security cameras. The Fitbit does all that while providing me with a very intuitive app on my phone that is super informative and feels friendly.
Mind you, I am not saying Apple's Health app is terrible; it's not, it's great. However, I am saying the whole Apple ecosystem of the iPhone and Apple Watch is not cost-effective and sometimes feels like a leasing scam. Most of us will purchase the product via credit or through our wireless provider and just have the cost added to our wireless bills.
Also, the Apple Watch is hyper-informative. It's a productivity watch because it's like having a tiny laptop on your wrist, which isn't relaxing. Answering emails and calls while supposedly hiking for fitness is stressful. I just find the Apple Watch to be intrusive.
The $800 Apple Watch Ultra is gorgeous and has features like SOS and fall detection. The Fitbit doesn't have these features, but do you need them? Even if you purchase the Apple Watch SE for $249 or $20.75 for 12 months, you also face a hard inquiry credit check, which affects your score if you finance.
The SE and Fitbit are suitable for swimming up to 50 meters deep. Both will monitor your sleep, oxygen levels, and heart rate and detect AFIB or irregular heartbeats. Both work in conjunction with your Map app to provide turn-by-turn directions. Why does Apple's most affordable product cost nearly $100 more? Both have style. I like the Fitbit wristband styling more than the staid, clunky box styling of the Apple Watch lineup.
Also, you'll notice I have not mentioned the Samsung lineup here. I like their watches too, but like Apple, they are cost-prohibitive. If you bought a top-end Samsung Galaxy Watch 6, it will run you $500, while an Apple Watch Ultra costs $800. That's $1,300, and I could buy all my children Fitbits with premium memberships for a little less than that. Even If I purchased all the affordable versions of Apple and Samsung watches, I would still spend less on Fitbits while enjoying 95% of the same features.
Final thoughts
I like that Fitbit only has a touch of Google and the outside world. When I workout or go for a power walk or run, the fewer distractions, the better. Many people talk about work-life balance but have another portable computer on their wrist that allows them to take calls and respond to emails and texts. It's just too much all the time and not healthy. Fitbit is more about your overall health. At the end of the day, while Apple Watches are excellent health monitors, they still feel more productivity-focused, keeping you tethered to the digital world at all times.
Save yourself up to $600 and consider buying a Fitbit. You'll get an equal amount of health tracking you can share with your doctor, and if you really need to you can keep an eye on your emails while deflecting calls from your wrist.
I prefer the Fitbit because it's an ultra-lightweight companion that meshes with me, rather than a chunky, intrusive, busybody constantly alerting me to something. I'll choose peace, tranquility, and affordability over being tethered to a nonstop intruder that emptied my wallet.
Stay in the know with Laptop Mag
Get our in-depth reviews, helpful tips, great deals, and the biggest news stories delivered to your inbox.
Mark has spent 20 years headlining comedy shows around the country and made appearances on ABC, MTV, Comedy Central, Howard Stern, Food Network, and Sirius XM Radio. He has written about every topic imaginable, from dating, family, politics, social issues, and tech. He wrote his first tech articles for the now-defunct Dads On Tech 10 years ago, and his passion for combining humor and tech has grown under the tutelage of the Laptop Mag team. His penchant for tearing things down and rebuilding them did not make Mark popular at home, however, when he got his hands on the legendary Commodore 64, his passion for all things tech deepened. These days, when he is not filming, editing footage, tinkering with cameras and laptops, or on stage, he can be found at his desk snacking, writing about everything tech, new jokes, or scripts he dreams of filming.