The $59 Mobvoi Earbuds ANC sells you on ANC and sound, but underwhelming performance in key areas raise many concerns.
Pros
+

Strong bass

+

Better-than-average ANC

+

Fast connectivity

+

Very comfortable

+

Extremely affordable
Cons
-

Weak battery life

-

Finicky controls

-

Ugly design

-

Companion app has very few extras
Why you can trust Laptop Mag Our expert reviewers spend hours testing and comparing products and services so you can choose the best for you. Find out more about how we test.
Mobvoi isn't a household name like Apple, Sony, or Samsung. However, their strong international presence and growing popularity on Amazon have elevated their commercial status among budget online shoppers. Seeing their inexpensive TicWatch smartwatches and wireless earbuds in the discount section of your favorite electronics retail site is common. Look now and you'll also stumble upon their newest release, the Mobvoi Earbuds ANC.
A disruptor in the cheap wireless earbuds market, these $59 noise-cancellers look to forge a path of their own, granting quality ANC and sound at a super-low price point. And they do just that.
Unfortunately, Mobvoi compromised several key areas during development, including battery life, controls, design, and special features. Whether the pros are enough to justify purchasing the Earbuds ANC, that is what we're here to answer. Scroll down to read our expert take.
Mobvoi Earbuds ANC review: Availability and price
The Mobvoi Earbuds ANC are available for $59 on Amazon or directly from Mobvoi. It only comes in Black. A charging case, USB-C charging cable, three sets of different sized ear tips, and a user guide are included in the box.
These are some of the most affordable wireless ANC earbuds out there. Notable competitors include popular sub-$100 models like the OnePlus Buds Z2 and Nothing Ear (1), along with mid-tier gems like the $149 Beats Studio Pro and category leaders such as the $249 AirPods Pro and $278 Sony WF-1000XM4.
Be sure to bookmark our headphone deals page for the latest sales.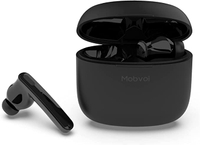 Mobvoi Earbuds ANC: $59 at Amazon
At under $60 the Mobvoi Earbuds ANC deliver a reasonably impressive feature set with loud, boom-filled music that will appeal to many users.
You can also find the Mobvoi Earbuds ANC for $59 directly from Mobvoi.
Mobvoi Earbuds ANC review: Design and comfort
If you found the AirPods embarrassing to wear, then the Earbuds ANC will leave you mortified. These are some long (1.68 inches) and unattractive danglers. The difference in length compared to the AirPods Pro is huge. Furthermore, the minimalist appearance with bare detailing does little to enhance their aesthetic appeal.
One thing the Earbuds ANC gets right is build quality. The solid plastic frame can sustain scratches and scuffs and won't crack when falling onto hard surfaces. IPX5 sweat and water resistance protects the exterior, a higher rating than the AirPods Pro (IPX4).
The charging case is hit or miss. I like the matte finish, smooth feel, and slim, pebble-shaped look of it, but the large body places it in the company of other cumbersome cases (e.g., Beats Powerbeats Pro, V-Moda Hexamove Pro). At least the construction is durable, and the magnets keep the lid shut tightly.
Despite its extended appearance, the Earbuds ANC provides nice comfort and fit. Mobvoi designed the cavity to mold and rest gently on the ear. The tips create a tight seal that locks the buds on the ears, while the small sound port effortlessly slides into the canal. You should be fine wearing the buds for 3 to 4 hours straight before fatigue sets in.
Mobvoi Earbuds ANC review: Controls and digital assistant
The touch controls are bad. Let's start with the poor touch detection. Multiple attempts are required for the buds to recognize double- and triple-tap gestures, and even then, the latter is often mistaken for the former. Not having a single-tap gesture programmed into the buds is a disservice to users. I also think the touch panels are too small and can be difficult to locate at times, especially since they blend into the design so well.
Mobvoi did create their own voice activation featured called "Hey Tico" that works just like "Hey Siri," "Hey Google," and "Alexa." Saying the wake-word phrase lets you perform Quick Words, a short list of playback and volume commands that you would manually enable on any other pair of wireless buds. How does "Hey Tico" perform? Better than I imagined.
The feature seems to work hand in hand with your native digital assistant, which is odd since one would think that Mobvoi designed it to act as an alternative. Enabling it every time brought up the Siri/Google Assistant prompt on my iOS/MacOS/Android devices. This caused some confusion at first since I couldn't tell which of the two AI bots had executed my commands. It turns out that "Hey Tico" is smart enough to differentiate its limited set of functions from more elaborate inquiries that Siri and Google are more equipped to act on. This made for a commendable digital assistant experience.
Mobvoi Earbuds ANC review: Audio quality
According to Mobvoi, these buds have a 13mm driver that pumps out "rich hi-fi sound" and "rigorous bass." There is half-truth to those claims. Yes, the low end is deep and punchy to please bass heads. No, the sound quality isn't hi-fi level, though it is satisfying enough to enjoy most music genres despite the dull highs.
The growling 808s on Migos' "MotorSport" will rattle your eardrums and raise adrenaline levels during morning commutes. That's how impactful the bass sounds on the buds. It's impressive how well the sound profile emphasizes the low end without compromising mids and vocals. Bass is raised even higher on rock records like Metallica's "Hardwired," resulting in a frenetic listen highlighted by hostile guitar riffage and maniacal drum slams that dominate the soundstage.
Orchestral recordings are where the Earbuds ANC lose its frequency grip. The cymbals on Jazz classics like Ahmad Jamal's "Dolphin" lack percussion, while the strings on violin-led masterpieces like Stéphane Grappelli's "Nuages" don't have the same depth as better-sounding models like the Edifier NeoBuds Pro. I also noticed that double bass could seem aggressive on certain songs and produce minor fuzz.
A customizable EQ would help balance out the sound profile, but as you'll learn further into the review, extra features are scarce on the Earbuds ANC's.
Mobvoi Earbuds ANC review: Active noise cancellation
Bose, Sony, or even Anker-like noise cancellation is out of the question. That's OK because the Earbuds ANC blocks out ambient sound a lot better than its MSRP would suggest. Much of my testing was done indoors during work hours, a time frame where my ears normally pick up common household distractions and lots of infant crying. I can happily report that most of these sounds were suppressed.
Walking into the kitchen around lunchtime was quieter than usual, as appliance timers and conversations happening around the table failed to grab my attention. The same went for the tumbling noises that came out of the laundry room. Walking by the nursery, which is adjacent to my office, wasn't as quiet, but at least the baby's screaming was minimized well enough to keep my focus on sending out important emails.
Outdoors provided similar results. Talkative joggers and any landscaping that occurred around the neighborhood went silent for the most part, though high-frequency sounds and wind were unavoidable.
Sound Pass-Through is Mobvoi's version of transparency mode and it serves well for keeping your environmental awareness up in active settings. I heard cars coming from up the street, as well as railroad crossing bells and sirens from a block away. Where the feature struggles most is voice detection. The mics don't pick up vocals well and any chatting you hear sounds muffled.
Mobvoi Earbuds ANC review: App and special features
A companion app is available, but nowhere on the product page, packaging or instructions does it state what it is. Apparently, the original Mobvoi app isn't compatible with the Earbuds ANC, and you'll need the new Smart Life app to access any extras, which are few and far between. A visual breakdown of the controls, toggles for the voice activation settings, and battery level indicators are all you get.
There are also some bugs that need to be flushed out. The app often claims that the buds are disconnected from your smartphone, yet somehow display the battery levels for each bud. Even the Quick Password toggle has issues; it would automatically disable at times.
Smart Life can track activity and biometric data and works with other third-party fitness apps like Google Fit and RunKeeper. The problem is these features only apply to the TicWatch lineup.
Mobvoi Earbuds ANC review: Battery life and charging case
Mobvoi rates battery life at 4.5 hours with ANC on and 7 hours with ANC off. That's both accurate and disappointing, at least when it comes to ANC playback. Having the same listening time as the AirPods Pro isn't anything worth bragging about. I got about a day and a half worth of moderate use before recharging. It didn't the help that the buds came 50% charged right out of the box either.
The charging case holds up to 21 hours, equating to 3 full charges. That also falls short of the industry standard time set by the AirPods charging case: 24 hours. Quick charging is absent, a feature that could have helped expedite the charging process, and so is wireless charging
Mobvoi ANC Earbuds review: Call quality and connectivity
These earbuds get you acceptable call quality indoors. Office calls sounded loud and clear. A few people did complain about muffling, granted they could still make out what came from my end of the line. Using the Earbuds ANC as a calling headset outdoors isn't recommended because the two-mic array is poor at blocking out incidental sounds and wind. My wife had trouble hearing me over loud and gusty surroundings.
Bluetooth 5.0 operates decently. Range maxes out at 35 feet, providing enough wireless length to leave one room and enter another close by before losing connection. I didn't have any issues with dropout during calls or Spotify streaming sessions. Pairing was also instantaneous; taking out the buds will automatically connect them to your last recognized device.
Multipoint technology to pair the Earbuds ANC to two devices simultaneously is unavailable.
Mobvoi Earbuds ANC review: Verdict
Audio and noise cancellation are what will attract bargain hunters to the Mobvoi Earbuds ANC. Music sounds lively with a bottom-heavy profile that gives contemporary tracks proper bass representation. ANC can block out 75% of ambient noise and handles both low and mid frequencies with ease. Comfort and connectivity are two other strengths worthy of recognition.
For all the good, there's also the bad. The absence of highly coveted features (e.g., EQ, control customization, wireless charging) are shortcomings that some might be able to overlook when factoring in price. The same can't be said about the low ANC playtimes, unreliable controls, or displeasing design.
If your budget is thin and you need something that can create a silent backdrop to hear loud, boom-filled music, the Earbuds ANC can fill that void. Otherwise, snag a few extra bills from somewhere and spend a little extra on buds that offer better performance and way more features like the NeoBuds Pro.