Could Samsung release a foldable phone for under $500 in 2024?
Is a $500 foldable phone possible?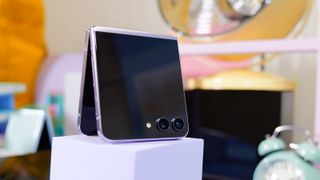 (Image credit: Future)
Foldable phones are super cool, but not affordable enough yet for most people. According to a few recent rumors, Samsung could be releasing a new foldable in 2024 that costs less than $500, which would make it a lot easier for people to upgrade to a foldable phone.
Market analyst firm TrendForce (via SamMobile) suggests Samsung will release a mid-range foldable phone in 2024, with predictions based on supply chain sources. Then, an X user (@Tech_Reve) seems to think that Samsung will price this mid-range foldable between $400 and $500, but doesn't cite any sources for this prediction.
There's a chance Samsung could make this rumored foldable, but with the vagueness of both rumors, we're not getting our hopes too high just yet.
How possible is a $500 foldable from Samsung?
SamMobile points out that the Galaxy A54 phone Samsung just released in March 2023 with a $450 price tag, and this phone doesn't have any folding parts or a hinge. To make a foldable phone with the same price tag, or even $50 higher for a retail price of $500, it would have to either take a significant dive in specs or Samsung would have to sell it at a loss.
Samsung has set the price target for the mid-range foldable at $400 to $500. This is a very aggressive goal. https://t.co/7tEZONw0JwNovember 10, 2023
Most foldable phones available right now are over $1,500, so the likelihood of a $400 to $500 foldable phone seems like a pipe dream. The Galaxy Z Fold 5 launched at $1799, and the Galaxy Z Flip 5 launched at $999. If Samsung releases a lower spec version of the Z Flip 5, it could easily be $200 to $300 cheaper, but a bigger price difference doesn't seem likely.
If Samsung released a foldable priced at $400 or $500, it would probably be classified more as "low-cost" than "mid-range." And it would likely feature lower specs in every way, from the camera and display to the processor and available RAM and storage. This would pit a low-quality phone that could fold against a budget-friendly traditional smartphone with better specs, and that seems like a losing battle for the hypothetical low-cost foldable.
The chances of Samsung releasing a mid-range foldable in 2024 are pretty high, but the rumor suggesting a $500 retail price seems too wild to be true. As with all rumors, only time (and more rumors and leaks) will tell.
Stay in the know with Laptop Mag
Get our in-depth reviews, helpful tips, great deals, and the biggest news stories delivered to your inbox.