Samsung Galaxy S23 Ultra vs. Galaxy S24 Ultra: What we know so far
A Samsung duel, with a little of the old Ultra-violence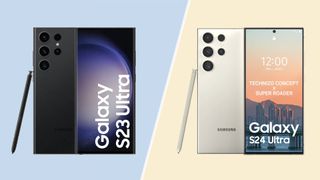 (Image credit: Samsung)
Samsung gave us plenty of reasons to be impressed when it released the Galaxy S23 Ultra in February. It's been a solidly performing phone with an impressive battery life and plenty to offer those who enjoy a spot of photography on the go. As we approach 2024, we also approach the release of the Galaxy S24 Ultra. But will this new release be all it's cracked up to be?
There's a fair amount of hype surrounding the S24 Ultras release, but a product with hype around it is always at risk from the words "Didn't live up to the.." also taking orbit around it post-release. So what do we know about the Galaxy S24 Ultra, and how can we tell if Samsung's upcoming flagship phone is worth jumping aboard the bandwagon over? Let's find out.
Samsung Galaxy S23 Ultra vs. Galaxy S24 Ultra: Specifications
Swipe to scroll horizontally
| Header Cell - Column 0 | Samsung Galaxy S23 Ultra | Samsung Galaxy S24 Ultra (rumored) |
| --- | --- | --- |
| Price | $1,199 | $1,199 and $1,399 |
| Processor | Qualcomm Snapdragon 8 Gen 2 for Galaxy | Qualcomm Snapdragon 8 Gen 3 |
| RAM | 8GB, 12GB | 8GB, 12GB |
| Storage | Up to 1TB | Up to 2TB |
| Display | Dynamic AMOLED 2X | 6.8-inch AMOLED M13 LTPO |
| Resolution (ppi) | 1440 x 3088 (~500) | 3200 x 1440 (463) |
| Refresh rate | 120Hz | 1Hz - 144Hz |
| Peak brightness | 1,750 nits | 2,500 nits |
| Front camera | 12MP (Selfie) | 12MP (Selfie) |
| Rear Camera(s) | 200MP (Main) | 200MP (Main) |
| Row 10 - Cell 0 | 12MP (Ultrawide) | 12MP (Ultrawide) |
| Row 11 - Cell 0 | 10MP (Telephoto, 3x optical zoom) | 10MP (Telephoto, 3x optical zoom) |
| Row 12 - Cell 0 | 10MP (Telephoto, 10x optical zoom) | 50MP (Telephoto, 5x optical zoom) |
| Dimensions | 6.43 x 3.07 x 0.35 inches | 6.38 x 3.11 x 0.33 inches |
| Weight | 234 grams (8.25 ounces) | 233 grams (8.21 ounces) |
Samsung Galaxy S23 Ultra vs. Galaxy S24 Ultra: Price
In the face of conflicting reports about the price of the Galaxy S24 Ultra upon release, it's increasingly hard to determine which one of Samsung's phones will come out on top.
If the Galaxy S24 Ultra retains the same price as its predecessor then we're undoubtedly getting a much more powerful, well-performing, and feature-packed device — especially as we know Samsung is doing its darnedest to cram generative AI into its new flagship model.
However, we can't say for certain what Samsung's plans are. While there was a rumor indicating that there would be a $50-$200 price jump on major flagship models across all major brands in August, time has seen that information appear "hit or miss" at best. Until we have something more concrete, this one remains up in the air.
Winner: Draw
Samsung Galaxy S23 Ultra vs. Galaxy S24 Ultra: Design and displays
Can we expect a major design overhaul for the Galaxy S24 Ultra? Probably not. Samsung has been playing it safe in terms of the design of its products for a number of years now, and there's no indication of anything radical heading down the pipeline either. That's not to say that the phones will be a straight-up carbon copy of one another, though.
A rumor does suggest that the S24 Ultra will feature a flatter display, potentially donning edges that are less curved than that of the S23 Ultra. And it's increasingly likely that Samsung will be ditching the Aluminum armor of the S23 Ultra in favor of an iPhone 15-esque titanium frame. But beyond these changes, little may change to the untrained eye.
In terms of displays, we're likely looking at, once more, an almost identical 6.8-inch line-up. However, some information points to the S24 Ultra receiving a new M13 LTPO panel. This upgrade could explain a number of other rumors that indicate a dynamic AMOLED display that can adjust its refresh rate on the fly to better preserve battery life. Better still, this dynamic refresh rate is reportedly not constrained to the S23 Ultra's already smooth 120Hz — instead, it caps out at an even silkier 144Hz.
Finally, the displays will likely differ in peak brightness. We've already seen both Apple and Google break the 2,000 nits peak brightness barrier — with the latter currently adopting a 2,400 nit cap for its flagship smartphone, the Pixel 8 Pro. However, one rumor suggests that Samsung is ready to upstage those at the Googleplex by shipping the S24 Ultra with a peak brightness of 2,500 nits. Kiss those corneas goodbye, readers.
Winner: Samsung Galaxy S24 Ultra
Samsung Galaxy S23 Ultra vs. Galaxy S24 Ultra: Processor
The Qualcomm Snapdragon 8 Gen 2 for Galaxy chipset was one of the S23 Ultra's most impressive features. More power, better graphics, and much-improved efficiency resulted in an all-around improvement in performance and battery life — leading to the S23 Ultra to feel like it genuinely lived up to its name.
However, Samsung's finest chipset would still pale when compared to the Apple A16 Bionic — found in the iPhone 14 Pro Max. Clearly, Samsung was left playing second fiddle last time around. Thankfully, Apple's dominance in processing power is slowly being eroded — and it looks like the S24 Ultra's new chipset will take a much larger step in the direction of performance parity.
The Galaxy S24 Ultra is rumored (read: all-but confirmed) to feature a Qualcomm Snapdragon 8 Gen 3 processor. While rumors of an Exynos chipset taking its place in certain regions abound, we would presume that Samsung will want to stick with the Qualcomm CPU across regions, at the very least in the case of the S24 Ultra — All bets are off when it comes to the Galaxy S24 and S24 Plus, though.
And should this be the case, Samsung fans have a genuine something to look forward to with the next Ultra release. Qualcomm claims that its new chip is both more efficient and up to 30% faster than its predecessor. And, if Qualcomm's released Geekbench and AnTuTu results are to be believed, performance from the 4nm Snapdragon 8 Gen 3 is enough to rival the iPhone 15 Pro Max's 3nm A17 Pro chipset — at least when it comes to multi-core performance.
Of course, results like these have been known to over-promise. Until we get our hands on the Galaxy S24 Ultra and put it through its paces in our lab, we won't know for certain just how the Snapdragon 8 Gen 3 compares to its flagship Apple counterpart. We can say that benchmark results aren't generally real-world reflective and that numerous factors go into how well a phone performs beyond its on-paper numbers.
That being said, the S24 Ultra is clearly touting the more powerful processor and will, by many accounts, leave the Snapdragon 8 Gen 2 in the dust when it comes to raw performance potential.
Winner: Samsung Galaxy S24 Ultra
Samsung Galaxy S23 Ultra vs. Galaxy S24 Ultra: Cameras
The Samsung Galaxy S23 Ultra had a magnificent secret weapon in tow when it was released: an almost comically high-spec 200MP main camera. It was a clear shot across the bow to the competition and an indicator to smartphone shutterbugs that Samsung was willing to go all-out to woo them.
Did it work? Well, let's just say, there's a reason you see the S23 Ultra topping so many best cameraphone lists. Beyond its impeccable main shooter, the S23 Ultra features a diverse array of lenses and sensors that make it one of the most versatile smartphones for taking pictures on the market. Toss in a pair of telephoto lenses with one capable of a 10x optical zoom, and the line between cameraphone and phone camera becomes blurrier than pictures of Bigfoot.
So, how can the S24 Ultra go one further? According to rumors surfacing online, the two most likely ways are a new 1-inch sensor for improved low-light capture and dynamic range and one of the S23 Ultra's 10MP telephoto lenses receiving a 50MP upgrade. However, the latter is accompanied by the loss of the 10x optical zoom, instead capping out at 5x magnification.
Winner: Samsung Galaxy S24 Ultra
Conclusion
It's a clear and decisive victory for the upcoming Galaxy S24 Ultra. It might not be a perfect victory, but it's certainly flawless. The Galaxy S24 Ultra is an exciting prospect with more than enough potential to its name. Even if its new Qualcomm Snapdragon 8 Gen 3 processor was the only change coming to the device, it would still be a substantial upgrade. And well worthy of note.
Does this make the S23 Ultra a paltry device by comparison? Not at all. Samsung's soon-to-be-former-flagship is still an impressive device by many metrics, and it's one of the best Android phones to date and undoubtedly one of the best smartphones on the market right now.
However, when Samsung's next Galaxy Unpacked event rolls around, we expect the Galaxy S24 Ultra to cast a long shadow — and the S23 Ultra to potentially be caught well within its shade.
Stay in the know with Laptop Mag
Get our in-depth reviews, helpful tips, great deals, and the biggest news stories delivered to your inbox.
Rael Hornby, potentially influenced by far too many LucasArts titles at an early age, once thought he'd grow up to be a mighty pirate. However, after several interventions with close friends and family members, you're now much more likely to see his name attached to the bylines of tech articles. While not maintaining a double life as an aspiring writer by day and indie game dev by night, you'll find him sat in a corner somewhere muttering to himself about microtransactions or hunting down promising indie games on Twitter.