Android 14 is a disaster for some Pixel 6 owners — read before updating
Android 14's first post-launch issue has arrived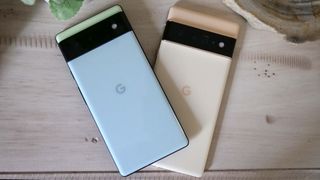 (Image credit: Laptop Mag/Sean Riley)
The public release for Android 14 was about two weeks ago on October 4, and it seemed like a fairly seamless launch—at first. Pixel 6 and 7 owners who updated to the new OS initially reported improvements to their phone's battery life and thermal regulation.
This positive experience was shortlived for some Pixel 6 users, who have recently discovered internal storage issues. The storage issues vary, but a few users have reported losing complete access to their Pixel 6's internal storage and all the files stored within it.
Google hasn't officially addressed the internal storage problems, but the issue is trending on Google support forums (via Android Police), so hopefully Google is working on the issue and planning to roll out a fix soon with no permanent damage to stored files. For now, plan to wait until the issue is fixed to update to Android 14. If you've already updated, read on for signs your phone might be affected and tips for navigating this pesky issue.
What internal storage issues is Android 14 causing?
On one Google support forum entry, a top user said "the issue is escalated" and to monitor this Google support forum thread for updates. On this thread, there's a message at the top of the screen that reads "This post is a trending issue." Google seems to be aware of the issue, but has yet to officially address it or roll out a fix.
There are multiple entries regarding storage issues on both Google's support forum and Reddit, and the issues vary between users. Some have reported losing complete access to their phone's internal storage. Others can still access storage, but they'll see "storage is full" notifications and experience random app crashes. In all cases, users have plenty of free storage space, but the Pixel 6 simply isn't recognizing it.
Some Pixel 6 users have noted the internal storage issue is also affecting apps because there's "no room" to download any necessary data. According to Android Police, when users go to the Files app, it only displays the storage space used by downloaded apps. All other categories show the storage used as zero, including Downloads, Images, Videos, Audio, and Documents.
Umar Shakir from The Verge tried to recreate the issue on his Pixel 6A after becoming aware of the issue on Reddit. He writes, "A Verge tipster pointed out the reports, which show a pattern of striking users with multiple user accounts set up on their devices."
Shakir couldn't replicate the issue, so it seems like this issue thankfully isn't affecting every single Pixel 6 device. He did, however, get a "System UI isn't responding" error once, and the phone kept crashing while trying to reproduce the bug.
Right now, there's no real fix for this issue other than factory resetting your device, but this would permanently remove any files you might be hoping to get back once an Android 14 patch rolls out. Android Police suggests trying to switch to a secondary profile for the time being, but notes that you won't have access to any apps or files associated with your primary profile.
If you have a Pixel 7 device or if you haven't updated your Pixel 6 to Android 14, you should be in the clear. That said, now would be a great time to back up data on your Pixel phone just in case.
Stay in the know with Laptop Mag
Get our in-depth reviews, helpful tips, great deals, and the biggest news stories delivered to your inbox.