We tried a VR haptic suit that simulates being shot and stabbed at CES 2023 — here's what happened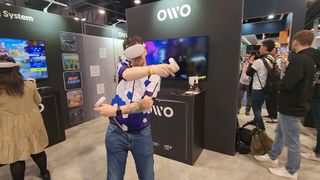 (Image credit: Future)
OK, truth be told, by "we," I mean Laptop Mag Content Editor Jason England tried OWO's VR haptic suit — what a brave soul! Assistant Managing Editor Sean Riley and I planned to try it on, too, but after TechRadar's Lance Ulanoff tweeted that it was "most painful thing" he's ever done at CES, we chickened out.
The most painful thing I've ever done at CES. Hands on with OWO Second asking Haptic Gaming System. It delivers tiny electrical charges to your body. (Feel gunshots, stabbing) You set the intensity, but ow! Cost $399, ships in February. No price or avail on the sleeves. #CES2023 pic.twitter.com/i9GGcyiwD9January 5, 2023
So you may be wondering, "OK, so what's the deal with this VR haptic suit and why is it causing so much hoopla at CES 2023?" Well, OWO boasts that it's a "second skin" designed to make VR gaming much more immersive via sensation tech. As such, while you're wearing this VR haptic suit, you can feel tame sensations (e.g., a wind gust) as well as intense ones (e.g., getting stabbed in the abdomen).
Here's what went down when we showed up for our VR haptic suit appointment with OWO at the Las Vegas Convention Center.
A tight fit is key
First things first, an OWO rep got Jason's measurements to ensure that his VR haptic suit had a tight fit. You can get the suit in a wide range of sizes, from 2XS to 4XL.
While that was happening, I spotted a few suits hanging on a rack, so I decided to unzip one. Inside, you can see conspicuous, menacing patches that are surely there to inflict pain, or simply heighten the immersion, depending on what game you're playing.
According to OWO's official website, these patches can deliver a whopping 30 sensations, including a gun shot with an exit wound, insect bites, abdominal stabbing, getting pricked with a dart, getting punched, and more.
I saw two designs at OWO's CES 2023 booth: a Founder Limited Edition with a cool purple and blue ombre effect and a standard version that's all black. We all preferred the latter, but the OWO rep put Jason in the former. When Jason came out of the fitting room with his VR haptics suit, he made us all chuckle when he said, "Ugh, I look like a cyclist!"
Although Jason wasn't thrilled about the design, he said that the VR haptic suit was surprisingly comfortable.
How does OWO's VR haptic suit work?
What sets OWO apart from other VR haptic suit companies is its Sensations Technology, which stimulates 10 locations in the body, including the arms.
"Unlike other haptic technologies that use vibration to reproduce just one sensation, OWO is the only company that can reproduce an infinite number of sensations," an OWO rep told us in a pitch. The VR haptics company boasts that its secret sauce are its microsensations — a good number of the 30 stimulations are composed of several of them.
For example, simulating a gunshot wound uses three microsensations: an entry wound, an exit wound, and bleeding.
"With our algorithm, we can create a number of infinite number of different sensations. All we have to do is imagine a sensation and modify the parameters of the wave," OWO said.
With the OWO app, you can set the intensity to your liking. If you're a wuss like me, you can keep the intensity level at one, but if you're a masochist, feel free to enjoy the pain in all of its glory by choosing an intensity level of 10.
Jason decided to go with an intensity level of six for his body, but opted for seven for his arms.
A painfully immersive experience
With his VR haptic suit on, an OWO rep strapped an Oculus Quest 2 headset (now called Meta Quest 2) to Jason's head, allowing him to dive into the VR world that felt a little too real for his tastes.
A large display broadcasted what Jason was seeing. First, he was thrown into a demo, which allowed him to feel a series of bizarre sensations, including wind gusts, crawling spiders, darts, and stabbing. Next, he was dropped into an unfriendly celestial VR environment where he had to defend himself against vicious, planetary enemies.
Unfortunately, these robotic aliens were relentless — and they weren't coy about showering Jason in gunfire.
Just like OWO claimed, Jason said he felt the gunshots go through his shoulder and come out the other end. Funnily enough, you'd think that the gunshot wound would have been his least favorite sensation, but the creepy-crawly feeling of bugs taking over his body irked Jason the most.
When it was all over, I asked Jason whether he enjoyed OWO's VR haptic suit. He's never one to mince words, and surprisingly, he said he loved the experience. "It was good!" Jason said. "I've seen a few videos beforehand where people were saying it's really painful, so I got really scared, but the sensations I felt really turned up the immersiveness of the gameplay. I highly recommend."
I watched other foolhardy CES 2023 attendees test the VR haptic suit who turned the intensity level all the way up to 10, and I watched their faces wince in pain. One tester named Merrick Greene (he's at the helm of a YouTube channel called VRLink) shouted in shock when he felt a gunshot pierce his shoulder.
Jason, on the other hand, seemed relatively unfazed, but keep in mind that his intensity levels were between six and seven.
Bottom line
OWO's VR haptic suit, officially called OWO Skin, is currently available for pre-order on its official website. It has a price tag of about $425.
For now, there's only a short-sleeve suit available, but an OWO rep told us that they're planning on launching a long-sleeve version in the coming months.
The OWO app is compatible with Android, iOS and even Windows. OWO Skin has a battery life of about eight hours. The suit features a USB-C cable in the pocket area that can be hooked up with a battery pack (yes, this ships with the VR haptic suit). If you're curious about how OVO Skin syncs up with VR games, you're in luck because I asked. "It uses Bluetooth!" an OVO rep replied.
I truly believe that haptic gaming systems like OWO Skin will eventually become a staple in VR gaming in the coming years, allowing us to further blur the lines between reality and simulated worlds.
Stay in the know with Laptop Mag
Get our in-depth reviews, helpful tips, great deals, and the biggest news stories delivered to your inbox.
Kimberly Gedeon, holding a Master's degree in International Journalism, launched her career as a journalist for MadameNoire's business beat in 2013. She loved translating stuffy stories about the economy, personal finance and investing into digestible, easy-to-understand, entertaining stories for young women of color. During her time on the business beat, she discovered her passion for tech as she dove into articles about tech entrepreneurship, the Consumer Electronics Show (CES) and the latest tablets. After eight years of freelancing, dabbling in a myriad of beats, she's finally found a home at Laptop Mag that accepts her as the crypto-addicted, virtual reality-loving, investing-focused, tech-fascinated nerd she is. Woot!