Samsung Galaxy S21 is $200 cheaper than the S20 — Here is what you give up
Samsung's $200 price cut on the Galaxy S21 forced tradeoffs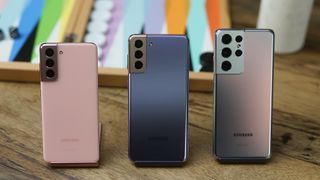 (Image credit: Future)
The Samsung Galaxy S21 announcement held few surprises for those who've been paying attention to our coverage of leaks and rumors. But one detail that remained uncertain heading into the launch was the price.
There were a number of credible rumors suggesting that some kind of price drop was coming. However, it still came as a surprise when Samsung announced it was slashing Galaxy S21 prices by $200 across the board. While it would be nice to assume that Samsung did that out of the kindness of its heart, that's simply not reality.
Here's a look at what Galaxy S21 buyers are giving up in exchange for that $200.
No charger in the box
You'll notice the first change about the Galaxy S21 before you even take out the phone. That is, the charger is gone from the box (as was rumored). Despite taking Apple to task for the same move just a few months ago, Samsung has followed suit and includes just the phone and a USB Type-C-to-USB Type-C cable.
This isn't a surprise, particularly in light of the steep price drop, but it's still a bit disappointing. While Android users are more likely to have a USB Type-C charger around, it's now a given. If you want to take advantage of the full fast charging of the Galaxy S21, you'll need a 25W charger. Samsung is now offering its own 25W charger for $20 rather than its typical $35 which, coupled with the price drop on the phones, definitely takes some sting out of the omission.
Plastic back versus glass
This applies to the standard Galaxy S21 alone, but the premium glass back of the Galaxy S20 has been traded in for a plastic back like the Galaxy S20 FE. This is a change that I imagine will elicit responses ranging from "Who on earth cares?" to "I will never buy a plastic phone!" I fall closer to the former camp, but I do understand the latter position.
At $799, you are still very much in the realm of flagships with the iPhone 12, so it's frustrating to feel corners were cut on the build quality of your premium phone. My arguments for why it doesn't particularly matter is that you are probably going to put a case on it anyway and that it is still both durable (perhaps more so actually) and feels fine in your hand.
Ultimately, if you can't live with it, you can upgrade to the Galaxy S21 Plus, which will get you a glass back along with a much larger battery.
Lower display resolution
The Galaxy S21 and Galaxy S21 Plus both lose the WQHD+ (1440 x 3200) resolution of their predecessors and drop to FHD+ (1080 x 2400) resolution. Once again, there is likely to be a serious divide on the responses to this decision with some users loving the high-resolution pixel peeping and others either not caring or preferring the lower resolution.
Samsung points to the majority of users sticking to FHD+ on the Galaxy S20 models last year (a requirement if you wanted to enjoy the 120Hz refresh rate) as evidence that this isn't a big loss for most. I think Samsung is correct in this case. However, it's worth noting these phones were in development before Samsung could have really had the data to back that up.
It isn't all bad news on the display front; you are no longer locked to a 120Hz refresh rate. Both the Galaxy S21 and S21 Plus now offer adaptive refresh rates from 48Hz up to 120Hz depending on the content on your screen. This should give a solid boost to battery life without sacrificing display performance.
No microSD card slot
I can't picture an argument in favor of this one, and I'm not sold on the notion that it can represent a significant cost saving for Samsung, so this is the first trade-off that just feels like a potential method to upsell users to a higher storage tier.
Samsung at least starts at 128GB versus 64GB for the iPhone 12, so that should be sufficient for the majority of users who don't take an abundance of photos and video, but the microSD card slot was always a nice option to have with Samsung. Particularly as microSD prices have dropped in recent years, knowing you could give your smartphone a new lease on life by dropping in a 256GB or 512GB card for $30 to $60 was a comforting thought.
Reduced RAM
The Galaxy S21 and Galaxy S21 Plus both feature 8GB of RAM, down from 12GB in the Galaxy S20. Again, there's no way for Samsung to spin this as a positive; the best case you could make is that 12GB was unnecessary and that Android is sufficiently optimized to get by on 8GB just fine.
There is probably some validity to that argument as we've seen plenty of Android smartphones that performed well with 8GB and, of course, the standard iPhone 12 has only half of that. But backsliding on a spec is never going to feel great. The proof will come when we get our hands on the phone and seeing how it handles multitasking and other jobs that are dependent on available RAM.
No Magnetic Stripe Technology (MST) support
If you are wondering what on earth MST support is, then you probably won't miss this one, but for fans, it is a big loss. This was the feature that allowed Samsung Pay users to pay with their smartphones at any standard magnetic stripe payment terminal. Particularly in the US where the adoption of NFC payment terminals has been slow and inconsistent, this feature offered peace of mind that your digital payment method would work virtually anywhere you went.
NFC adoption has picked up considerably over the last year or two, but there's no way to categorize this as anything other than a loss; it was a clear-cut advantage over its competitors that is now gone.
Bottom line
So, taking all of these changes into consideration, have Galaxy S21 buyers given up too much in exchange for that $200 price drop? I don't believe so. Many of these sacrifices will not be felt in any meaningful way by the vast majority of Galaxy S21 buyers, and that's precisely what Samsung is banking on.
I have no doubt there are vocal Galaxy S fans that will disagree vehemently with that position, but the reality is that this smartphone is designed to appeal to the broadest audience possible and none of these changes impact that audience. Most people don't use microSD card slots, make payments using MST, change their default resolution or care about their phone's construction beyond its durability. RAM is the one downgrade that could come back to bite them, but we don't know how much of a problem that will be.
If you fall into the camp that hates all of these changes, you basically have two options. One is to pick up one of the Galaxy S20 models, which are substantially discounted at this point. If you get the Galaxy S20 and Galaxy S20 Plus, with the exception of the redesign and the Snapdragon 888 processor, you are actually gaining features by purchasing the older models.
The second option is to go with the Galaxy S21 Ultra. You still lose microSD, MST support and a charger, but you are gaining a dramatically improved camera system along with the Snapdragon 888 chipset while retaining the same RAM as last year and the durable Gorilla Glass Victus.
In the end, I think Samsung made the right decision with the Galaxy S21 as the savings outweigh the losses for most buyers.
Stay in the know with Laptop Mag
Get our in-depth reviews, helpful tips, great deals, and the biggest news stories delivered to your inbox.
Sean Riley has been covering tech professionally for over a decade now. Most of that time was as a freelancer covering varied topics including phones, wearables, tablets, smart home devices, laptops, AR, VR, mobile payments, fintech, and more. Sean is the resident mobile expert at Laptop Mag, specializing in phones and wearables, you'll find plenty of news, reviews, how-to, and opinion pieces on these subjects from him here. But Laptop Mag has also proven a perfect fit for that broad range of interests with reviews and news on the latest laptops, VR games, and computer accessories along with coverage on everything from NFTs to cybersecurity and more.