How to watch Xbox's Gamescom 2021 showcase
Xbox's latest Gamescom will feature updates on 2021 games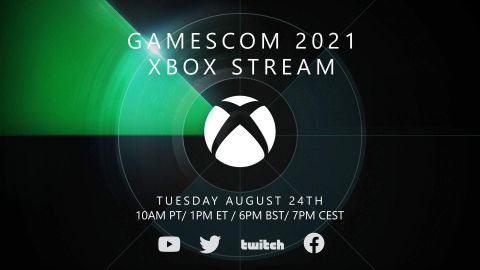 (Image: © Microsoft)
Xbox's Gamescom 2021 is going live today with a showcase that is set to run for 90 minutes. We already know Dying Light 2 will make an appearance at the show, but beyond that, it's a mystery.
Aaron Greenberg did set expectations by claiming there would be "no new reveals or major surprises." Instead, the event will feature updates on the games coming to the Xbox platform this year.
How to watch Xbox's Gamescom 2021
Xbox's Gamescom 2021 is available to stream through Twitch, YouTube, Facebook Gaming, and Twitter. The event begins at 10am PT/1pm ET and is set to run for 90 minutes. Xbox promises we'll receive updates on games coming this Holiday, along with new things to look forward to on Xbox Game Pass.
Refresh
Xbox's Gamescom 2021 show is set to start in a couple of hours. Anything could happen, but expectations should be limited to games launching this year. We'll more than likely see more footage of Halo Infinite and Forza Horizon 5, but beyond this, it's anyone's guess.
Xbox's Gamescom 2021 has begun! The event is opening with a presentation from Techland about Dying Light 2: Stay Human. We got to see how the player can utilize the game's parkour and combat system to creatively overcome obstacles. Dying Light 2: Stay Human launches on December 7.
Xbox's Gamescom 2021 is dedicating some time towards Microsoft Flight Simulator, which is now available on Xbox Series X|S and Windows PC. There's also a free Top Gun crossover with Microsoft Flight Simulator that is set to launch later in the year. Additionally, the game's World Update 6, which is focusing on areas in Germany, Austria and Switzerland, is launching September 7.
Xbox Game Pass is getting a slew of new games through a new partnership with Humble Games. These games include Archvale, Next Space Rebels, Midnight Fight Express, Dodgeball Academy, Bushiden, Flynn Son of Crimson, Unpacking, Signalis, Unsighted, and Chinatown Detective Agency.
Xbox showed off a game called Into the Pit, which is a first person shooter where the player battles off against demonic entities throughout a dark world. It's coming to Xbox Game Pass on October 19.
Xbox showed off more of Age of Empires IV. We were shown a video detailing how a trebuchet works, with more videos like this watchable within the game itself. These tidbits exist with the goal of teaching fun history lessions to the players. Age of Empires IV is set to launch on October 28.
Cult of the Holy Detonation is the latest DLC for Wasterland 3. It revolves around battling mutated creatures, each of which belong to one of two cults fighting for domination of a powerful technology. It promises some of the "raddest" boss battles found in a Wasteland title. It launches on October 5.
Sea of Thieves is receiving a brand new collaboration with Borderlands. This includes a ship called the Mayhem, and that's pretty much it. It'll be available starting tomorrow.
State of Decay 2 is receiving an update featuring a new map. It's called State of Decay 2 Homecoming and launches on September 1.
Stray Blade received a trailer, with a launch date sometime in 2022. It's a hack-n-slash action RPG that takes place throughout an overgrown forest.
Crusader Kings III is coming to Xbox Series X|S. The grand strategy game received critical acclaim, and it will be refined for controllers to optimize the feeling of its gameplay.
Psychonauts 2 received a launch trailer at the show, structured in the style of a James Bond theme song parody. The game comes out tomorrow.
Xbox's Gamescom 2021 revealed a new trailer for The Gunk, in which the player explores an alien planet corrupted by "gunk." Combat this mysterious substance and bring the planet back to its beautiful form.
Forza Horizon 5 is receiving a new custom controller, with a transparent yellow shell and pink-blue paint splotches strewn across it. It'll launch on November 9 alongside the standard edition of Forza Horizon 5.
Xbox's Gamescom 2021 featured eight minutes of Forza Horizon 5 gameplay. Players could be seen speeding across snowy mountains, desert terrains, an active volcano and plenty of other gorgeous vistas. You can even drive through a sandstorm!
Stay in the know with Laptop Mag
Get our in-depth reviews, helpful tips, great deals, and the biggest news stories delivered to your inbox.
Thank you for signing up to Laptop Mag. You will receive a verification email shortly.
There was a problem. Please refresh the page and try again.