Ghostbusters: Rise of the Ghost Lord — trailer and release date revealed at the Meta Quest Gaming Showcase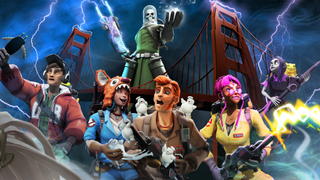 (Image credit: Sony Pictures VR / nDreams)
When I was but a boy I wanted to grow up to be one of two things: a pirate or a Ghostbuster. Let's just say I might've gained some experience with the former on my own personal voyages across the digital Seven Seas. However, the latter is something that's eluded me to this day — with the closest I've come to fulfilling that dream being the time a light turned itself on in my family home when I was 10 and I sat curled up in the fetal position at the top of the stairs until an adult came home to save me from an incredibly spooky case of poor wiring.
So imagine the little spark of hope illuminating my otherwise dark and cynical soul with Meta having just announced that Ghostbusters: Rise of the Ghost Lord for Meta Quest 2 and Meta Quest Pro is heading our way. Finally, regular schlubs like you and I can live out our dreams of being paranormal-pest-exterminating schlubs with unlicensed nuclear accelerators strapped to our backs.
Ghostbusters: Rise of the Ghost Lord overview
Ghostbusters: Rise of the Ghost Lord
Developer: nDreams Ltd.
Publisher: Sony Pictures Virtual Reality
Platform(s): Meta Quest 2, Meta Quest Pro
Players: 1-4 players
Release Date: Fall 2023
Price: TBD
Strap on your Proton pack, whip out your PKE meter, and continue a ghost-busting legacy through an extensive campaign spanning the city of San Francisco. Track, blast, and trap spirits and specters as you and your friends take the helm of a new Ghostbuster's HQ in the City of Love.
We've had Ghostbuster games before and some, like 2009's fantastic Ghostbusters: The Video Game, have done a great job of letting us feel a part of the action — but now you can be the Ghostbuster you've always wanted to be in fully-immersive VR. Go solo or with up to three friends as you head up and down the hills of San Francisco, facing off against the Ghostbuster's biggest threat to date — the Ghost Lord.
Unravel the mystery of Gustav Hookfaber — a once-promising scientist turned supernatural supervillain who has an axe to grind against our favorite Casper capturers. Get to grips with iconic Ghostbusters gear and upgrade your tools to face an ever-present threat as you unearth the Ghost Lord's grand plan for the City by the Bay before it's too late.
Ghostbusters: Rise of the Ghost Lord trailer
Ghostbusters: Rise of the Ghost Lord release date
It feels like forever since we got our first look at Ghostbusters: Rise of the Ghost Lord at last year's Meta Quest Gaming Showcase. However, Sony Pictures VR and nDreams are finally looking set to deliver the definitive Ghostbusters experience to Meta Quest 2 and Meta Quest Pro VR headsets in the Fall of 2023.
Make sure to wishlist Ghostbusters: Rise of the Ghost Lord today, and be the first in line for the latest updates as they arrive.
Stay in the know with Laptop Mag
Get our in-depth reviews, helpful tips, great deals, and the biggest news stories delivered to your inbox.
Rael Hornby, potentially influenced by far too many LucasArts titles at an early age, once thought he'd grow up to be a mighty pirate. However, after several interventions with close friends and family members, you're now much more likely to see his name attached to the bylines of tech articles. While not maintaining a double life as an aspiring writer by day and indie game dev by night, you'll find him sat in a corner somewhere muttering to himself about microtransactions or hunting down promising indie games on Twitter.