Brits seek bigger bite of the Apple in class-action suit over "excessive" App Store fees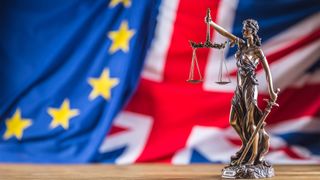 (Image credit: iStockPhoto)
Apple is facing a Brit backlash over its App Store fees after a class action lawsuit has been brought against the Cupertino company by over 1,500 U.K. app developers.
Apple's 15-30% commission on all purchases on the platform (both in-app and direct sales) has been an ongoing point of contention, drawing the ire of many developers for years and even resulting in Epic Games pulling Fortnite from the App Store entirely out of protest.
More App Store woes for Apple
The lawsuit led by the University of East Anglia Professor Sean Ennis, claims that Apple is abusing its monopoly as the only distributor of apps to iPhone and iPad platforms, engaging in "abusive pricing" that "harm app developers and also app buyers."
If successful, the group litigation could see Apple forking out £800 million ($1 billion+) in compensation to affected parties. As an opt-out suit, potential winnings would then be split across all U.K. developers proportionately depending on how affected they're been by Apple's practices.
A similar suit was filed by French app developers within the last year, also citing Apple's service fees on purchases. This all comes at a time when Apple is already facing fire from all sides over anti-trust issues and anti-competitive practices from regulators the world over. And where its storefront policy isn't being brought into question, its iPhone design decisions are.
The mounting pressure on Apple is likely one of the primary motivators for its capitulation to the EU's Digital Markets Act which would see its platforms opened to allow sideloading and App Store competition — with both Meta and Microsoft eagerly awaiting the opportunity to set up shop on iOS and Android platforms when the bill comes into effect in 2024.
Outlook
Apple's lawyers are working overtime trying to fend off suits pertaining to its storefront's practices. While 2024 could see changes made to iOS and iPadOS platforms to avoid these issues in the future — Apple's history of excessively profiteering from developers could have them tangled up in litigation for years to come.
Stay in the know with Laptop Mag
Get our in-depth reviews, helpful tips, great deals, and the biggest news stories delivered to your inbox.
Rael Hornby, potentially influenced by far too many LucasArts titles at an early age, once thought he'd grow up to be a mighty pirate. However, after several interventions with close friends and family members, you're now much more likely to see his name attached to the bylines of tech articles. While not maintaining a double life as an aspiring writer by day and indie game dev by night, you'll find him sat in a corner somewhere muttering to himself about microtransactions or hunting down promising indie games on Twitter.