Thank EU very much! — Meta and Microsoft plan DMA alternatives to Google and Apple's app stores
Net neutrality? I want app neutrality!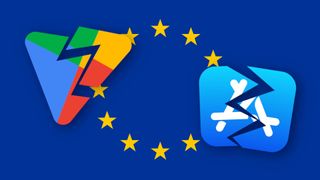 (Image credit: Laptop Mag / Rael Hornby)
When the EU isn't busy demanding Apple make 10-year old Android phones, it enjoys long walks on the beach, and shrouding the digital economy in more red tape than a dance around a Marxist maypole.
The European Union's latest hosing of bureaucratic silly string comes by way of the Digital Markets Act (DMA), a series of regulations designed to let smaller entities compete on a fair playing field with the reigning mobile "duopoly" of Google and Apple. However, two of those 'smaller entities' just so happen to be social media giant Meta and tech titan Microsoft.
Meta and Microsoft to end Google and Apple's app neutrality "duopoly"
Meta and Microsoft have ambitions of launching their own app stores on Android and iOS/iPadOS devices after the European Union identified Google and Apple as "gatekeepers" of the digital mobile marketplace – all but ensuring they will be required to open up their platforms to competition under the Digital Markets Act.
According to The Verge, Meta is already planning to let people in the EU download apps from within Facebook before eventually competing with the Google Play Store and Apple App Store directly. Meta plans to pilot the feature later this year, whereby a new type of advertisement will offer direct downloads of apps – circumventing the stock app store on Android and iOS/iPadOS devices entirely.
Meta is currently selling the idea to developers as a way of improving conversion rates from paid ads, with the company further stating that Facebook won't take a cut from any in-app purchases that follow. That's a pretty impressive and hard to turn down pitch, especially as both Google and Apple both take a 15-30% cut from any sale or in-app purchase made from apps hosted on their stores.
While Meta is eager to throw its hat into the ring, Microsoft is being a little more cautious. A report by Ars Technica earlier in the year saw Phil Spencer, chief executive of Microsoft Gaming, mention that much of Microsoft's immediate plans for launching a mobile app store of its own rely heavily on the outcome of its current tug of war with regulators in the US, EU, and UK over its pending acquisition of Activision Blizzard.
Spencer referred to Microsoft's current lack of mobile games as an "obvious hole" in its capability to provide such a service, though, should the pending acquisition complete then massively popular Activision Blizzard titles like Call of Duty Mobile and Diablo Immortal would be ideal candidates.
However, Spencer was also keen to point out that adapting its current Xbox and Game Pass apps to be able to sell games or subscriptions on mobile would be "pretty trivial" as well as indicating that being able to circumvent the Apple App Store could give Microsoft the chance to deliver cloud gaming services to mobile devices in full force.
While unwilling to share when such steps would be made, Spencer did double down on Microsoft's intentions, adding "We want to be in a position to offer Xbox and content from both us and our third-party partners across any screen where somebody would want to play."
Outlook
Some would say that the EU's DMA is a great win for all, I would say that this opens the floodgates to the same annoyances many of us have with modern day TV. Previously, all you really needed was the right cable package to access the programs you want. Now you need to sign up to a multitude of different services to make sure you're keeping up to date with your favorite shows.
Netflix, Amazon Prime Video, Disney+, Hulu, Apple TV+, HBO Max. The list is so unsettlingly long and ever-expanding that I dread to think how many app stores we'll need to install at any given time to ensure we have access to the services we want. A labyrinth of apps to trawl through, spending hours of your precious living moments just to find which app will let you stream Robocop for the cheapest price.
Will the future of smartphones and apps now parallel that of desktops? With Ubisoft Connect, Epic Games, Microsoft, Meta, Amazon, EA, and Steam all vying for dominance of our phones and tablets – hoarding timed-exclusives on their individual app stores and keeping first party games encased in walled gardens?
If you ask me, and you didn't, then I'd say that somebody needs to tell the big-wigs of Brussels that it's about time to mind Eurown business.
Stay in the know with Laptop Mag
Get our in-depth reviews, helpful tips, great deals, and the biggest news stories delivered to your inbox.
Rael Hornby, potentially influenced by far too many LucasArts titles at an early age, once thought he'd grow up to be a mighty pirate. However, after several interventions with close friends and family members, you're now much more likely to see his name attached to the bylines of tech articles. While not maintaining a double life as an aspiring writer by day and indie game dev by night, you'll find him sat in a corner somewhere muttering to himself about microtransactions or hunting down promising indie games on Twitter.