Apple Glasses may look to steal the (digital) crown from Apple Watch
Apple loves its Digital Crown design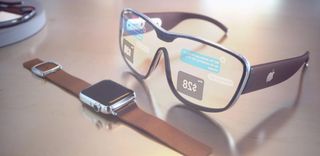 (Image credit: Apple)
Apple's AR Glasses are a bit elusive at the moment. If you're unfamiliar with the product, the AR Glasses are meant to replace traditional glasses as a smart wearable, allowing you to view map directions, your calendar, and more through the lenses rather than on your smartphone. If it's successfully produced, Apple AR Glass could be a groundbreaking advancement for smartglasses.
We initially thought Apple may officially announce them at a 2020 Apple Event, but to date, we still only have Apple Glass rumors to go on. Things were quiet until earlier this year when a reliable Apple analyst suggested a potential release date of 2026 or 2027.
Fast forward to the present, where we're now checking out a newly granted patent from Apple that shows Digital Crown controls for Apple's potential AR Glasses—controls that resemble those on the Apple Watch. Let's dive into what exactly the patent says, and what it suggests about the future of Apple Glass.
What this patent suggests about Apple Glasses
Any new patent we see from Apple, whether it's just been filed or granted, indicates that Apple has thoughts about a product or feature. There's no guarantee a product or feature shown in a patent will ever be released, but it tells the public that Apple is fleshing out ideas in an attempt to potentially bring a product or feature to life.
This recently granted patent touches on a wide range of potential control methods for Apple's head-mounted devices. A few of the patent illustrations, Figures 8A and 8B, clearly resemble Apple Glasses and the patent text refers to them as "smart glasses."
The patent reads "FIG. 8A shows a side view of an operation of an HMD [head-mounted device]. Again, as used herein, the term HMD can include smart glasses." In Figure 8A, the 850 label points to the smart glasses, while 860 points to the frame and 854 points to the user interface.
Apple's patent goes on to state that 820 labels an input device that "can be substantially similar to, including some or all of the features of, the input devices of... 220." In the patent PDF, 220 labels the Digital Crown input device on an Apple Watch. So controlling the future Apple Glass could feel very similar to controlling the familiar Apple Watch.
The company also borrowed this Digital Crown button design from the Apple Watch for its newly announced Vision Pro headset, so it seems highly plausible that the technology could transfer over to Apple Glasses as well.
Figure 8B is an extension of 8A, detailing what the user interface on smart glasses might look like. 803 labels the user interface as a whole, while 805 points to app icons resembling those you'd see on your smartphone or smartwatch.
The patent states "input by a user's finger 824 at the input device 820 can cause the applications to move or change," and that input could be "a swipe, a rotation, a tilt, or combinations thereof," similar to the Apple Watch. Unique to Apple's potential smartglasses would be a second input that could come from a gaze-tracking camera (858) detecting when a user looks at a specific icon (813).
As always, patents filed by Apple or even granted patents don't indicate a product or feature is going to come to fruition, but we're hopeful this news means Apple's still working on its AR Glasses. Check out all the most recent Apple Glass rumors to get up to speed.
Stay in the know with Laptop Mag
Get our in-depth reviews, helpful tips, great deals, and the biggest news stories delivered to your inbox.