7 ways Samsung could be putting the Galaxy Z Flip 5's cover screen to great use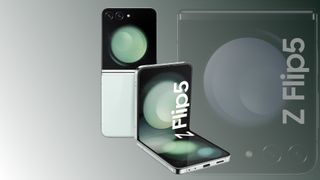 The Samsung Galaxy Z Flip 5's larger, folder-shaped cover screen is just one of the many leaks we've seen spring up ahead of Samsung's Galaxy Unpacked event later this month. One of the more recent tidbits of information highlights the cover screen's widgets — small-scale interactive apps that give quick access to the phone's wider features.
While this was something not so easily done with the Z Flip 4 and its much smaller 1.9-inch external display, the Z Flip 5's reported 3.4-inch cover screen design has plenty of room for Samsung to experiment with.
Widge one will you go with?
Leaked images from Roland Quandt on Twitter appear to show off a number of widgets the Z Flip 5's cover screen will feature, giving us a better look at how Samsung intends to use all that extra screen real estate when the foldable launches later this year.
So, just what will those lucky enough to be able to pull Samsung's foldable from their pocket find staring back at them? The leaked image apparently showcases seven ways the cover display will be put to good use.
1. Custom dashboards
One of the tiles highlighted in the leaked image seems to indicate a personalized dashboard or home screen as one of the main options you can set your cover screen to show.
The dashboard features a custom background and frame alongside the current time, battery level, and a few shortcuts to quickly access the foldable's camera. If we had to put money on it, we'd assume that this is the cover displays default look with other tiles replacing it or accessed through it.
2. The weather widget
The weather widget is found on almost every device out there and it seems that the Galaxy Z Flip 5 will be no different. With quick access to the latest forecast for your area, you'll be able to sidestep showers and plan your day with ease.
The screen appears to show much of what you'd expect from a weather widget, including the current forecast in detail followed by a by-the-hour run down of what to expect throughout your day. Scrolling further down would likely reveal a wider 7-10 day forecast as found in similar apps.
3. A photo gallery
The central focus of the leaked image appears to show what could be a quick-access photo gallery for browsing through your favorite shots or quickly showcasing some holiday snaps to others.
Judging by the UI on show, you'll be able to swipe left and right to cycle through photos or presumably tap the down arrow and choose between different galleries or pictures to highlight.
4. Digital wallets
One of the more interesting widgets on display appears to be that of a digital wallet that gives quick access to saved coupons, tickets, cards, and more.
The highlighted tile shows a widget storing boarding pass information which frequent fliers will no doubt find incredibly handy, but it also seems to feature a place to stash coupons and even membership or loyalty cards for quick access or scanning while out and about.
5. Quick notifications
Another tile showcases a more traditional notifications screen listing recent calls and messages so you can quickly check your activity without opening the device.
The widget is fairly standard and a staple of modern lock screens, but the Z Flip 5's larger display means there's more information on show and less scrolling required to check out everything you might've missed while the device was pocketed.
Judging by the screenshot you'll also be able to quickly return calls without opening the phone, much like the Z Flip 4's ability to carry out calls while the device is closed through the loudspeaker or a hands-free device.
6. An on-screen keyboard
The Z Flip 5's more expansive screen means you won't even have to open the phone to write or reply to messages. Looking at another tile from the leaked image showcases an on-screen keyboard to help dive straight into replies while the phone is closed.
The tile showcases a decent-sized keyboard for the space available, with a conversation in progress so you can see and scroll through messages when not directly replying. It's a great use of the additional screen space and it's a feature many foldable fans have been calling for as cover displays have grown in scale.
7. Calendars and events
The final tile shows off a full-sized calendar with an events panel to the side so you can keep track of your schedule at a single glance.
For those terminally on the go and bouncing back and forth between meetings, it's essential to know what's on the horizon — having that information to hand in an instant will no doubt prove incredibly useful for some.
Outlook
Samsung's Galaxy Z Flip 5's larger cover screen opens up countless possibilities about how it can be put to use. Much of what this leak has shown us revolves around widgets, but a recent rumor suggests that a wider selection of Samsung and Google apps will be optimized to make use of the Z Flip 5's 3.4-inch display including both Google Maps and YouTube.
We won't know for sure how Samsung plan to make use of the Z Flip 5's new screen dimensions until Samsung reveal it all themselves later this month during the Samsung Galaxy Unpacked event on July 26, 2023. Until then, keep your eyes peeled to Laptop Mag for the latest news on all things Samsung and tech.
Stay in the know with Laptop Mag
Get our in-depth reviews, helpful tips, great deals, and the biggest news stories delivered to your inbox.
Rael Hornby, potentially influenced by far too many LucasArts titles at an early age, once thought he'd grow up to be a mighty pirate. However, after several interventions with close friends and family members, you're now much more likely to see his name attached to the bylines of tech articles. While not maintaining a double life as an aspiring writer by day and indie game dev by night, you'll find him sat in a corner somewhere muttering to himself about microtransactions or hunting down promising indie games on Twitter.