Got an overloaded web browser? Here's how to fix it
Workspaces on your browser can help you easily organize and multitask between dozens of tabs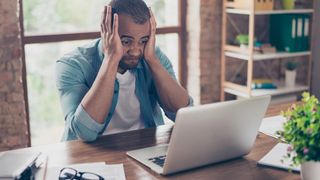 (Image credit: Shutterstock)
The rows of tabs on our browsers are a mess. Grouping them doesn't help either: a tab group continues to take space even when we don't need it and managing more than a couple of them is close to impossible in the already cramped row. Juggling between numerous windows isn't convenient either. What if you could have desktop-like workspaces on your browser instead?
Why you need workspaces on your browser
We spend more time on our browsers than ever. So it's only natural that we use pro multitasking tools like workspaces to organize not just traditional desktop programs but our tabs as well. Though most mainstream browsers such as Google Chrome and Mozilla Firefox don't yet offer workspaces, it's possible to replicate the experience with third-party extensions. Several other browsers like Microsoft Edge also now come with this facility by default.
With workspaces, not only is it easier to multitask, but they also help cut down on clutter and allow us to focus on just the tabs we need at the moment. You can separate your projects into their own workspaces -- one for your work web apps like Slack and email, another housing hotel and flight links for a vacation you're planning, or a list of articles you intend to read later -- and switch across them without losing track. Here's how to set up workspaces on your browser.
Creating Workspaces on Different Browsers
On Google Chrome and Chromium browsers like Brave, a free add-on appropriately called "Workspaces" builds upon the existing tab grouping feature so that it works more like a workspace.
Instead of dealing with all your tab groups in the same row at the top, this extension launches them in new windows. You can then switch between them from a central panel as opposed to checking each manually to find the group you're looking for. Plus, "Workspaces" automatically minimizes the windows except for the one you're working on so that your desktop isn't overwhelmed.
If you're familiar with how tab groups function, there's not much learning curve to "Workspaces" either. You can name and color-code your tab workspaces and move tabs to a particular workspace simply from the right-click menu. Since it takes advantage of the tools already available on your browser like tab groups and windows, it's lightweight and doesn't affect your device's performance at all.
You can download "Workspaces" on any Chrome-based browser like Vivaldi, Edge, Brave, and of course, Google Chrome.
Google Chrome
The "Workspaces" add-on is rather barebones. For a more complete workspace experience on your browser, you'll need Workona.
The "Workspaces" add-on is rather barebones. For a more complete workspace experience on your browser, you'll need Workona.
Workona allows you to manage and build several workspaces right inside a single browser window. It pins a dashboard tab at the top left corner, from where you can create new projects, move your tabs around, and hop between them without leaving the window. When you select a workspace, it populates the row with its tabs, and if you switch to another, it replaces it instantly. There's also a universal search bar that comes in handy when you've got far too many tabs and workspaces.
Workona offers a handful of more perks that let it essentially act as an OS for your online life. You can integrate cloud services like Google Drive and Zoom, and organize your files, tasks, and meetings into workspaces so that you can access all items associated with a project from one place instead of visiting each website individually.
Workona is available for Chrome-based browsers and Mozilla Firefox.
Microsoft Edge
On Microsoft Edge, you no longer need an add-on to sort your tabs in workspaces. You can think of Edge's Workspaces as a more intuitive way to handle your tab groups.
Instead of forcing you to manage a bunch of tab groups in the same row, Edge's workspaces keep them in separate windows, and allow you to comfortably multitask across them with a dedicated new option at the top left corner. You can also share your workspaces with other Edge users and enable them to add their own tabs to it and visit yours. While it's mostly meant for enterprises, workspace sharing can be useful when you are, say, collaborating on planning an event with someone.
At the time of writing, Edge's workspaces tool was only available in public preview. If you'd like to give it a shot, you can sign up for it from this link.
Safari
Safari's tab groups behave like workspaces and therefore, you don't need any extra add-ons to improve them. The tab groups you form on Safari live on their own side panel and unlike other browsers, don't crowd your line of tabs. You can reveal that panel by clicking its button at the top left corner and you can create a new group with the plus icon. To visit a group, all you have to do is select its name in the side panel, or you can check out the tabs it houses with the downward arrow button next to it.
To access tab groups on Safari, your Mac must be at least on the Catalina update.
Vivaldi
Third-party extensions don't always work as intended and their experience can be choppy especially when your device is loaded with dozens of tabs. So if you're sold on the idea of browser workspaces but need a more solid platform for them, it may be worth looking at apps that come preloaded with them. The two browsers with workspaces we recommend are Vivaldi and Arc. Both of them are based on Chromium and offer extensive tools to customize your many workspaces.
Stay in the know with Laptop Mag
Get our in-depth reviews, helpful tips, great deals, and the biggest news stories delivered to your inbox.
Shubham Agarwal is a freelance technology journalist from Ahmedabad, India. His work has previously appeared in Business Insider, Fast Company, HuffPost, and more. You can reach out to him on Twitter.