I hate Microsoft's Xbox Series X redesign, but this new Elite-like controller has my attention
Looks a bit sillylindrical, to me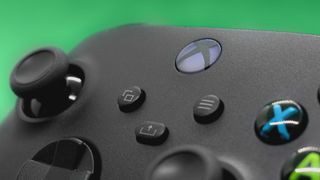 (Image credit: Laptop Mag / Rael Hornby)
Accidentally released court documents from the FTC vs. Microsoft court case have revealed the tech giant's plans to refresh its Xbox Series S|X lineup. The newer Xbox Series X model, reportedly set to launch in November of 2024, does away with its disc drive — which could slash the machine's current $499.99 price tag and make the world's most powerful console more accessible to all.
The only tradeoff? It looks like a Scandinavian bin. The leaked documents show the refreshed Xbox Series X, codenamed "Brooklyn," sporting an all-new cylindrical body. However, far from looking sleek, sexy, and stylish the Xbox Series X's trypophobia-triggering top now makes it look like the world's priciest reed diffuser — ready to calm your gamer edge with the soothing scent of essential oils. Sadly, even if this is the case, not even a built-in air freshener could stop the Xbox's first-party game library from stinking up the room.
Something of note...
To those like myself, feeling somewhat disappointed in the new Xbox Series X design, fear not! In the immortal words of that hairy little Star Wars snot gremlin: "There is another."
Among the leaked documents are Microsoft's plans to release a new Xbox Controller with huge improvements to haptics, motion control, battery, and connectivity while featuring Elite-like customization.
The new controller, codenamed "Sebile," features a two-tone design with identical ergonomics and layout to the current Xbox Wireless Controller (known internally as "Merlin"). However, while most Xbox Wireless Controller upgrades do little more than fine-tune the peripheral's much-adored design and feature set, Sebile is a true overhaul that leaves almost nothing untouched in the quest to deliver the best game controller to market.
Sebile — The new Xbox Wireless Controller
Immersion and connectivity are paramount for Microsoft when it comes to its new controller. Not only will the gamepad feature a motion-sensing accelerometer, but it will also include quieter buttons and thumbsticks, precision haptic feedback, and "VCA haptics that double as speakers." Think subwoofer in your hands for that last part.
Sebile's improvements to connectivity include Xbox Wireless 2 and Bluetooth 5.2 compatibility. However, it's the inclusion of Direct-to-Cloud tech that gives us our best glimpse into what Microsoft has in mind for the future of its wireless controller.
As it stands, from what we know about the upcoming controller, it looks to incorporate some of the best parts of the Amazon Luna and PlayStation 5's DualSense Controller. Sprinkle in some of the Xbox Elite Controller's best features like a rechargeable battery and modular thumbsticks and you have the kind of refresh that Xbox and PC gamers have been longing to see from Microsoft's controller for years.
Outlook
According to the documents, Microsoft's Sebile controller is expected to be announced early in 2024 for a price of $69.99 — a noticeable but fair $10 increase on the current controller's MSRP.
It's high time the Xbox Wireless Controller gave us more than a simple refinement, and it looks like Microsoft has had plans to do just that for some time. However, as with all leaked information, nothing can be said for sure until we get official word from Microsoft themselves. Plans change, and there's no guarantee that Sebile is on track for the 2024 release mentioned in the documents.
That being said, if it is, we could be looking at an impressive upgrade for Xbox owners, and one of the best PC controllers to date.
For breaking news and updates on all things Xbox and Microsoft, follow Laptop Mag on Twitter, Facebook, and Flipboard for the latest word as it arrives.
Category
Back to Gaming Laptops
Brand
Processor
RAM
Storage Size
Screen Size
Colour
Condition
Price
Stay in the know with Laptop Mag
Get our in-depth reviews, helpful tips, great deals, and the biggest news stories delivered to your inbox.
Rael Hornby, potentially influenced by far too many LucasArts titles at an early age, once thought he'd grow up to be a mighty pirate. However, after several interventions with close friends and family members, you're now much more likely to see his name attached to the bylines of tech articles. While not maintaining a double life as an aspiring writer by day and indie game dev by night, you'll find him sat in a corner somewhere muttering to himself about microtransactions or hunting down promising indie games on Twitter.