The Galaxy Z Fold 4 vs. Pixel 7a — can Google's cheapest phone beat Samsung's priciest?
Can David defeat Goliath?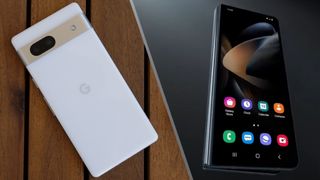 (Image credit: Laptop Mag/Sean Riley / Samsung)
You may be wondering, "Why the heck would you throw the Pixel 7a against the Galaxy Z Fold 4 in the ring?" Well, we couldn't help but wonder what would happen if we pitted one of the costliest consumer smartphones against the greatest budget-friendly handset on the market. (We championed it as "the best phone for most people" in our review.)
The Samsung Galaxy Z Fold 4 is a fascinating foldable feat, urging users to spend top dollar for a foldable phone that is arguably one of the most expensive in the market now.
Is this a strange match-up? Yes. We're practically comparing apples and oranges, but the point is to analyze whether the Galaxy Z Fold 4 can beat the Pixel 7a in at least one category, indicating that no matter how expensive it is, it just may not be the best option for certain consumers.
Surely if you're expected to cough up nearly four times the amount of money, Samsung can deliver a product that is wholly superior, but the truth isn't so simple.
Galaxy Z Fold 4 vs Google Pixel 7a: Price
It's no secret which product is coming out on top in this category, as the Google Pixel 7a is considered to be the greatest value for a smartphone in the market right now. Even if the Z Fold 4 wasn't in a whole different class of phone, the 7a's combination of excellent performance at a surprisingly low starting cost of $499 on Google's website makes it one-of-a-kind.
In contrast, the Galaxy Z Fold 4 starts at $1,799 on Samsung's website for the 256GB model. If you're bold enough to upgrade to the 1TB model, that would cost $2,159, which is more than four times the Google Pixel 7a. It may seem silly to compare the two phones to begin with considering this enormous price gap, but we wondered if the specs justified the cost beyond just its unique features.
Winner: Google Pixel 7a
Galaxy Z Fold 4 vs Google Pixel 7a: Display
The Z Fold 4 is a complicated product, so it technically has three display sizes. Its primary display is 6.8 inches, its secondary display is 6.2-inches, and it's a total of 7.6 inches when the two come together. This full screen comes together to make a 1812 x 2176-pixel AMOLED panel, alongside the Infinity Flex glass, which is what lets it fold so effortlessly. It also features a 120Hz adaptive refresh rate.
The Google Pixel 7a is nowhere near as complex, built with a 6.1-inch, 1080 x 2400 OLED panel that can achieve up to 90Hz. But these base specs aren't the end-all-be-all of display performance, as we must look at just how well they perform individually.
The Google Pixel 7a hit a peak brightness of 1,024 on its HDR setting, which is astounding. The Galaxy Z Fold 4 only managed to get a peak brightness of 870 nits, which is surprising considering the massive price gap.
Winner: Draw
Galaxy Z Fold 4 vs Google Pixel 7a: Design
It's an interesting comparison to put the design of the Pixel 7a up against the Z Fold 4, as the two are seeking to accomplish fundamentally different goals. After all, Samsung created the latter in a unique attempt to achieve a foldable design, resulting in two separate screens. The Pixel 7a obviously cannot accomplish that, but can it compete in other categories.
The Pixel 7a is built with a glass display, aluminum frame and plastic back panel. This is pretty consistent with other Pixel models, so it's not surprising. On the other hand, the Z Fold 4 utilizes a display and back panel made of glass while the frame itself is aluminum.
The Z Fold 4 is unfortunately limited to darker, neutral colors, available in Phantom Black, Beige, Burgundy and, of course, the revolutionary "Graygreen," perfect for people afraid of real color and prefer marginally varied flavors of gray. Google, on the other hand, isn't afraid of entering pastel territory with the Sea and Coral hues, while those who gravitate towards neutral tones can enjoy Charcoal or Snow.
The Pixel 7a comes in at 6 x 2.8 x 0.4 inches and 6.8 ounces, while the Z Fold 4 measures 6.11 x 5.12 x 0.25 inches and weighs 9.3 ounces. It was obvious that the latter would be larger and heavier, so if you want something more portable, stick with the Pixel 7a. If you want higher quality materials and a more unique foldable design, go with the Z Fold 4.
Winner: Draw
Galaxy Z Fold4 vs Google Pixel 7a: Performance
The Z Fold 4 is packed with a Snapdragon 8+ Gen 1, 12GB of RAM, and up to 1TB of storage space. And in the Geekbench 5 performance test, it achieved an impressive multi-core score of 3,831. This is solid, so does Google's cheapest phone stand a chance? No, not really.
The Pixel 7a is packed with the Google Tensor G2 chip, 128GB of storage and 8GB of RAM. With those specs results in an unsurprising result, as it only managed a multi-core score of 3,065. We expected the former to perform better; the Pixel line has always boasted consistently weaker productivity metrics in its processor.
It's worth noting, however, that the iPhone 14 Pro Max, with a starting price of $1,099, has a Geekbench score of 5,333, offers far more performance for your money than the Z Fold 4. In other words, after paying $700 more, you get 40% less performance with Samsung's foldable. Yikes! However, the performance delta (24%) between the Pixel 7a and the Google Pixel Fold 4 isn't that bad, especially if you consider that you're paying $1,300 less.
Winner: Galaxy Z Fold 4
Galaxy Z Fold 4 vs Google Pixel 7a: Cameras
Google's Pixel line has been a leading champion in the camera world for years now, providing some of the most impressive photography shots we've seen on a smartphone. But if you're going to be paying nearly four times the amount for a Z Fold 4, surely it can compete with the latest Pixel series' cheapest phone, right?
The Google Pixel 7a's primary camera delivers 64-megapixel Quad PD Quad Bayer wide-angle specs with its f/1.89 aperture and 0.8µm wide pixels (1.6µm with pixel binning. Our reviewer claimed that it produced "some of the best low-light shots" they've seen in their testing. In comparison, the Z Fold 4's primary 50MP (f/1.8 aperture, 1.0 µm) lens is weaker on paper.
The Pixel 7a's ultrawide and selfie-lens are both 13MP (f/2.2 aperture, 1.12µm). The only advantage the Z Fold 4 has is that it is built with more cameras, featuring a 12 MP ultrawide (f/2.2 aperture, 1.12 µm, 123-degree field of view), telephoto at 10MP (f/2.4 aperture, 1.0 µm, 3x optical zoom), and two additional cameras on the front. One is on the front cover at 10MP (f/2.2 aperture, 1.22 µm) while the other is inside the display at 4MP (f/1.8 aperture, 2.0 µm). But it doesn't change Pixel's quality dominance.
Winner: Google Pixel 7a
Galaxy Z Fold4 vs Google Pixel 7a: Battery life
The Z Fold4's 4,400 mAh battery lasted a total of 9 hours and 4 minutes in our Laptop Mag battery test, which involves continuous surfing over a mobile network at 150 nits of brightness. This is pretty disappointing, and while the Pixel 7a's 4,385 mAh might instill fear due to its lower number, it lasted a whole hour longer at 10 hours and 5 minutes when put up against the same test.
Winner: Google Pixel 7a
Bottom line
The Galaxy Z Fold 4 is a product only worthwhile for those who want to get in on the foldable scene. Just because it's nearly four times the cost of competing phones like the Google Pixel 7a doesn't mean you should expect vastly superior performance across the board. In camera, battery life, and even certain display metrics, Google's $500 phone absolutely crushes Samsung's $1,799 monstrosity.
But it's not a complete wipe, as the Z Fold 4 boasts faster performance and superior design elements, alongside better display resolution and size. This doesn't change that the Google Pixel 7a is absolutely the phone you should buy, but if you're looking for something more than a phone — perhaps an exciting, unique piece of technology — you can certainly get the Z Fold 4 (if you can afford it).
Winner: Google Pixel 7a
Stay in the know with Laptop Mag
Get our in-depth reviews, helpful tips, great deals, and the biggest news stories delivered to your inbox.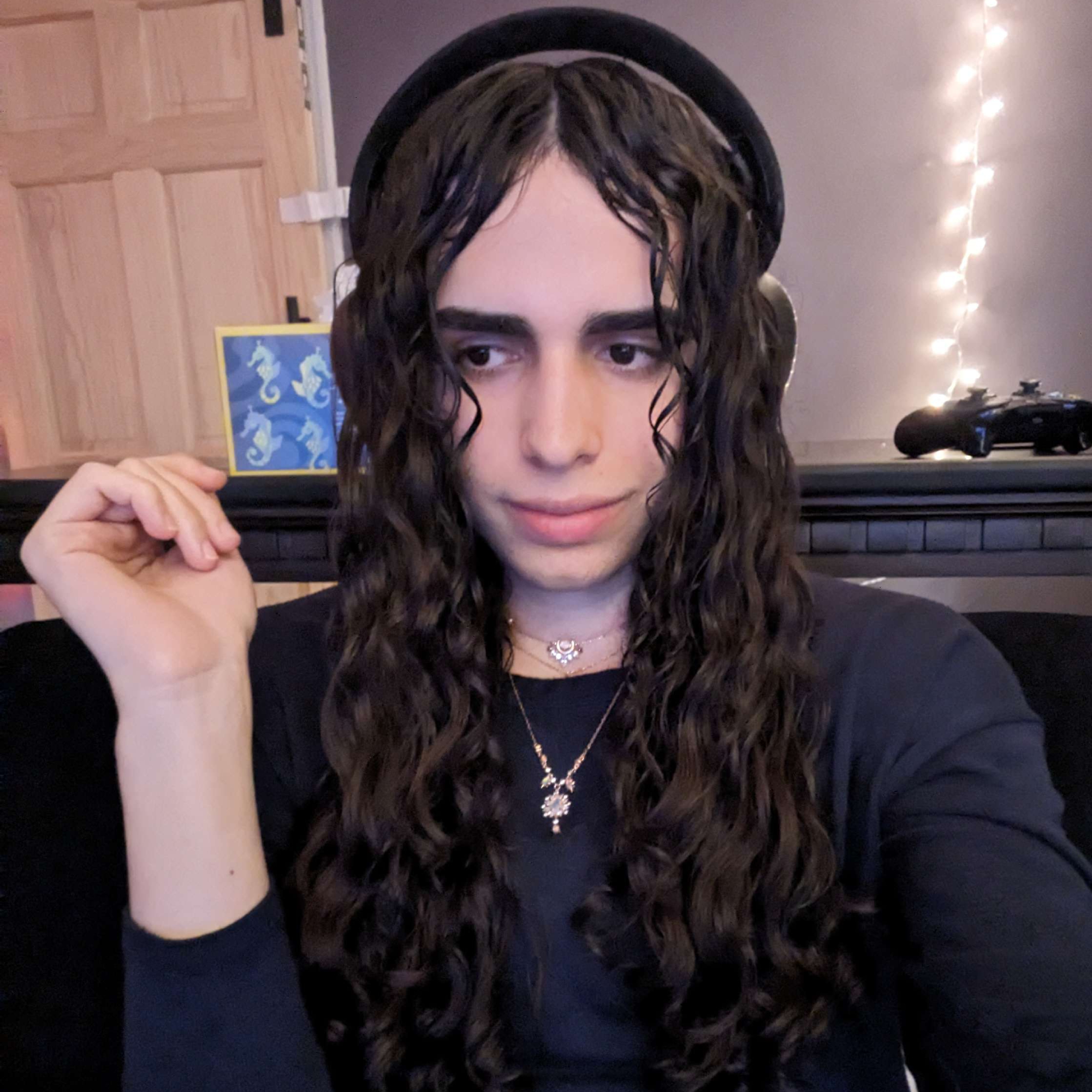 Self-described art critic and unabashedly pretentious, Momo finds joy in impassioned ramblings about her closeness to video games. She has a bachelor's degree in Journalism & Media Studies from Brooklyn College and five years of experience in entertainment journalism. Momo is a stalwart defender of the importance found in subjectivity and spends most days overwhelmed with excitement for the past, present and future of gaming. When she isn't writing or playing Dark Souls, she can be found eating chicken fettuccine alfredo and watching anime.