Sony WH-1000XM5 vs. Bose 700: Which is the No. 1 noise-cancelling headphone?
We've pitted the Sony WH-1000XM4 against the Bose 700 to determine the ANC king.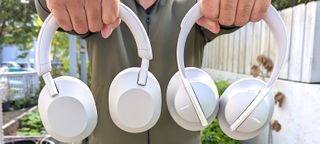 (Image credit: Alex Bracetti/Future)
The Sony WH-1000XM5 just launched and it's already considered a must-have for music lovers that desire elite active noise cancellation (ANC). Hardware upgrades, along with an all-new design and the inclusion of proprietary technologies (e.g., 360 Reality Audio, LDAC) make it one of the best wireless headphones deals around.
But Sony's latest creation faces a goliath in the Bose 700, the king of ANC for over two years running. Best-in-class noise cancellation, terrific sound, and newer features in a svelte design have garnered it universal acclaim from critics and consumers. New software updates have also given the Bose 700 a fresh market presence.
These are easily the two best noise-cancelling headphones you can purchase right now. As for which sits atop the noise-cancelling throne, read our Sony WH-1000XM5 and Bose 700 comparison to get the full breakdown.
Sony WH-1000XM5 vs. Bose 700: Price
The Sony WH-1000XM5 is priced higher at $399, which is $50 more than what the WH-1000XM4 sells for. It's also more expensive than the $379 Bose 700. Each pair of headphones comes available in Black and Silver, though the Bose 700 has seen limited edition releases in Soapstone, Triple Midnight, and the Apple-exclusive Black/Copper.
Both models deliver performance worthy of their steep price tags, but the fact that we continue to see the Bose 700 regularly on sale makes it the more enticing value. Don't expect the WH-1000XM5 to be discounted any time soon.
Be sure to bookmark our headphone deals page for the latest sales.
Winner: Tie
Sony WH-1000XM5 vs. Bose 700: Specs compared
Swipe to scroll horizontally
| Header Cell - Column 0 | Sony WH-1000XM5 | Bose 700 |
| --- | --- | --- |
| Price | $399.99 | $379.99 |
| Size and weight | 10.36 x 3.03 x 8.85 inches, 8.8 ounces | 8 x 6.5 x 2 inches, 8.95 ounces |
| Battery life | 30 hours (ANC on); 40 hours (ANC off) | 20 hours |
| Processor | Sony HD Noise-Canceling Processor QN1 | Unknown |
| Connectivity | Bluetooth 5.2 | Bluetooth 5.0 |
| Special features | Adaptive active noise cancellation, adjustable transparency mode, smart controls, equalizer settings, tri-digital assistant support, 360 Reality Audio, Digital Sound Enhancement Engine (DSEE) Extreme, LDAC, Spotify Tap, Google Fast Pair, multipoint technology | Adjustable active noise cancellation, transparency mode, equalizer settings, smart controls, digital assistant support, Self-Voice Mode, Spotify Tap, multipoint technology |
Sony WH-1000XM5 vs. Bose 700: Design
The 700 is a work of art, from the construction to the detailing. Examine the headphones closely and you won't find one screw, seam, or piece of thread exposed. The slim arc-inspired frame looks fascinating. Then you've got the extenders that are placed on a tracking system to seamlessly adjust length. Even the faux leather covering the ear cups and headband is of high quality, providing a gentle and secure fit for long listening sessions.
Sony tried something new with the WH-1000XM5's design, and while we admire the eco-friendly approach to build quality, these are hands down the least attractive entry in the over-ear Mark Series. Its use of acrylonitrile butadiene styrene doesn't compare to Bose 700's more premium materials (e.g., aluminum, solid plastic). At least Sony upgraded the padding, which consists of luxurious synthetic leather and offers pleasant comfort.
Winner: Bose 700
Sony WH-1000XM5 vs. Bose 700: Controls
Both models come with excellent control schemes consisting of responsive touch panels, smart features, and physical buttons that produce great tactility. The WH-1000XM5 has more advanced controls like Quick Attention to lower volume when placing your hand over the right earcup and Speak-to-Chat to pause music when you speak. Meanwhile, the Bose 700's touch controls and wearing detection for auto-pause/play are more spot-on. Spotify Tap can be assigned to either headphone's action button for instant access to the streaming service. Google Assistant and Alexa integration are available on the WH-1000XM5, though the two digital assistants can be manually activated on the Bose 700. Voice commands operate flawlessly on each headphone.
Winner: Tie
Sony WH-1000XM5 vs. Bose 700: Active noise cancellation
The Bose 700 is still the top noise-canceller. Period. Bose's adaptive eight-mic system, six of which are used for ANC, is practically perfect and reduces up to 95 percent of ambient noises. There are 11 levels of adjustable ANC, and each level makes a difference in noise neutralization. Selecting the lowest level enables transparency mode to let in ambient noise, which the feature does well for increasing environmental awareness. Low, mid, and high frequencies are handled well, with only a few exceptions entering the soundscape; baby cries and sirens can be heard, but sound like background effects on songs.
The WH-1000XM5 is Sony's greatest attempt at rivaling the Bose 700. On top of pairing the QN1 ANC and V1 processors together, Sony engineered these cans to automatically adjust noise cancellation based on your wearing conditions. The results are top-notch and help eliminate up to 90 percent of ambient noise. Low- and mid-frequency sounds are unnoticeable, and some high-frequency sounds are muted, but not all. There's also an Adaptive Sound Control feature that adjusts ANC by detecting your actions and the locations you frequent. The 20-level Ambient Sound feature is the WH-1000XM5's unsung feature and is superb for hearing what's happening around you
Overall, the Bose 700 just has the more effective noise cancellation.
Winner: Bose 700
Sony WH-1000XM5 vs. Bose 700: Audio Quality
Have you seen the technologies that Sony has stuffed into their flagship headphones? Talk about an audiophile's dream. Digital Sound Enhancement Engine (DSEE) Extreme is incredible for upscaling low-fi recordings, LDAC streams hi-res audio at CD-like quality, and 360 Reality Audio does a convincing job of bringing 3D effects to select music tracks for immersive listens. That's only half of what the WH-1000XM5 offers sonically.
Sony's newly developed 30mm driver brings more balance and definition to music, and it maintains the boomy resonance of past Mark Series entries, granted bass is slightly reduced on this version. Let's not forget the five-band EQ to manually adjust frequencies, as well as several well-engineered presets that complement all music genres and media content. Lastly, there's Safe Listening to track the decibel level and sound pressure of what you're hearing.
The Bose 700 is arguably the company's best-sounding headphone. Instruments and vocals have a natural feel to them, thanks to a well-balanced soundstage. Having an EQ to manually tweak bass, mids, and treble, along with four great presets (Bass Boost, Reducer, Treble Boost, Treble Reducer), is a plus for those wanting to personalize sound. It's just hard to compete with Sony's vibrant sound and endless feature set.
Winner: Sony WH-1000XM5
Sony WH-1000XM5 vs. Bose 700: App and special features
Sony's Headphones Connect app is loaded with extras, the majority of which we've discussed in detail, such as Adaptive Sound Control, DSEE Extreme, Equalizer, LDAC, Speak-to-Chat, Spotify Tap, Safe Listening, and 360 Reality Audio. Other notables include a home screen widget to enable the EQ, automatic power off, battery level indicators, firmware updates, a music player, visual guides, and the ability to prioritize sound quality or connectivity.
The WH-1000XM5 has some other perks worth mentioning outside of the app. Bluetooth 5.2 with multipoint technology (pair to two devices simultaneously), one-tap Google Fast Pair, and Find My Device support offer one of the best wireless experiences you can get on a pair of noise-cancelling headphones. Compatibility with Sony's wireless TV adapter to enjoy Dolby Atmos sound on a Bravia XR TV is also available. The only thing missing is NFC.
The Bose Music app had an unimpressive launch, but it has received significant updates over the past year. Control and EQ customization are sweet additions. Two great features that should not go unappreciated are the adjustable ANC levels and the option to save three preferred settings that can be activated directly on the headphones. We're also fans of the Self-Voice setting that lets you adjust how loud your voice sounds on calls. Rounding out the Music app are a music player, volume slider, standby timer, battery level indicators, digital assistant selection, toggle controls, and firmware updates.
Connectivity-wise, the Bose 700 operates on Bluetooth 5.0, and though wireless performance is stable, the WH-1000XM5 has faster pairing options.
Winner: Sony WH-1000XM5
Sony WH-1000XM5 vs. Bose 700: Battery life
Every Mark Series entry has given us adequate battery life and the WH-1000XM5 is no different. A full charge equates to 30 hours of ANC playtime and 40 hours when disabling the feature. Factor in high volume and special features and these playtimes drop by about 2 hours, but that's still more than what the Bose 700 offers: 20 hours. Bose doesn't even give you the option to turn off ANC. The WH-1000X5 also has stronger quick charging technology, generating 5 hours on a 10-minute charge versus the Bose 700's 3.5 hours on a 15-minute charge.
Winner: Sony WH-1000XM5
Sony WH-1000XM5 vs. Bose 700: Call quality
In terms of call quality, the WH-1000XM5 is a massive improvement over its predecessors. Sony's PVP (Precise Voice Pickup) technology works better on this model and the company's noise reduction algorithm heavily minimizes incoming noises. The mics pick up vocals loudly and clearly and demonstrate great wind resistance, which has been the series' greatest weakness.
As great of a calling headset as the WH-1000XM5 is, the Bose 700 is better for voice and video calls. Bose's mics are stronger and more intuitive, cancelling out background interference, while amplifying vocals for clear-sounding conversations. The more enhanced Bose 700 UC improves connectivity for video chats via USB dongle and is compatible with video teleconferencing services like Microsoft Teams, Zoom, and Google Meets.
Winner: Bose 700
Winner: Bose 700
This was a close, tough-fought battle, but the Bose 700 is still the noise-cancelling model to beat. ANC is unbeatable, completely silencing common distractions, while also minimizing loud noises better than any other model in the category. Call quality is excellent. Sound might not be of audiophile quality, but it's satisfying and nicely balanced to enjoy music on the go. Then there's that distinctive craftsmanship that you'll admire when unboxing these beauties.
Swipe to scroll horizontally
| Header Cell - Column 0 | Sony WH-1000XM5 | Bose 700 |
| --- | --- | --- |
| Value (5) | 4 | 5 |
| Design (15) | 11 | 14 |
| Controls (10) | 8 | 8 |
| Active noise cancellation (20) | 18 | 20 |
| Audio quality (15) | 15 | 12 |
| App and special features (15) | 15 | 12 |
| Battery Life (10) | 8 | 7 |
| Call quality (10) | 8 | 10 |
| Total Score (100) | 87 | 88 |
The Sony WH-1000XM5 is a terrific pick up for those who want the perfect balance of music, noise cancellation, and special features. It's also overpriced, especially compared to the WH-1000XM4, which offers much of the same performance for $50 less. Does that take away from the WH-1000XM5's greatness? Absolutely not. These are some of the most soundful, feature-laden headphones you can splurge on.
However, if noise cancellation is your priority, nothing tops the Bose 700.
Stay in the know with Laptop Mag
Get our in-depth reviews, helpful tips, great deals, and the biggest news stories delivered to your inbox.