Sony WF-1000XM5 vs. Sony WF-1000XM4: Which Sony noise-cancelling earbuds are better?
Are the all-new Sony WF-1000XM5 worth the upgrade? Let's find out.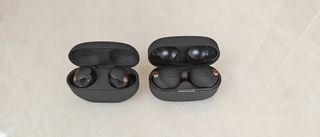 (Image credit: Alex Bracetti/Future)
The Sony WF-1000XM4 set many standards for a true wireless release. On top of elite active noise cancellation that nearly bests the class-leading Bose QuietComfort Earbuds 2, these buds deliver excellent hi-fi sound and lengthy playtimes in an innovative, chic design. You can see why Laptop Magazine awarded them a perfect 5-star rating.
Leaks and reports suggested the Sony WF-1000XM5 were on the horizon. Details had remained sketchy for a while, but now we have first-hand experience and official specs. Sony's all-new V2 and HD Noise Cancelling Processor QN2e chipsets boost numerous performance hallmarks, including active noise cancellation, call quality, signal processing, and sound. Small changes to the design create a practical and more elegant-looking product. Proprietary technologies such as 360 Reality Audio, DSEE (Digital Sound Enhancement Engine), and LDAC also remain intact.
Both deserve their spots among the best wireless earbuds available, but as for the better value, that's what we're here to determine. Read our in-depth analysis to see whether the new Sony WF-1000XM5 or older WF-1000XM4 are Sony's best noise-cancelling earbuds.
Sony WF-1000XM5 vs. Sony WF-1000XM4: Price
There's very little difference in price if we're going based on their launch MSRPs. Sony released the WF-1000XM5 at $299, which is $20 more than the $279 WF-1000XM4. Occasionally, you can find the WF-1000XM4 on sale; we've seen them for as low as $178.
Both are pricey investments that won't disappoint, so we declare this round a draw.
Winner: Draw (Unless you can find the WF-1000XM4 deeply discounted)
More: Best headphone deals in September 2023
Sony WF-1000XM5 vs. Sony WF-1000XM4: Specs comparison
Swipe to scroll horizontally
| Header Cell - Column 0 | Sony WF-1000XM5 | Sony WF-1000XM4 |
| --- | --- | --- |
| Price | $299.99 | $279.99 |
| Wirelesw charging | Yes | Yes |
| Battery life | 8 hours (ANC on); 12 hours (ANC off), 24 hours (with case and ANC on); 36 hours (with case and ANC off) | 8 hours (ANC on); 12 hours (ANC off); 24 hours (with charging case); 36 hours (with charging case and ANC off) |
| Processor | V2 | V1 |
| Connectivity | Bluetooth 5.3 | Bluetooth 5.2 |
| IPX rating | IPX4 (buds) | IPX4 (buds) |
| Size and weight (buds) | Not stated ; 0.21 ounces | 1 x 0.8 x 0.8 inches; 0.2 ounces |
| Size and weight (charging case) | 2.5 x 1.5 x 1.0 inches; 1.38 ounces | 2.4 x 1.5 x 1.1 inches; 2.0 ounces |
| Special features | ANC, transparency mode, 360 Reality Audio, Bluetooth multipoint, customizable EQ, DSEE Extreme upscaling, Google Fast Pair, hands-free Alexa/Google Assistant voice-activated assistance, LDAC, Quick Attention, quick charging, Speak-to-Chat, Spotify Tap, Tidal optimization | Active noise cancellation, transparency mode, Speak-to-Chat, Quick Attention, customizable EQ, 360 Reality Audio, DSEE Extreme upscaling, Google Fast Pair, LDAC, digital assistant support, Optimal Earbuds Tips, quick charging |
Sony WF-1000XM5 vs. Sony WF-1000XM4: Design
The WF-1000XM5 are a lighter, smaller, and shinier version of their predecessor with minor detail changes. Out goes the protruding ANC mic housings for flushed mesh grilles. The all-matte finish now has a glossy outer shell that gives the WF-1000XM5 a more premium look, which we didn't think was possible since the WF-1000XM4 already looked luxurious. Sony's charging case got a welcome reduction in size and weight and introduces a pairing button on the back.
As for comfort and fit, both models are pleasant wears, though the WF-1000XM5's smaller frame is less cumbersome on the ear. Their memory foam tips are more flexible and easier to squeeze, so they'll produce a tighter seal around the canal for proper on-ear stability. The inclusion of XS tips is worth mentioning too since they accommodate listeners with smaller ears.
Winner: Sony WF-1000XM5
Sony WF-1000XM5 vs. Sony WF-1000XM4: Controls
Both sets of buds come with expansive control schemes that function equally well. Single- and multi-tap gestures are responsive for accurate playback, call management, and digital assistance. Motion detection is spot-on to auto-pause/play content when removing or placing either set of buds on your ears. Voice assistance remains strong, but the WF-1000XM5's upgraded mics result in stronger speech recognition to activate hands-free Alexa or Google Assistant without a hitch. Enabling Google Assistant and Siri manually works just as well on both models. Smart controls are also available, like Quick Attention that lowers volume to 10% when speaking, and Speak-to-Chat to automatically pause content when detecting your voice.
The WF-1000XM5 also come with two exclusive controls: on-board volume and Spotify Tap. A four-tap gesture on the left bud reduces volume, while performing the same act on the right bud increases it. Assigning the shortcut control to Spotify Tap sends you directly to the streaming service and plays a favorited playlist.
Winner: Sony WF-1000XM5
Sony WF-1000XM5 vs. Sony WF-1000XM4: Active noise cancellation
The WF-1000XM4 demonstrated some of the best ANC when they launched, and still do. Sony's Adaptive Sound Control feature uses a combination of the V1 processor and feed-forward and feed-back noise-sensing mics to put a kibosh on 90% of incidental sounds. If any noise creeps onto the soundscape, it's usually a blaring high-frequency sound from a few feet away. Other frequencies go unheard.
The Wind Reduction setting also comes in clutch when caught in gusty conditions. Our favorite part about Sony's ANC is the ambient listening mode, which offers 20 adjustable levels to grant full control over how much noise enters the soundscape. It's perfect for engaging in crystal-clear conversations up close and increasing environmental awareness.
However, the WF-1000XM5 has smarter and stronger ANC. These buds rely on the new V2 chip and QN2e chips to monitor and suppress frequencies more precisely, specifically low frequencies. Extra mics help filter out vocals, while the new mesh grilles provide superb wind resistance. Overall, the WF-1000XM5 get you a more refined ANC experience that also assists with call quality (more on that later).
Winner: Sony WF-1000XM5
Sony WF-1000XM5 vs. Sony WF-1000XM4: Audio Quality
Detailed hearing is required to tell the difference in audio between these two sonic gems. The WF-1000XM5 and WF-1000XM4 carry Sony features that improve and personalize sound on multiple levels. 360 Reality Audio creates an immersive listening environment when using compatible hi-res streaming services like Deezer and Tidal. DSEE upscales lo-fi recordings for clearer sound performance. The customizable EQ with well-engineered presets complements respective music genres and content. LDAC codec support boosts streaming quality by pulling more data from recordings to consume every characteristic and nuance from a song.
Where the two models differ are headtracking and processing power, both of which favor the WF-1000XM5. Headtracking support for 360 Reality Audio detects motion surprisingly well to keep sound in sync with your head movements. Sony's V2 chip delivers 24-bit signal processing, while the all-new Dynamic Driver X unit widens frequency reproduction for deeper bass and more detailed vocals without distorting the soundscape.
Winner: Sony WF-1000XM5
Sony WF-1000XM5 vs. Sony WF-1000XM4: Special features and app
Both models aren't short on features and share many of them. Here's what you'll find available on the WF-1000XM5 and WF-1000XM4: 360 Reality Audio, Ambient Sound Control, EQ, DSEE, LDAC, Google Fast Pair, Quick Attention, and Speak-to-Chat. The majority are found in the Sony Headphones Connect app, alongside battery level indicators for both earbuds and the charging case, toggle controls for multiple functions, a music player, and firmware updates.
The WF-1000XM5 receive multipoint technology to pair with two devices simultaneously and runs on Bluetooth 5.3, which produces fast and reliable connectivity. Sony even introduced a new app called Auto Play (in beta) to perform unique functions such as playing music at a preferred time when linked to Spotify, Endel, or Apple Music. It also sends out audio notifications to keep tabs on important events and incoming messages.
Meanwhile, the WF-1000XM4 run on Bluetooth 5.2 and doesn't support the Auto Play app.
Winner: Sony WF-1000XM5
Sony WF-1000XM5 vs. Sony WF-1000XM4: Battery life
Playtimes haven't changed much between the WF-1000XM4 and WF-1000XM5. A full charge still gets you 8 hours with ANC on and 12 hours with ANC off. LDAC use reduces these times by about 2 hours. So, why are we awarding this category to the latest model?
Well, the WF-1000XM5's charging case holds 1 hour more when fully charged. It also boasts stronger quick charging: a 3-minute charge equals 60 minutes of use. You need to charge the WF-1000XM4 for 5 minutes to net the same listening time.
Winner: Sony WF-1000XM5
Sony WF-1000XM5 vs. Sony WF-1000XM4: Call quality
Bone conduction sensors and Sony's PVP (Precise Voice Pickup) technology give the WF-1000XM5 perfect call quality. Voice and video calls were loud and clear, specifically Google Meet chats, which were met with positive feedback and compliments over how well the mics blocked out ambient noise. Wind resistance was also strong due to the newly installed noise-reduction structure and mesh wraps on the bottom of each bud.
We loved using the WF-1000XM4 as our calling headset for the past year. Calls sounded clear in most environments, and the Automatic Wind Reduction setting helped minimize harsh effects created in gusty conditions. The WF-1000XM5 just does a better job with wind resistance.
Winner: Sony WF-1000XM5
Winner: Sony WF-1000XM5
It's tough beating a 5-star product like the WF-1000XM4, but Sony figured it out with the WF-1000XM5. Upgraded hardware that enhances audio, call quality, and noise cancellation places these buds higher than their predecessor. The improvements in design and small additions like Bluetooth multipoint add to their high-priced value.
Swipe to scroll horizontally
| Header Cell - Column 0 | Sony WF-1000XM5 | Sony WF-1000XM4 |
| --- | --- | --- |
| Value (5) | 5 | 5 |
| Design (15) | 14 | 13 |
| Controls (10) | 9 | 8 |
| Active noise cancellation (20) | 20 | 19 |
| Audio quality (15) | 15 | 14 |
| App and special features (15) | 15 | 13 |
| Battery Life (10) | 9 | 8 |
| Call quality (10) | 8 | 6 |
| Total Score (100) | 95 | 86 |
The WF-1000XM4 are still supreme wireless earbuds that outperform the AirPods Pro 2 and Bose QCE 2 in sound. Their revamped design has laid the groundwork for Sony's future true wireless flagships. Praise should also be given to their long battery life and vast feature set.
In the end, you'll want to spend the extra $20 on the market-best WF-1000XM5.
Stay in the know with Laptop Mag
Get our in-depth reviews, helpful tips, great deals, and the biggest news stories delivered to your inbox.